Translating personal experience into the surreal and bizarre, Hanny Khoury confronts our human condition.
Hanny Khoury is a Palestinian born, Edmonton based outsider artist whose work has recently caught the attention of the artistic community in the Levant. After years of self-training, tutelage under admired realists, and even two years spent homeless in Jerusalem, Khoury struck on his own surrealist style. Good fortune found him in 2019 when Khoury's work was offered a private exhibition in Banksy's new project, The Walled Off Hotel, which opened right next to the border wall in Bethlehem in 2017. The success of Khoury's solo exhibit led to overnight acclaim, extending an extra month as collectors from across the middle east came to purchase his work.

Edmonton's newest lifestyle magazine Uncovering 
the best in hidden gems around the city.
Khoury's rare identity embodies a long and fraught history. He was born in 1990 in Eilabun, one of the hundreds of Palestinian villages that were forcibly displaced when the modern nation-state of Israel was formed. But Eilabun was unique among its neighbours for its distinctly Christian character, so the Pope issued a decision to the British colonizers to allow the people of Eilabun to return home under the new Israeli rule. They were the privileged few to do so. Growing up in this maelstrom of power politics, shifting fates, and religious contests, Khoury's vision gradually took shape and manifested in his expressive paintings. These experiences combined with the cosmic questions that hang heavy in the air of the Holy Land to imbue his works with ponderous provocations.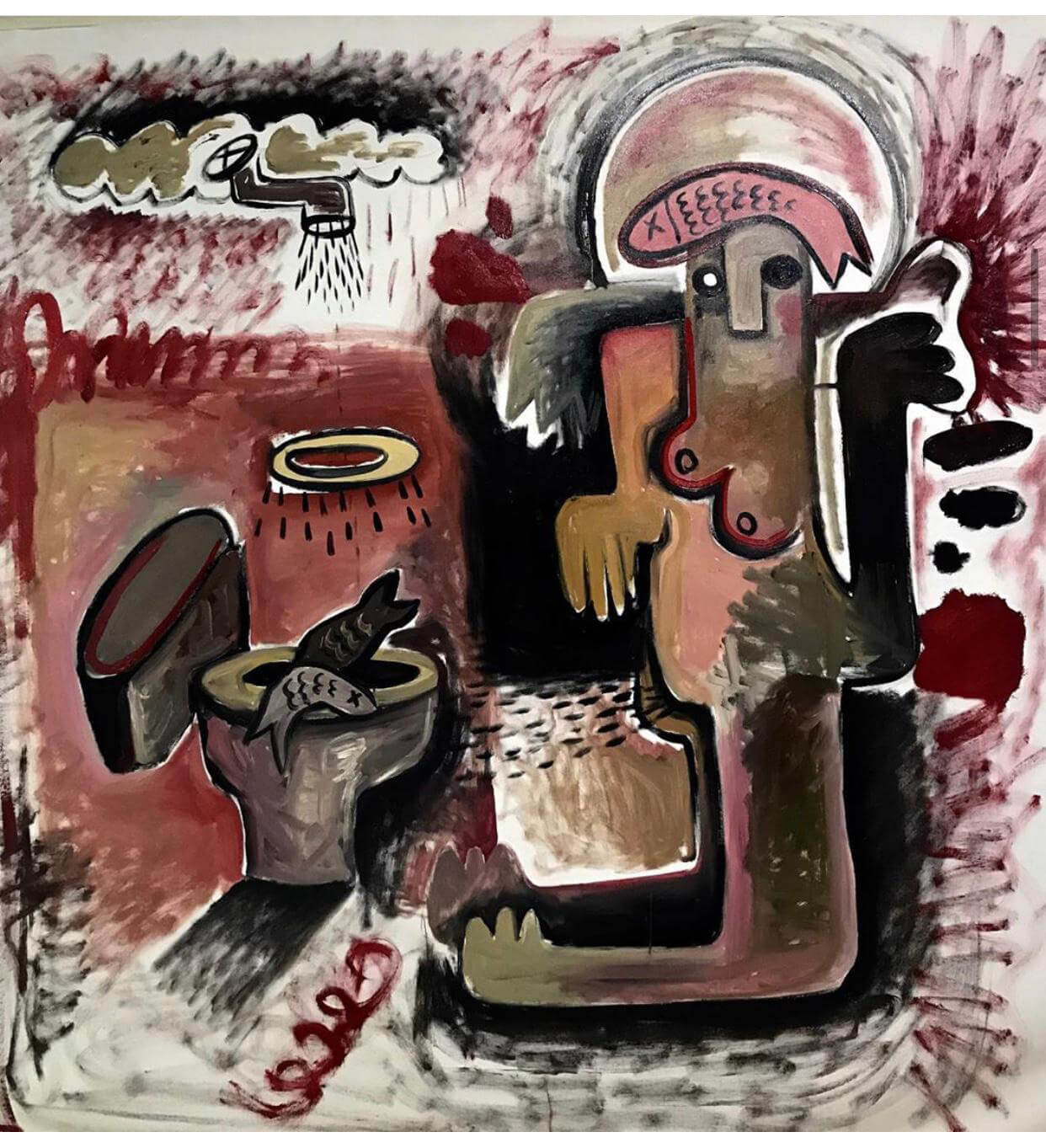 Translating personal experience into the surreal and bizarre, Hanny Khoury confronts our human condition. 
But Khoury is the first to caution that his identity per se is not the subject of his painting. Rather, his subject is the underlying human condition that instigates the fraught history his story embodies. Khoury argues that at some point your identity as an artist no longer matters. You start making art based on your experience as an indivisible self rather than as a series of categories. "You realize humanity is not about where you came from or who you are, Palestinian, Israeli, Canadian, whatever, you have to be portraying your own experience through your own eyes," Khoury contends, "and people from China or Israel or Palestine or Dubai can look at the art and understand the language you're speaking with."
Khoury currently paints his surrealist dramas in two distinct modes. In paintings like Holy abandonment, A depleted peace, and A non-Semitic vision, we see a looser brush set free with enormous energy and angst, deploying provocative, visceral colour schemes. These paintings' unsettling morbidity combine with their titles to pose a thousand questions. As with all surrealism, the viewer must abandon the rational and intuit their response. These works are reminiscent not only of Basquiat but of what John Berger wrote of Basquiat: "He sensed that hidden truths cannot be described in any of the languages commonly employed for the promotion of lies."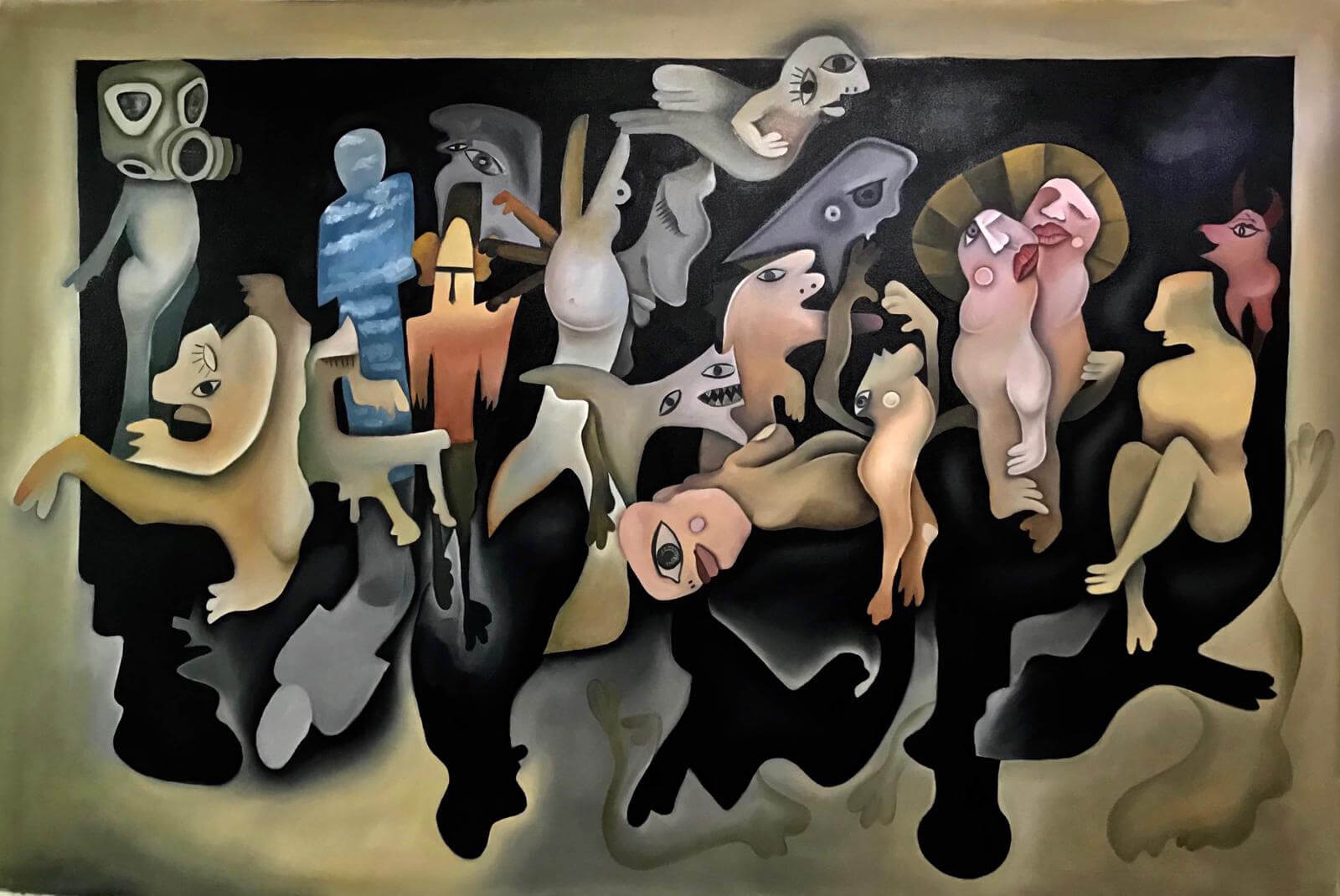 Edmonton's newest lifestyle magazine Uncovering 
the best in hidden gems around the city.
In the other mode, Khoury slows his brush and becomes the tragedian. In paintings like in presence of nothingness, Based on, and the fall of the gods, Khoury's abstracted bodies take on a highly sculptured form. The colours become more subdued and nuanced by the effects of light and dark. The compositions become theatrically staged. In this mode, Khoury's time spent studying the Spanish surrealists of the 20s and 30s can be seen most clearly. In these tableaux, we see the spiritual and the corporeal melt together in the same way a myth blurs raw reality with supernatural fiction to negotiate the anguish of unknowing. As with all great surrealism, if you spend enough time with these paintings you will begin to feel as though the stomach of your soul is quietly digesting our most human questions and dilemmas.
The satisfaction of Khoury's work is in both the body horror and the social horror his works confront, then subdue. We as viewers bear witness to this one man's vision of what lies hidden behind our fragile bodies and minds. It reaches out to us on the lowest common denominator of our shared humanity. Our frightful fragility is brought into focus, held fixed in time, and we can find our footing in the face of discomfort. This is the work of art when it is working well.
Places To Be
See this month's local flavours, products, and services.