Celebrating the magazine's first anniversary with the founder, Elsa Amorim.
Born during a global pandemic, Modern Luxuria is celebrating its first anniversary. Today, we celebrate this great milestone by chatting with the founder, Elsa Amorim. Coming from over a decade in the marketing and advertising world, Amorim has always had an entrepreneurial spirit. In her daydreaming moments, she would visualize an elegant and sophisticated digital magazine where she could feature notable local stories, and offer solutions to clients who wanted to promote their brand. So, after planning in detail for several months, the first edition of Modern Luxuria was launched in June of last year.
ML: The first year is behind you, and there's so much to be proud of. Share some highlights and exciting moments that have made this year memorable.
Launching the magazine is the biggest highlight; seeing it come to life was the most exciting part of the journey. That uplifting moment we published the first edition and pressed that 'live' button will be a memory I'll cherish forever. Another moment was the Launch Party we were lucky enough to have at Wolfe Cadillac last summer. Now that we appreciate any gatherings more than ever before, I am so happy we had that moment where we celebrated. Properly distanced at the large outdoor parking lot of Wolfe Cadillac, it was a fantastic evening with the overwhelming support of our clients and the community.
Meeting new business owners and entrepreneurs has been a highlight for sure. I enjoy meeting people who are innovative, resilient and community focused, and I've met so many over the past year. And of course, the main highlight of the magazine is our readers. Modern Luxuria has been accepted in such a warm and welcoming way – I am simply thrilled.
ML: Being a woman entrepreneur in the time of a pandemic is no small feat. What were your biggest learnings over the past 12 months?
Overcoming my fears and taking a chance was huge for me. I've always had the passion and a dream to do something, but wasn't sure to what level. Taking a risk is the biggest fear of any entrepreneur, and once you face it, you realize it wasn't so bad. I've also learned to be more patient – not only due to the pandemic, but being able to balance the business side of the magazine with the state of the economy. I understand that advertising is the first thing that many businesses may cut, but I still wanted to keep going. I want the magazine to inspire and engage the community in a certain way, and I know that it takes patience and innovation to build a business.

Edmonton's newest lifestyle magazine Uncovering 
the best in hidden gems around the city.
ML: The definition of luxury is very personal for each of us. What is your own sentiment behind the Modern Luxuria name?
We took a long time to come up with the Modern Luxuria name as we wanted to focus on a broader theme and the meaning of luxury. For me, the meaning of luxury can range from simple things like spending time with family, going out for dinner, being able to celebrate… all the way to some more material things related to fashion, homes, vacations, etc. It really is a variety of things, and that's what I love about the name; it's personal and everyone can define what it means for them. Our goal is to inspire those thoughts.
ML: What is Modern Luxuria's mission and mandate and how does it fit into the community?
Our mission is to discover and highlight local stories and share them with our readers. Passion, dedication and creativity are the pillars of the magazine. When it comes to our mandate, we are here to be a collaborator and a supporter of all things Edmonton – we want to be the voice of those who are doing innovative, quality work, and to recognize and promote them.
The marketing world has changed significantly, so today, we avoid simply selling an ad, and prefer a more meaningful connection with our clients by creating unique experiences, promotional ideas, events, and focusing on long term partnerships. Our mandate also includes supporting local not-for-profit organizations such as the Lois Hole Hospital for Women and the Alberta Cancer Foundation, to name a few, who are doing transformational things in our communities.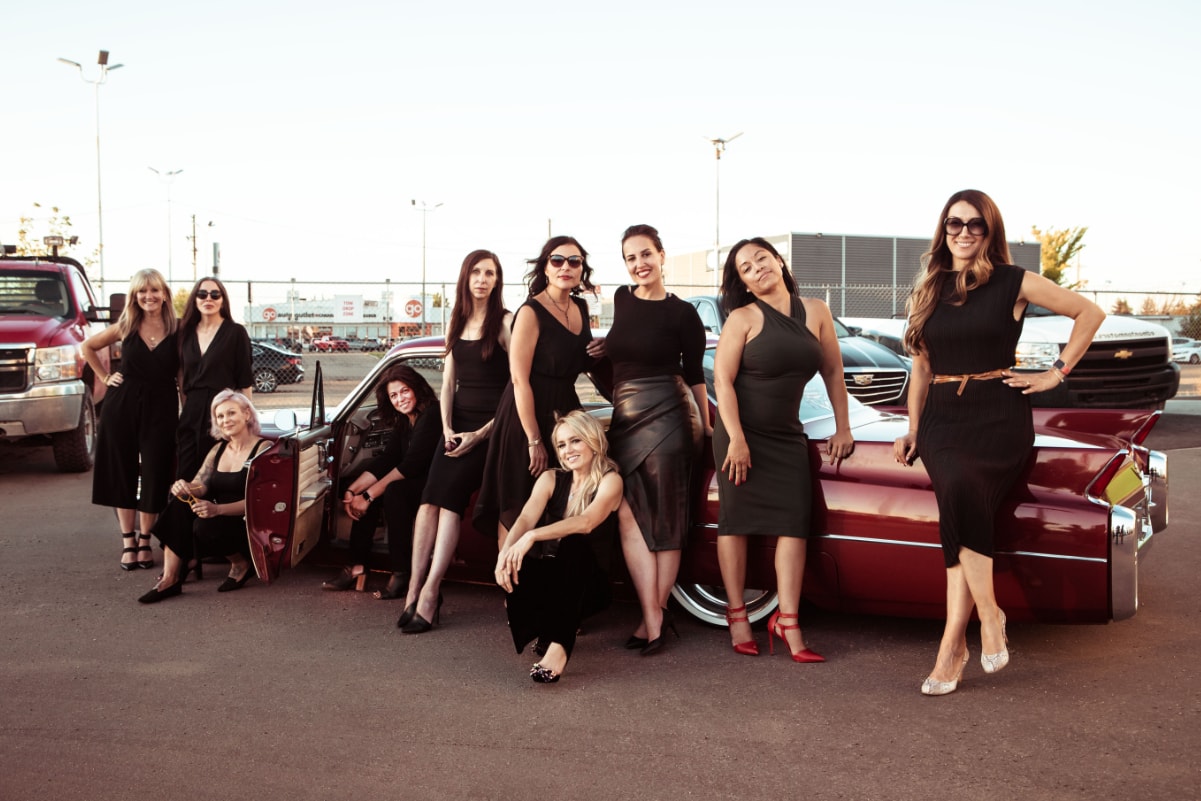 For me, the meaning of luxury can range from simple things like spending time with family…

Edmonton's newest lifestyle magazine Uncovering 
the best in hidden gems around the city.
ML: In your role as a leader of a digital company, what trends do you see in the online advertising and marketing world?
Videos are taking a huge leap, so we are focused on developing great video content that will help us create a more unique reading experience. Things like an ad coming to life through video content is a great benefit of having a digital platform. We're seeing a lot more connections between ads and social media platforms, thus creating a more diverse plethora of advertising options. Artificial Intelligence will be playing a major role over the next few years as well, to improve user experience and design more targeted campaigns. The digital world moves fast and being digital allows us to be nimble and move with it.
ML: What's ahead for Modern Luxuria?
Our focus is to grow the team and learn as we go. We have to keep up with current trends and technologies in the ever-changing digital environment. As with any other entrepreneur, I dream of expanding into more markets in Canada and shooting for the moon, so that's on the wish list.
ML: Being in an industry that's highly digital, you are always 'on'. Is digital detox needed occasionally, and how do you disconnect when you need a break?
Yes, a digital detox is absolutely needed, and I try to keep that process simple. I love cooking and trying new recipes, and while I'm doing that I try to disconnect.
Camping is another way of taking a break, as it's a real mental break every time I can connect with nature. Going out for a walk is my daily ritual, and living out in the country helps. I often take a break on the patio with a cup of tea, enjoying the solitude for a few moments, reflecting on the day, and opening up my creative side.
ML: How will you celebrate your first anniversary?
Once it's safe to do so, I am so looking forward to gathering with our team and clients and celebrating! But for now, we'll have to do it in a toned-down version and celebrate virtually, through a Zoom get-together. I'm connecting with every client we've had over the past twelve months to thank them personally for helping us meet this first and very important milestone. And I'll take a moment to thank the team who worked so hard to get us here. Just like any other startup, we've had our ups and downs, and I am incredibly grateful for their support.
ML: Share your top three luxuries:
Family and friends time – that's huge for all of us right now. Being healthy – always a luxury, never taken for granted, and I am thankful for it. A really good glass of prosecco – especially when shared with people I love.
Places To Be
See this month's local flavours, products, and services.