'Tis the season to spice up your drinks
Fifteen years ago, the Pumpkin Spice Latte from Starbucks was the most popular hot drink of the season. Since then, many have jumped on the bandwagon with their own version of pumpkin spice drinks. With or without alcohol, hot or cold, pumpkin spice everything is a seasonal trend that many have come to expect during the month of October. 
Even beers have joined the frenzy with pumpkin beers in all styles making their way to the market. Like sour beer, pumpkin flavoured beer can also be polarizing, but if you are looking for that flavour, be it an ale, stout or lager, you'll find a pumpkin'd version available. The Howe Sound Brewing Pumpkineater Imperial pumpkin ale is a big 8 per cent ABV (alcohol by volume) ale that packs a punch, yet the additional nutmeg, cinnamon, ginger, and clove spices mellow out the high alcohol (by beer standards) and keep the pumpkin flavour from being overwhelming.
Whiskies, too, have hopped on board. In fact, Canadian whiskies made with 100 per cent rye are perfect for adding pumpkin spice flavouring to complement the spirit's spicy attack. Spicebox, a company from Montreal, takes its name from a group of bootleggers during Prohibition who smuggled liquor across the border in boxes and barrels labelled "Spices", to evade the watchful eye of the authorities. Spicebox joins in on the seasonal trend, offering whisky infused with spices that go into Thanksgiving's iconic pie. This whisky is just that: pumpkin pie in a glass with a warm, smooth finish.
Cream liqueurs with a rum, whisky, brandy or bourbon base make their way into our refrigerators during the fall months, with many brands providing a pumpkin spice variety. On ice, or in coffee, if pumpkin is a favourite fall flavour of yours, be sure to seek these out.

Edmonton's newest lifestyle magazine Uncovering 
the best in hidden gems around the city.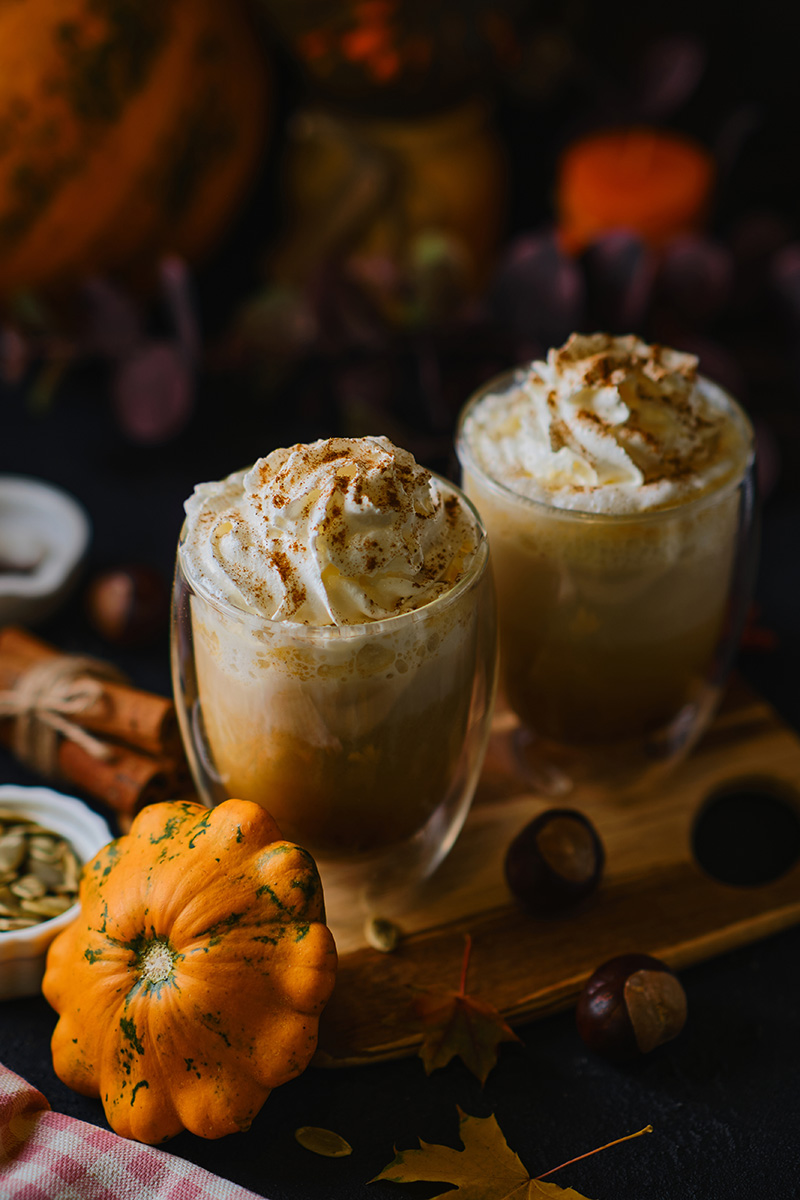 With the days getting shorter and the nights cooler, cozy up to the fire with this spiked cider made with ingredients that exemplify fall—including pumpkin, of course. 
Pumpkin Spiced Apple Cider
Yields 1
3 cups apple cider
½ cup canned pumpkin
½ tsp ground cinnamon
¼ tsp ground ginger
¼ tsp ground nutmeg
1 ½ oz brandy, bourbon, rum, or Canadian whisky (rye based)
Pinch of ground clove
Garnish:
1 tsp granulated sugar
1 tsp ground cinnamon
½ cup heavy whipping cream
3 apple slices, ¼" thick
1 cinnamon stick
For the garnish: In a small dish, mix the sugar and cinnamon. Set aside. To a medium mixer bowl, add the cream and 1 ½ tsp of the cinnamon-sugar mixture. With a hand (or stand) mixer, beat until soft peaks form. Set aside in the refrigerator until ready to use.
For the cider: In a medium saucepan, add the apple cider, pumpkin and spices, and whisk over medium heat until hot. Ladle into a heatproof mug and add the preferred spirit (omit, if making a mocktail). Top with the cinnamon-spiced whipped cream and sprinkle the remaining ½ tsp of cinnamon sugar on top. Add the apple slices and cinnamon stick.