There aren't enough pages in this magazine to highlight all the killer meals being whipped up in Edmonton's best restaurants. Here's a short list of three dishes you do not want to miss this month. They hail from tireless chefs who've beaten back the worst of our pandemic blues with stunning and satisfying recipes for the hungry and discerning.
Rosewood has given the downtown breakfast and lunch crowd a reason to rejoice. Husband and wife industry vets, Jesse & Angela Gado, have combined their pedigrees at classic Edmonton joints like Leva, Corso 32, Lockstock, MRKT, and Under the High Wheel to create this institution-in-the-making. Not only is Rosewood's execution fast and their prices immensely reasonable, but their dishes are out of this world. Their Lox & Egg Sandwich is a case in point, a marriage of skilled technique and excellent ingredients that creates a meal that stands proud in its simplicity.
The day before you arrive, they've already shaved down enough steelhead trout for tomorrow, curing it overnight in a pastrami inspired dry rub. The next morning they're up early, baking a divine milk bun that's so fluffy and sumptuous you could eat it on its own, but when sliced asunder and flash-toasted, this chewy crunch is created. That perfectly caramelized gluten. Sweet, sweet gluten. Poor, poor celiacs.
When you finally arrive for your sandwich, that's when they start soft-scrambling some proper eggs (fluorescently orange yolked eggs!), folded layer by layer until, at the last moment, like an angel tapped them on the shoulder, they fold in some sweet caramelized onions they've had going the whole time. Then, to make your mom proud, they top the lox and eggs with kale tossed in an anchovy and mustard vinaigrette. And that's it. The result is nourishing, delicious, and sure to become an Edmonton classic in its own rite.

Edmonton's newest lifestyle magazine Uncovering 
the best in hidden gems around the city.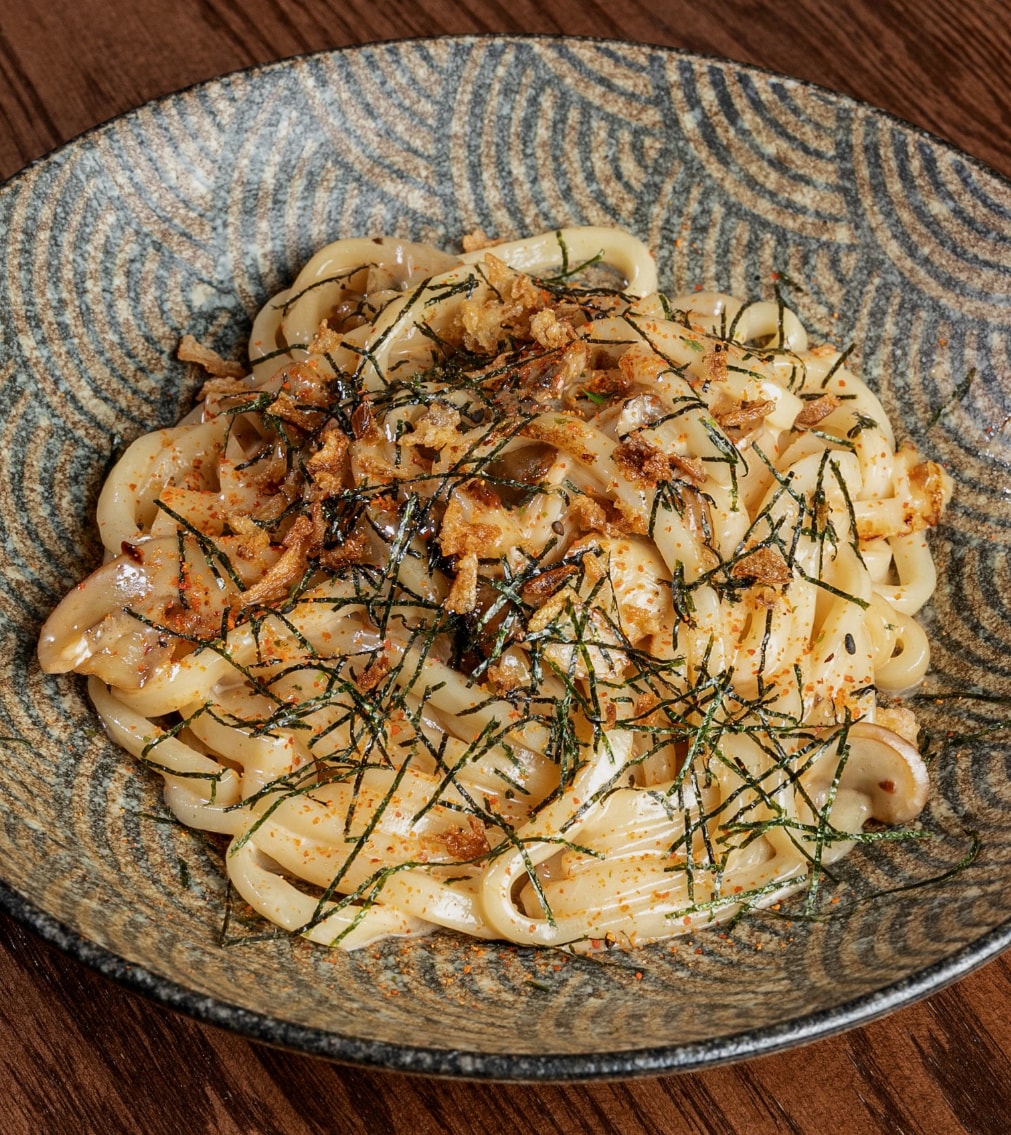 Shōjō's Mushroom Cream Udon Noodles were an instant hit that never left their menu. These have to be one of the most stick-to-your-ribs umami bomb comfort foods any vegetarian could ask for. As you'd expect from Japanese cuisine, half the charm is in the texture. The bounce from their pan roasted mushrooms mimics the springy udon noodles.
Enveloping every noodle is a cream sauce thickened with soy and shot through with a dashi made with kombu, a savoury japanese kelp, as opposed to the traditional dried bonito flakes that would have made this dish impossible for the veggie adherent. It's a clever way to add a similarly complex depth and salinity. All this bounce is counterbalanced with a generous garnish of crispy fried onions and sesame seeds, then kicked up a notch with shredded nori and togarashi—Japan's signature seven-spice all-star seasoning. A simply stunning way to carbo-load.
Shōjō is perhaps Edmonton's best kept secret. Loan Bui and Kevin Chau built this warm den of reprieve in the Brewery District back in September of 2019, right below Wilfred's. It's a certified gem, a space where the hours melt away amidst dark wood panelling and harmonious design.
One small plate after another of opulent Japanese tapas land gently on your table. Each dish seems tailor made to pair their seemingly endless list of Japanese whiskies, sakes, shochus, beers, and wild cocktails. This is, of course, the entire point of an Izakaya, to tap into the Japanese custom of always drinking with food.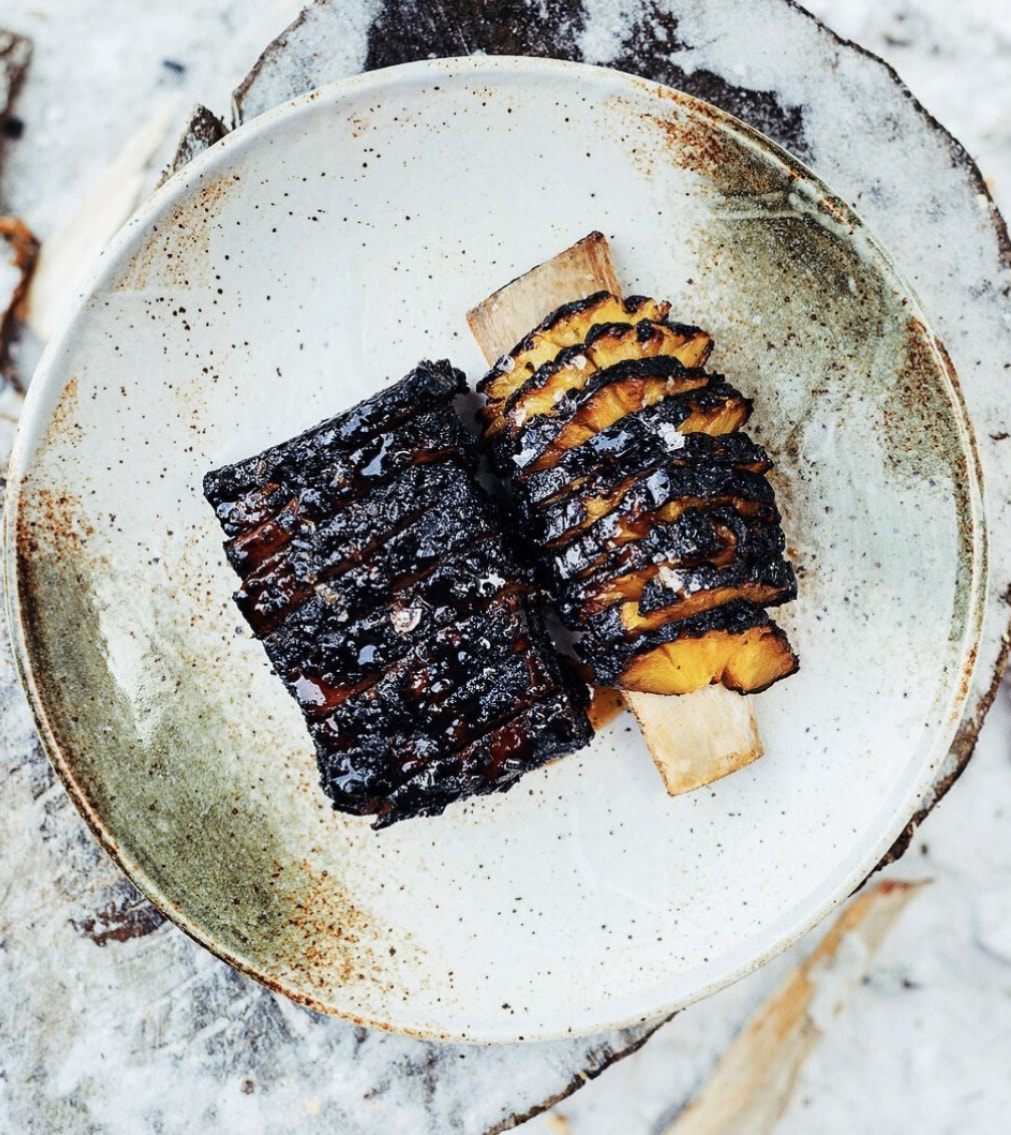 Smokey Bear is a truly unique and ambitious restaurant. Chef owner Riley Aitken is an Alberta boy who followed his culinary impulses first to Denmark and then on to Australia. There he trained with chef James Viles at one of Australia's top ranked restaurants, Biota Dining, where Viles had elevated Aussie open-fire barbeque to the level of modern haute cuisine. When Aitken returned to Canada, he bought the former Accent Lounge space off Whyte and traded acacia logs for Canadian maple, applying these primeval techniques to Albertan ingredients. This brightly oak-clad minimalist space is a joy, gently perfumed by smoke and the swirling juice of Edmonton's largest natural wine list.
Smokey Bear's beef short rib connects all the dots from Down Under up over to Whyte Ave. They take these gorgeous grass-fed cuts—sourced from Pine Haven Farm in Wetaskiwin—and quickly seal them over a scorching hot flame, then place them in a braise for several hours. They're then ferried onto a higher mantle above the fire to further soften and gather in clean maple smoke. Finally, they're seared on the grill and shined up with a malt glaze and a dazzling flakey salt that melts in your mouth about as fast as the beef. If that wasn't enough, they include a dollop of their harissa paste made from house charred then fermented peppers. Wash it all back with a natty big red (yes, natty big reds do exist!) and you too can feel like the first person to tame fire.
There aren't enough pages in this magazine to highlight all the killer meals being whipped up in Edmonton's best restaurants. 

Edmonton's newest lifestyle magazine Uncovering 
the best in hidden gems around the city.