Bündok puts the Champ back in Champion City.
We stopped calling ourselves the City of Champions in 2017. We mustn't have understood where we really triumph in the 21st century: our restaurants and bars. With only 2.5% of Canada's population, Edmonton's earned a spot on En Route's authoritative top-ten Best New Restaurant list five times in as many years. Industry folks across the country talk about our food and drink scene like it's a secret oasis, so many stunning restaurants with so much less distraction. Restaurants like Bündok.
Bündok was the most recent Edmonton outfit to land us on the coveted En Route list. They extended that winning streak this year, now holding Edmonton's highest rank on Canada's 100 Best Restaurants list for 2020. The praise is well deserved. Chef-Owner Ryan Hotchkiss and his team at Bündok have fought the uphill battle to bring our market unfamiliar yet deserving dishes and drinks. They offer a risky and revolving wine list longer than their seat count, as delicious as it is esoteric, alongside elegant and truly original cocktails. And they're amongst the city's best kitchens exploring what an Edmontonian cuisine might look like, rooted in French technique while utilizing Canadian ingredients to find recipes we can call our own. On weekends, you'll find them shopping at the 104th street market for the produce they'll serve that week.
Before dinner, head bartender Jesse Werkman treats me to a new low-proof milk punch he's debuting just in time for winter. Honey Three Ways is a blend of the honey-based Italian bitter liqueur Amaro Sibilla, the honey'd monastic elixir Yellow Chartreuse, and some of our own Albertan honey, all bottle-rested 24 hours with lemon juice and milk while infusing with cloves. In a milk punch, the lemon curdles the milk overnight, leaving behind the whey to imbue the drink with a weighted silky texture. It's a winter warmer par excellence and puts the appetite right to work.
Tonight we're going to stick to the greatest hits, starting with Hotchkiss's now published Parmigiano Soup recipe. A broth from parmigiano-reggiano rinds combined with whipping cream and a boatload of shredded parmigiano poured table-side like a white lava over lardons of bacon, fried green onions, and panko breadcrumbs toasted in a roasted tomato oil. Sharp, rich, and smokey. Hold the bacon and this could be one of the most savoury veggie dishes in town. It's a perfect pairing for the Vachon et Clare Brut bubbles from the Savoie, an alpine region of France too little known.

Edmonton's newest lifestyle magazine Uncovering 
the best in hidden gems around the city.
Next, the ever-popular Tuna Crudo. These raw cuts from Effing Seafoods boast an almost creamy texture. They counterbalance that with the crunch of miniscule, perfectly cubed apples and a dusting of black sesame, all set against a grassy olive oil and the bright pops of citrus and chilli. Jesse's just brought in a Vermentino from the Domaine Abbatucci on the French mediterranean island of Corsica, a vineyard given to Napoleon's right hand man, General Abbatucci, after the French Revolution. It's a delightful match.
Then we're treated to the new Broccoli & Egg dish: a poached egg, breaded and deep-fried, placed among a bed of coal charred broccoli and topped with a grated salt-cured egg yolk. The egg almost explodes over the mandolined florets, liberally seasoned by the cured yolk's complex salinity. The dish cozies up beautifully with some vin de soif, the 2018 Terres Falmet old-vine Cinsault from the St. Chinian AOC.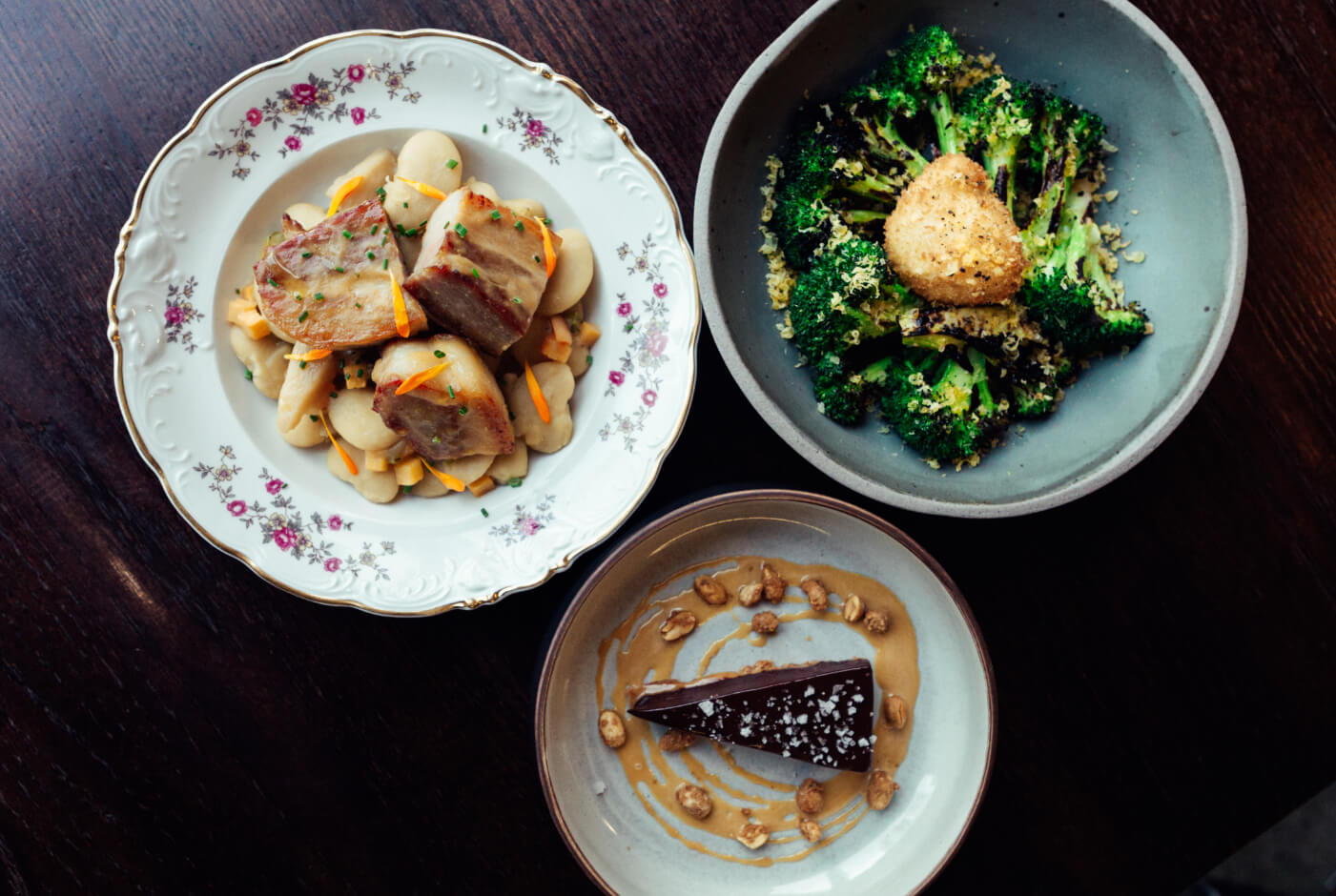 They offer a risky and revolving wine list longer than their seat count, as delicious as it is esoteric, alongside elegant and truly original cocktails.

Edmonton's newest lifestyle magazine Uncovering 
the best in hidden gems around the city.
Bündok's best loved dish, their Gnocchi Parisienne, arrives next. This is a much lighter and fluffier rendition of gnocchi that uses a pastry flour in place of heavier starches like potato. The sauce treatment morphs with available ingredients but tonight it was served with whey-braised leeks and the simple pleasures of well-grown garlic and roasted tomatoes. Vancouver Island's Averill Creek "Joue" red field blend provides a juicy zero-zero accompaniment, a BC natural wine that uses the appassimento method, adding the carbonically co-fermented wine to their unpressed Pinot Noir skins to add another fascinating layer of structure and complexity.
Last, an autumnal dish! Fermented sour plums and braised quince are reduced to a glaze for three gorgeous bricks of pork belly served over massive lima beans, cooked al dente with cubes of rutabaga and quince in a pan jus. The dish is rustic and heart-warming. It recalls a luxurious harvest meal on a homestead, using what you have to create something truly here-and-now. If you're celebrating, now's the time to crack into their Côte-Rôtie, a 2015 Rene Rostaing cuvée classique Ampodium no less.
I consider the citrus posset for dessert, but Jesse's smokey Nightshade cocktail is calling, and that smoke's going to pair brilliantly with their chocolate ganache served with dulce de leche and candied peanuts. The Nightshade cocktail brings together tomato-leaf infused Casamigos Blanco, Koch el Mezcal Espadín, Punt e Mes bitter vermouth, and a splash of PX and Giffard Vanilla, garnished with a torched grape tomato (tis the season) that adds a charred aroma to the burly smoke profile. Imagine a Manhattan blacked-out, then came-to in Oaxaca, halfway into a high stakes poker tourney, full tilt. What a finish.
Edmonton has a proclivity for hidden gems, for the unassuming, for treasures hiding in plain sight. We have a locals-only, for-us-by-us flare that scours the outer reaches while keeping one foot on the ground. Bündok fits that perfectly: equal parts dressed up and dressed down, comforting yet artistic, and unpretentious yet worthy. They are small and mighty like so much of Edmonton's best. It's because of restaurants like these that I hereby motion we retake our title—how about the City of Champignons?