Design, Inspiration and becoming a craftsman woodworker.
A local artist, designer and craftsman whose work you'll find in a number of homes, businesses, and more recently, in a Louis Vuitton store in Edmonton. This incredibly talented woodworker tells us all about his path to the artistry of designing sleek wood furniture, his inspiration and his life philosophy. It's our pleasure to introduce you to…Kenton Jeske.
Tell us about your growing up in Edmonton…
Born in the early 80s and raised in Edmonton's west end, my parents did everything they could to keep me from becoming a (WEM) mall rat! They did a good job raising my two brothers and me, one of whom, Jordan Jeske, owns and operates The PROJCT gym in Edmonton. I was involved in sports growing up and often kicked out of the house to figure out any boredom away from the TV or gaming consoles – I've never owned more than a Gameboy with Tetris. I remember being very creative and imaginative in my play. Aunts and Uncles lived in and around Edmonton as well, so a large family with cousins was always in the mix. I enjoyed school and friends growing up, but I wasn't very engaged in high school. I was into skateboarding and music (I played in a punk band) and I began to settle into more of the contemplative/introverted part of my personality. Funny enough, I took Shop in high school, though I think I skipped many of those classes – woodworking didn't yet take hold of my imagination. After graduation, I had no idea what to pursue and spent many years in and out of jobs. I dropped out of an Education degree in the first term of the first year, I headed over to Scotland for a couple of months with a religious organization to engage in a deeper spirituality – I left that as well. It was a difficult time, I was unsettled and aimless. It can be painful when one feels a purpose but can't incarnate it.
How did you start developing your interest and love for woodworking?
My path into anything seems to be connected with a passionate response or reaction and after several years of trial and error and frustration, a clarity in my spirit broke forth. A vision that jolted me while criss-crossing the Scottish and English countryside set me on a course to return home, marry Amy (my wife of 12 years now) and learn to build furniture. That vision of life with Amy and furniture making has remained my defining resolve. Developing that interest came after deciding to step into it. And that vision gave me the confidence to commit to it, without knowing where it would lead.

Edmonton's newest lifestyle magazine Uncovering 
the best in hidden gems around the city.
Tell us about your journey and how it led to designing furniture for the Louis Vuitton store in Edmonton…
I took a millwork and carpentry course at NAIT in 2007/08. There, I was shown a furniture making foundation from which I am still building my body of knowledge and skill. Time and experience in other shops, from other mentors and a largely self-taught practise have rounded out my formation and confirmed my suspicion that this work is difficult, demanding and one has to build up their craft practise through word of mouth, slowly. My work is not fast and neither is building a brand when it comes to a one-man shop like mine. There is no set course to ensure success.
A local artist, designer and craftsman whose work you'll find in a number of homes, businesses, and more recently, in a Louis Vuitton store in Edmonton.

Edmonton's newest lifestyle magazine Uncovering 
the best in hidden gems around the city.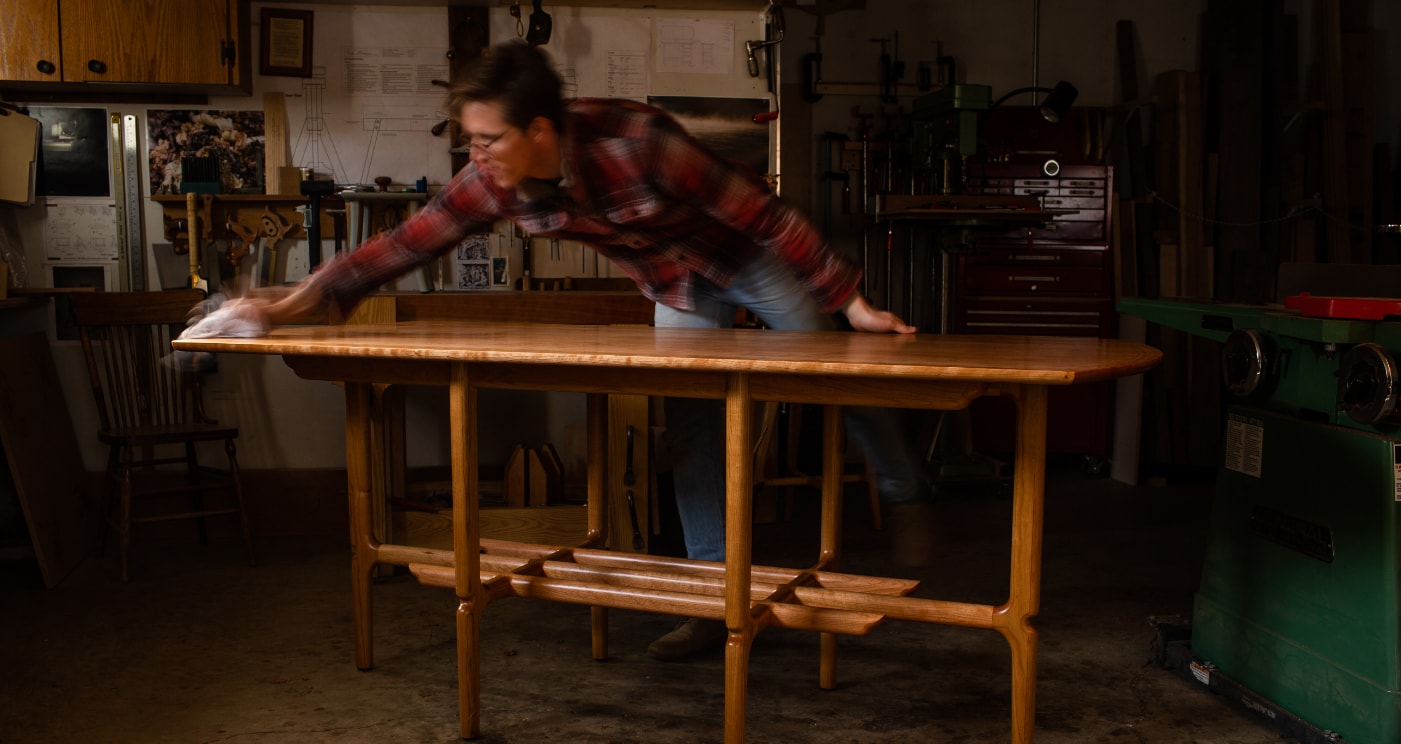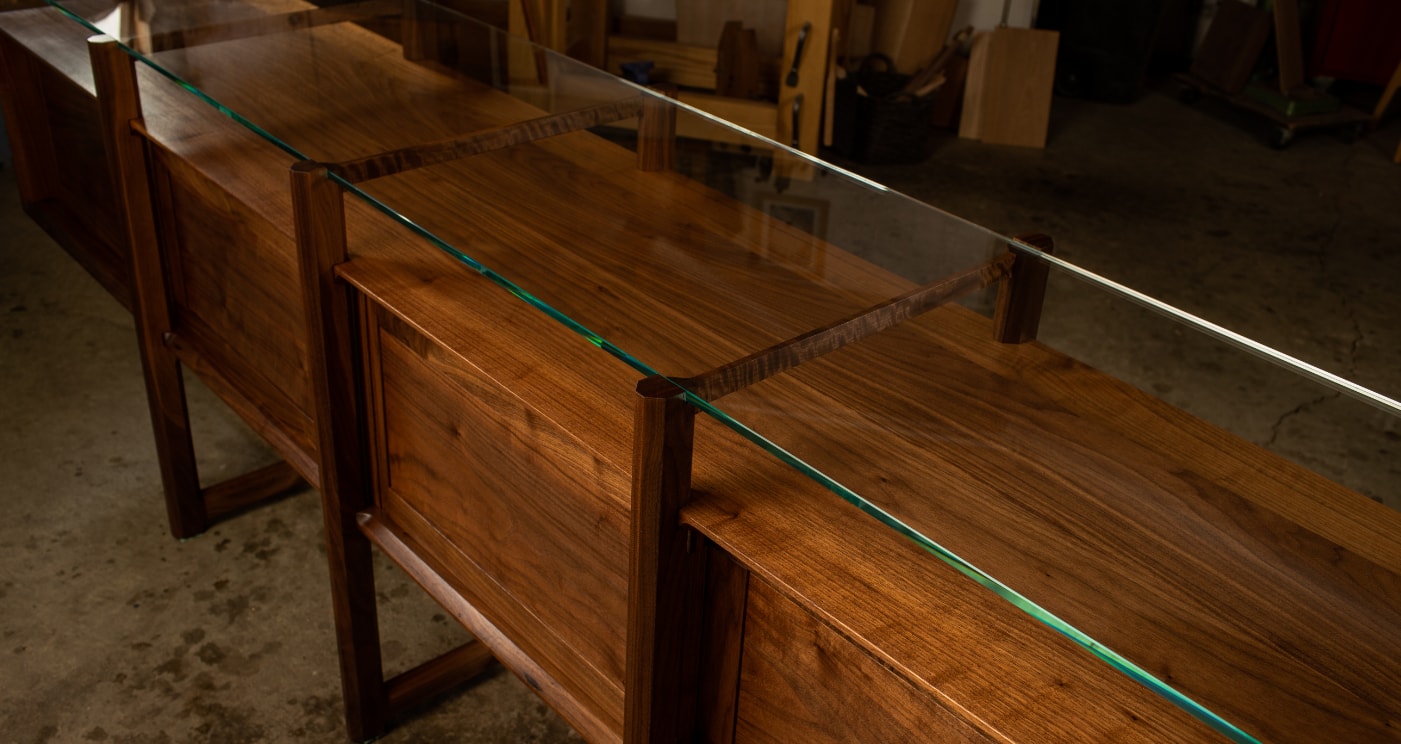 Today I am nearing 100 pieces of furniture made from my home studio shop since 2013, all through word of mouth or councils/organizations that champion my craft practise such as the Alberta Craft Council, Alberta Foundation for the Arts and Alberta Art Installation. The body of work has spoken for itself and my patrons continue to express their delight and relief at finally finding a designer craftsman that can help them ascertain the quality of furniture they desire. When Louis Vuitton reached out at the end of 2018 asking if I would design pieces for their boutique opening in the spring of 2019, I was skeptical. This sort of thing doesn't happen, right? Unbeknownst to me, Louis Vuitton was searching for a local furniture maker who would be able to build a quality of furniture worthy to showcase alongside their luxury brand. Not only was my work chosen, but previous designs were specifically requested from my portfolio to be adapted to suit their space. It feels really good to have your work recognized like that! The commission was a bit hectic happening as rapidly as I could make it – a short time frame to build the complexity of pieces they received. But Louis Vuitton was amazing, they were very communicative, efficient and prompt toward my needs to ensure a successful process and I am very grateful to them. I know we were all very happy with the result.
Where do you draw your inspiration from? Inspiration, for me, is a discipline of Active-Participatory-Waiting; present to the moment, so to observe light playing over surfaces or the blurred shape of a passing car and also patiently attentive to that which is not yet seen or imagined. For instance, a blank mind while doing the dishes after dinner or laying awake into the night turning over ambiguous shapes in my near sleep state – anywhere or anything could be a starting point. However, there is work to do in preparing for inspiration and in my design process that includes time researching furniture masters as well as different historical periods, making mental notes of exploration: lines, joinery details, transition sections, etc…subtle design elements that I adopt as part of my furniture's vernacular. I also utilize my philosophy on design: integrity of material, repetition in honing one's craft, and bringing out the essence of the wood. These are re-orienting foundations I return to when ideas aren't flowing.
Four words that describe your design style are….
Transitional, Sculptural, Sensual, Evocative.
Most recent book you read?
I predominantly listen to audiobooks in the shop as I work. The latest has been the three books from Robert McFarlane: Mountains of the Mind, The Old Ways and Underland. I live and work from my home where my studio shop is, so being taken out to the beauty of this planet through anecdotes and observations of climate, world attitudes, spirituality etc., through audiobooks keeps my mind churning and forms my work by challenging my own mindsets.
What is your favourite date spot in the city?
Amy and I really enjoy eating out. This city is chock full of new and exciting places and we just celebrated our 12th wedding anniversary and dined at Uccellino. We love it there. Often we would precede dinner with an afternoon at the AGA, a walk in the river valley or shopping!
What are you most proud of?
I would say I am very proud of my wife Amy for continuing to have patience, frugality and devotion to this journey we began 12 years ago. I am privileged and honoured to be living the life I have with her and our daughters. Amy and I have embraced uncertainty with unease (living with a reliance on one's art is anything but certain); but with a conviction and trust in the way life unfolds as one takes steps in the direction of their curiosities. I feel that is a good "way" for my girls to see life lived out. I don't believe there is a right way to do this and so any "mistakes" should be viewed as opportunities to re-evaluate one's priorities and remain fluid with the way existence on this planet must be.
What's the next thing on your horizon?
I don't know what's coming down the turnpike. I have a working queue currently booking into the spring of 2021 and will continue to be attentive to the ways I can remain open-handed to the gifts this life will offer. My philosophy and work isn't about pursuing something, it's about receiving something.
Places To Be
See this month's local flavours, products, and services.