Beginners and seasoned growers alike flock to Glass Earth, a lush, plant-lover oasis tucked away where one might least expect it: a mall!
Cynthia Booth, owner of Glass Earth has been a lover of plants for as long as she can remember. She was utterly fascinated by the outdoors and could spend hours outside her childhood home in the bushes.
"My first conscious moment of plant love was when I had first moved out of my parents' home and my mother had bought me a huge, beautiful spider plant for my apartment. Perhaps it was the beauty of plants in a home or that I kept it alive.  I also was extremely self-conscious of my bad skin and at the same time was searching for a career where I could hide behind the public scene. Whatever it was, that was where my plant journey really began."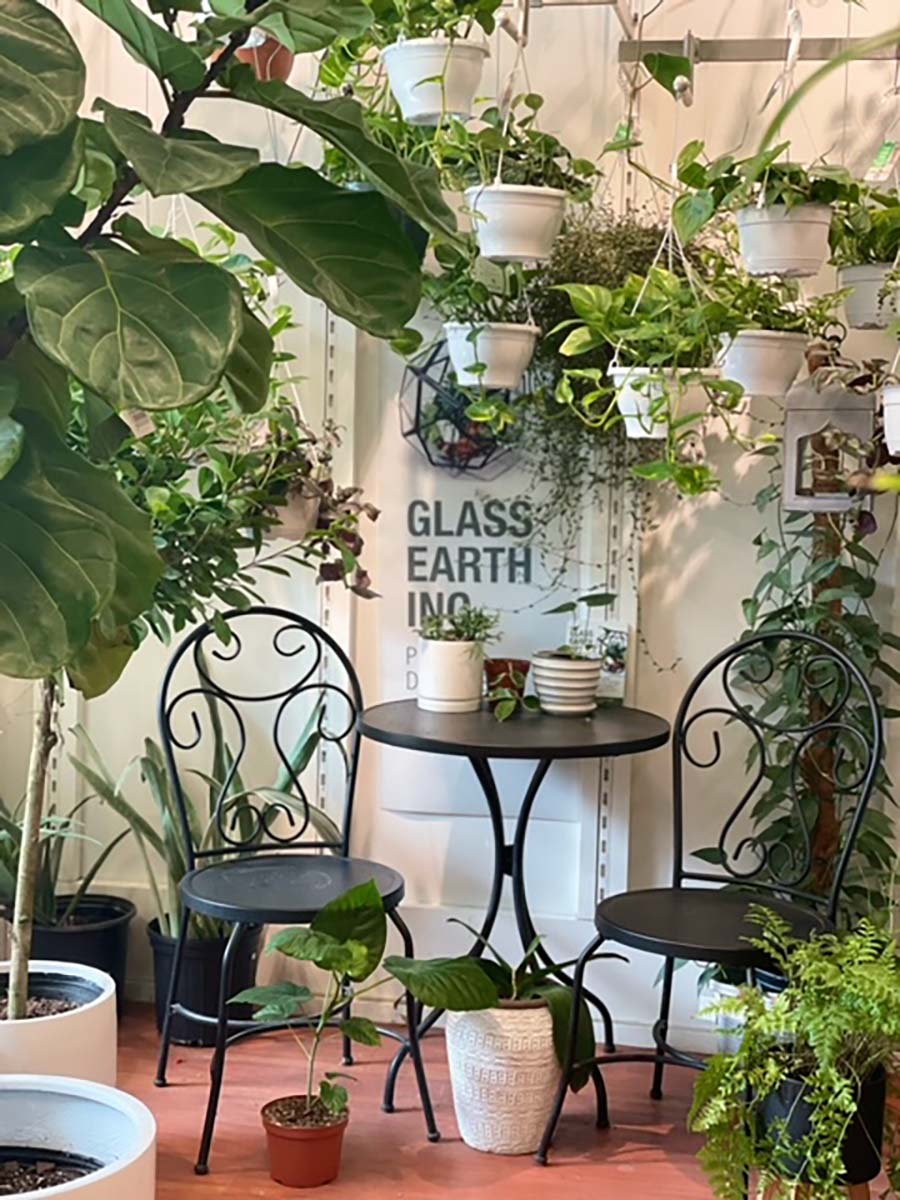 Cynthia became a horticulturalist and during her career, got to take part in many different roles – from greenhouse operations and seed management, to landscape design, writing, and teaching. There was just one thing she hadn't done yet that she always wanted: to own a plant business. In 2016, the opportunity presented itself and she jumped on it!
"Glass Earth began as a booth at Edmonton's Home and Garden Show, then a kiosk at Southgate mall and a small shared shop in St. Albert. After an article had been published in T8N magazine, Lindsay Botha of Kingsway mall reached out to me and offered me a spot where I have been ever since. I will always be grateful to her!"
The idea wasn't beloved by all, however, as there were those who doubted whether or not a mall was a smart place for a plant shop. But the voices of those who believed in her, like her daughters, were loud enough to drown out the naysayers.
Stepping into Glass Earth is like stepping into a tropical paradise. You are immediately struck by how vibrant, green, and vital it is! 

Edmonton's newest lifestyle magazine Uncovering 
the best in hidden gems around the city.
"My goal has always been for each person who enters the door to feel refreshed, fulfilled, grounded, renewed, more loved and just a little bit better than when they walked in. Because life isn't always about business, is it?"
Cynthia makes an effort to cater to plant-hobbyists of all experience levels, from those who feel like owning plants is challenging, to those looking to challenge their plant ownership skills. This oasis is also a great resource for anyone who needs help with their plants. There are not many questions they can't answer! No matter the experience level, every plant owner makes mistakes sometimes.
"Improper watering is always the biggest plant care mistake people make! If you don't understand the plant you're dealing with well enough, anyone can kill it by watering it wrong.  The other big mistake people make is loosening all the roots of a plant when they transplant it. It's a really bad practice that causes the downfall of many plants!"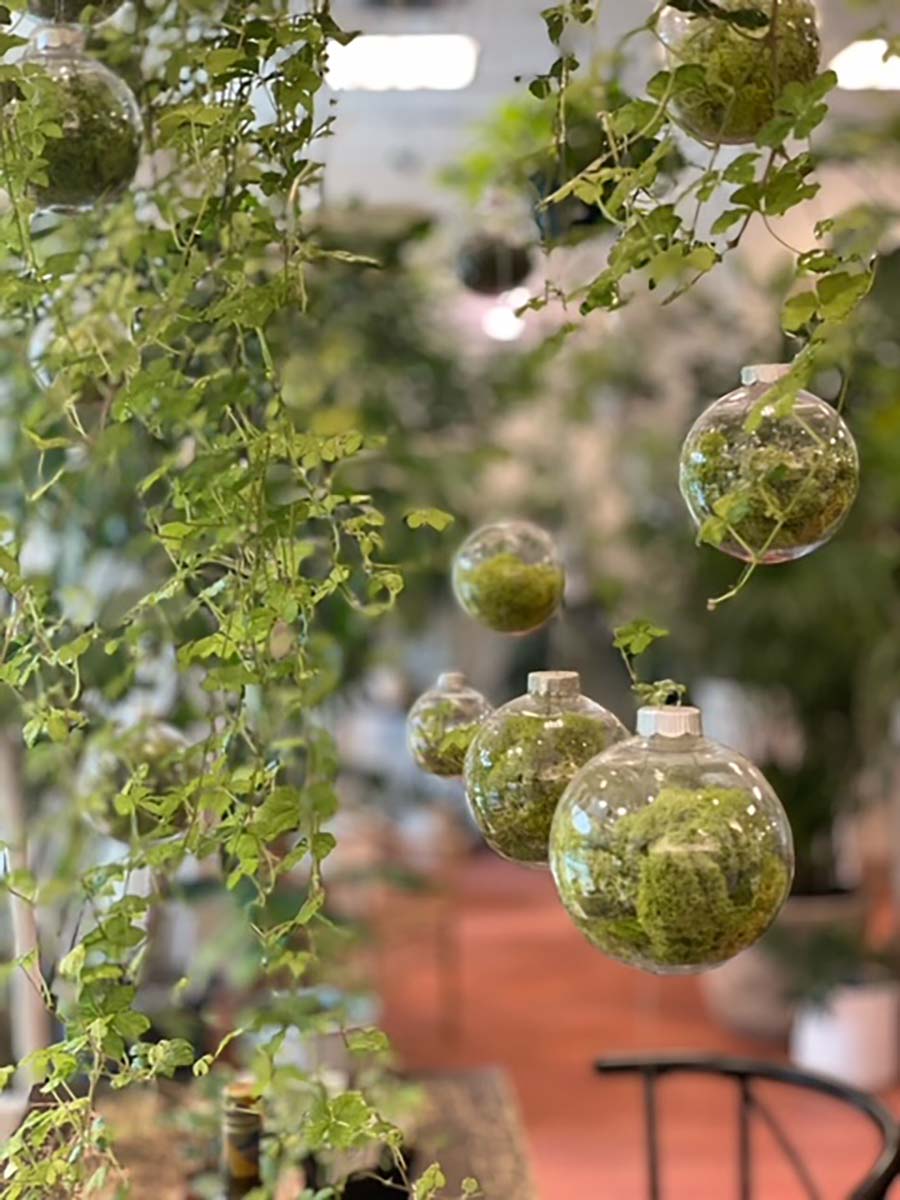 Cynthia's Plant Recommendations:
For Beginner Plant Parents:
Pothos, snake plants, and just about any philodendron, dracaena and peace lilies. 
For Those Looking for a Challenge:
Palm trees, many ivies, plumerias, tropical fruit trees, and some of the more exotic plants that come through our doors such as cinnamon trees and some of the ficus varieties. 
Most Overrated Plants:
Yuccas, string of pearls, and joshua trees are overrated. They have small root systems that make it difficult to know when to water them. But that's just my opinion!
Most Underrated Plants:
The most popular plants going out the door will always be the many varieties of pothos and snake plants and of course, anything with pink leaves! I believe that even though we sell a lot of pothos, they are still under-rated. Can you have too many pothos in a house? They are easy to care for with almost any lifestyle and they are forgiving of being overwatered and underwatered. They grow effortlessly and beautifully and quickly. And there are so many varieties! 
Most Talked About Product:
You will hear me talk about Ash & Fig Living Fertilizer products to my clientele constantly. It puts back into the soil what processing takes out. Plants don't grow well in a sterile setting. Be conscious of your lighting, drafts, vents, drainage of water, and watering. Believe it or not, plants HATE chlorinated tap water! 
Places To Be
See this month's local flavours, products, and services.