Dorinku is transporting a taste of Japanese street food and nightlife to Edmonton.
Inspired by Izakayas, a type of popular Japanese bar, Dorinku's vision is to whisk Edmontonians away to Japan for an authentic Japanese street food experience right here in the city of champions. If you've never had the pleasure of experiencing what it's like to dine-in at an izakaya in Japan, the mood is lively yet laid-back with a welcoming atmosphere. A place where the locals go to enjoy food and drinks, especially at night. 
When you enter Dorinku, you'll be greeted enthusiastically in Japanese and treated to an authentic menu that will have your mouth watering. You'll then be surrounded by groups of people having a great time while enjoying Dorinku's Tokyo street food fusion.
What is "street food" exactly? Street Food is hugely popular all around the world. Eating from stalls and vendors has transformed its image during the early 21st Century to become one of the trendiest ways to enjoy a meal. Japan is well known for being one of the global capitals for food lovers and while street food stalls were once on the decline, the concept is officially making a comeback. 
Delicious, inexpensive and fast are the three main qualities of Japanese street food and Dorinku has brought those qualities to their two hot-spot locations in Edmonton. Dorinku Osaka can be found in the heart of downtown on Jasper Avenue and Dorinku Tokyo in Old Strathcona on Whyte Avenue. Both locations share similar, yet different menus featuring sushi, sashimi, noodle dishes, street-food inspired appies and more.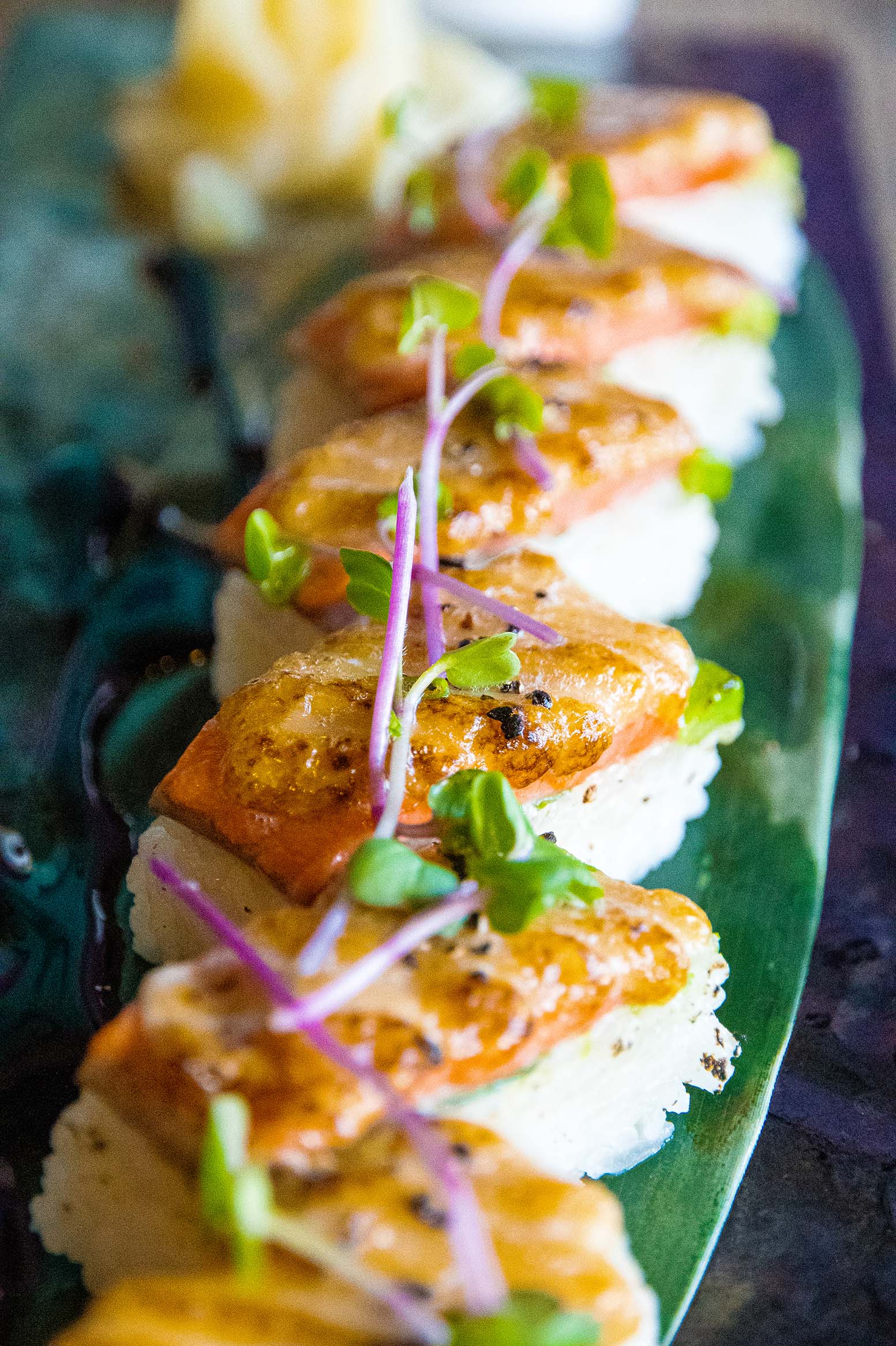 Edmonton's newest lifestyle magazine Uncovering 
the best in hidden gems around the city.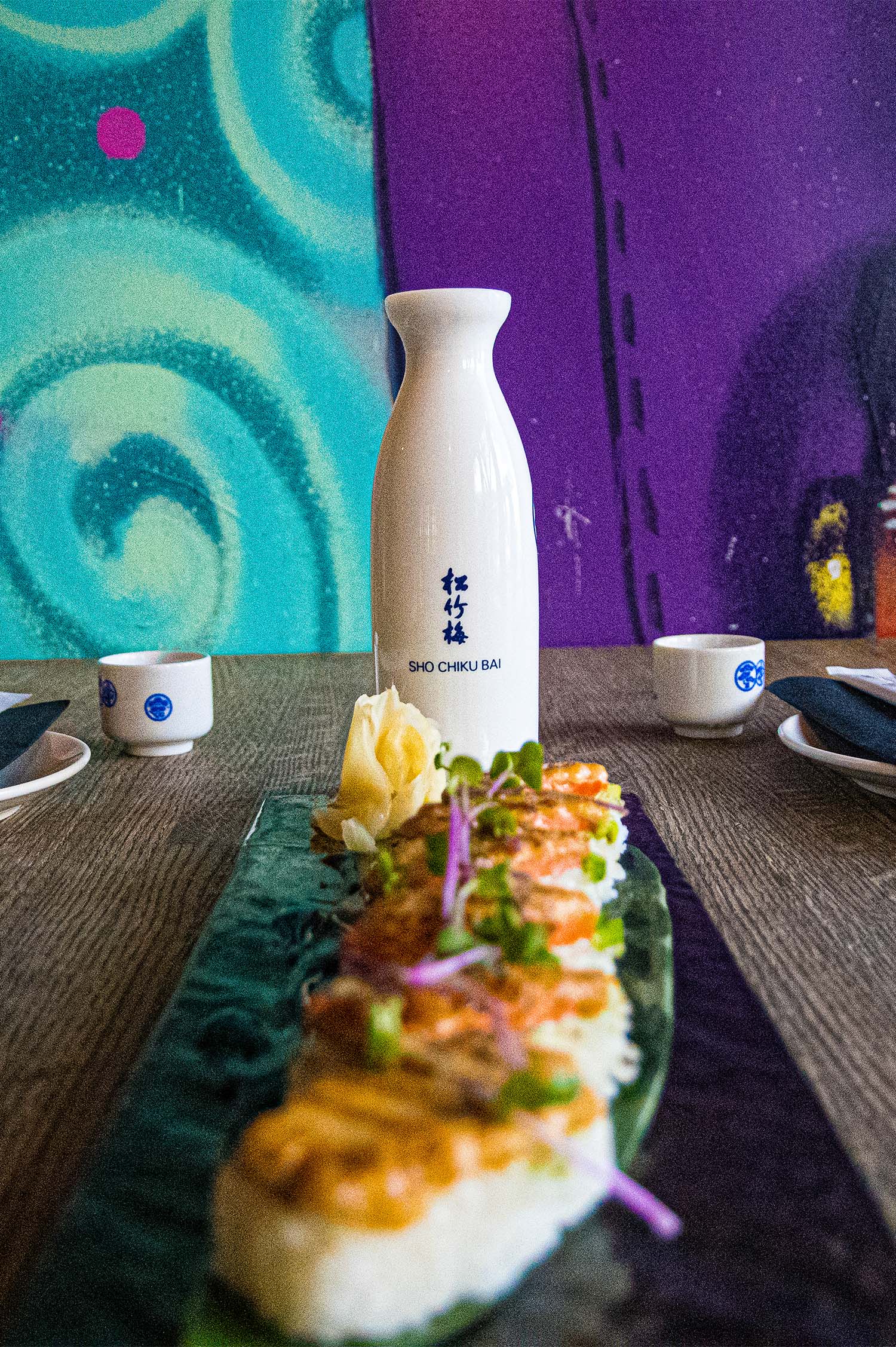 A menu staple item you might want to try is Dorinku Tokyo's Wild Salmon Pressed Sushi, an untraditional take on sushi rolls. Their Carbonara Udon is another hot menu item, quite literally, which features Japanese udon noodles, creamy carbonara sauce, bacon and grated parmesan served bubbling in a hot stone with a poached egg.
Dorinku translates to "Drink", symbolizing all of the different moments when a drink is shared between people. Whether it's over joy, happiness, sadness or grief, drinks are almost always at hand. Dorinku's drink menu offers a variety of hand-crafted Japanese themed cocktails and an array of sakes. Many of their drink creations feature a ginger extract made in-house which is most famously used to create their signature ginger ale.
After a few sake bombs at Dorinku Tokyo, guests can find their way down a hallway lined with anime figurines to the restroom, which has a tranquil vibe with dark wood panels and bright green light fixtures. This bathroom design landed Dorinku in the top five finalists of the Cintas Canada's Best Restroom contest. This lavish lavatory's throne is a bidet and features touchless faucets and complimentary mouthwash. Finalists were chosen based on cleanliness, appearance, innovation, functionality and unique design. 
If you're looking for a quick taste of Dorinku Tokyo, you can also stop by their food stall at the Bountiful Farmers' Market on Fridays, Saturdays and Sundays year round.