Welcome to Obsidian Ridge, a wedding venue crafted with love, for love
When Jodi and Layson LaFayette were planning their wedding back in 2016, they could have never predicted that it would shape their future career paths. After having a difficult time finding a venue that lined up with what they had envisioned for their dream wedding, they settled on a location and their wedding day went as quickly as it came. Jodi and Layson were on the dance floor, just beginning to feel their oats, and the venue owner approached them to tell them it was time to shut down and clean up. Disenchanted, they vowed that they would design their own venue so they could give brides and grooms the fulfilling wedding day experience that they deserved, and that they did. Just like that, Obsidian Ridge was born.
It was fate that Jodi, an award winning designer, and her husband Layson, an accomplished developer, found each other. Not only as life partners, but also as work partners. Designing  Obsidian Ridge would be their first project together. Their idea was to create a unique all-in-one "destination" wedding resort close to the city with both camping and luxury overnight amenities. After scouring properties around the city, they found the ultimate location just thirty minutes southeast of Edmonton. The property boasts thirty acres of land with lots of different elevations, rolling hills and natural water features, making it the perfect spot for all facets of a wedding.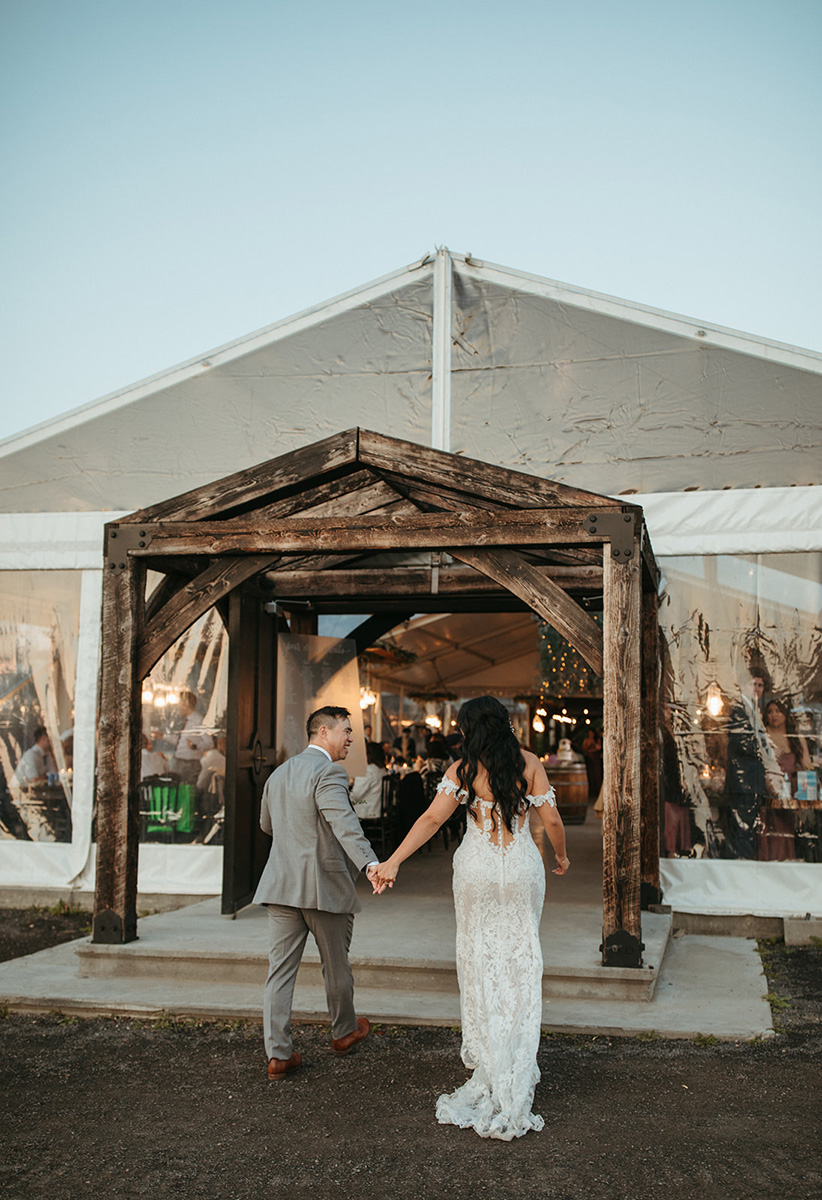 Edmonton's newest lifestyle magazine Uncovering 
the best in hidden gems around the city.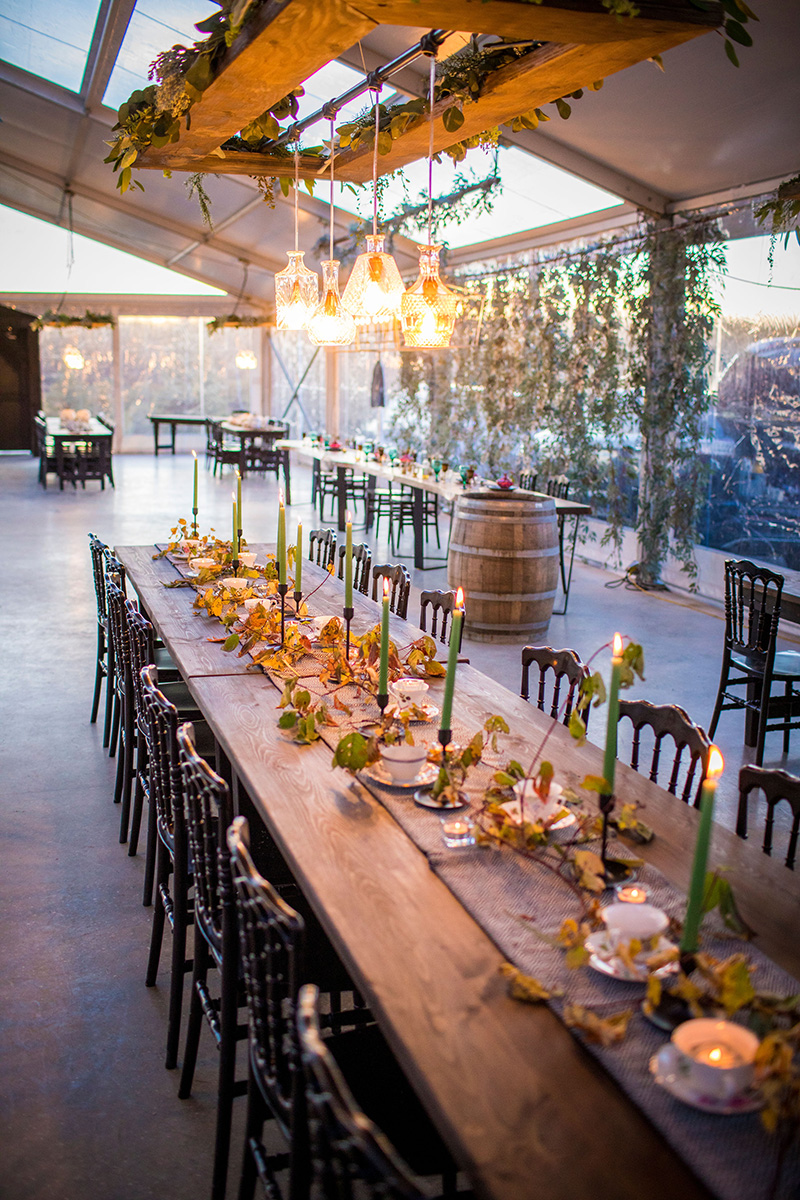 When you book your wedding at Obsidian Ridge, after setting up, your special day will begin in the bridal suite and groom's den. The bridal suite features three makeup stations, antique lounge furniture, a beautiful chandelier, a fridge, and air conditioning/heat for temperature comfort. The bridal suite leads outside to a large lounge area surrounded by rose bushes and lilacs, nestled in the botanical garden. The groom and groomsmen will be getting ready in the groom's den which was themed after grandpa's garage. This man-cave is loaded with a foosball table, pinball machine, basketball hoop, punching bag and dartboard, with cozy lounge furniture and even a 1941 Dodge truck.
The grounds at Obsidian Ridge offer a multitude of stunning areas for your ceremony. Many brides and grooms choose Obsidian's unique amphitheater, the first of its kind in the region. The monolithic monument is built from 500 tons of giant boulders from a rocky mountain and is equipped with 100A power, a small sound system and landscape lighting throughout. A seven-stage waterfall, infinity edge pond and moon-gate entrance nearby give plenty of gorgeous backgrounds for wedding photos.
"Everything here has been created with intention. The moon gate symbolizes a doorway, not just a normal door, a doorway that takes you from one world to the next. So for those getting married, that is moving from being single, to being together; from two families, to becoming one. The circle represents unity, the stone symbolizes permanence and stability. Much like the bond of marriage is forever, this stone monument will be here forever." Layson describes.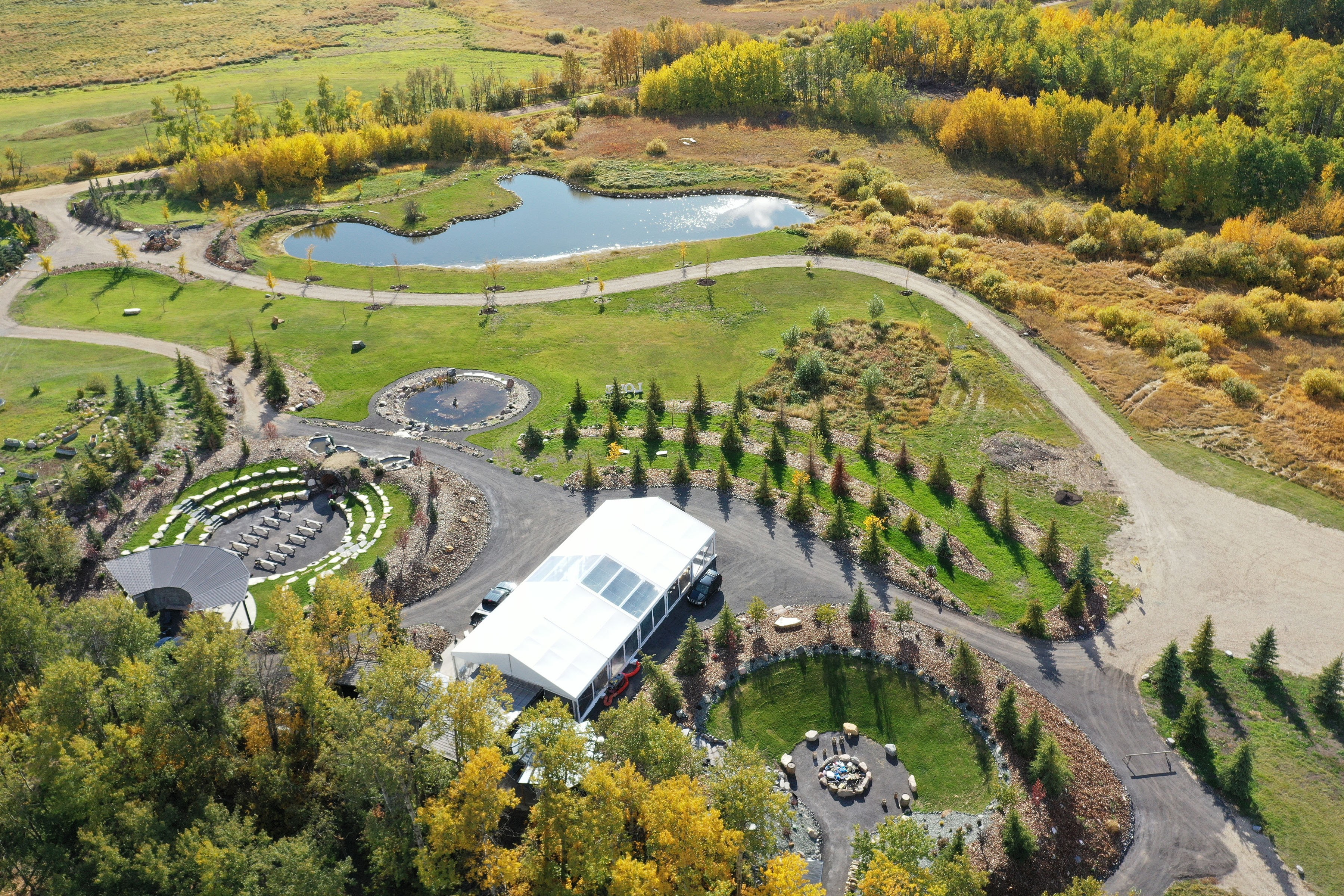 You will spend your evening beneath the stars without the light pollution from the city. The reception tent features a transparent canopy with accent lighting that was carefully selected to offer the perfect ambiance, providing a truly enchanting experience. The reception tent is brimming with an extensive amount of interior features, which are all included in the venue fee, providing you with everything you need for your evening to go off without a hitch. If the weather is right, you can bring the party outside to roast some marshmallows and cap off the evening around the 12 foot diameter fire pit. 
At the end of the night, newlyweds will be whisked away to the honeymoon suite, which can be found nestled in the hillside just below the groom's den. The suite is fitted with a queen sized bed, freestanding clawfoot tub, electric fireplace, private bathroom, mini fridge, and coffee maker. Outside you will find a private cedar hot tub, BBQ, and small fire pit for two. The bride and groom can enjoy sunrise views over Owen Lake, or can choose to close the blackout blinds and sleep in. An add-on package also allows guests to camp overnight with RV lots and tenting sites.
No stone has been left unturned at Obsidian Ridge. Jodi and Layson have poured their entire hearts into the venue and are excited to be adding a glamping resort called "Oasis At Obsidian", with more exciting features to be announced in the near future.
Places To Be
See this month's local flavours, products, and services.