Transforming the Discussion Around Mental Health
We are all born with a special gift. John Cameron's gift is using his dynamic talent to make the world a better place. Some will know him as the Chairman of Keller Construction, while others will know him as founder of the John Cameron Changing Lives Foundation, bringing awareness of mental health causes and initiatives through the power of music and performance.
Were you born and raised in Edmonton?
I was born in Drumheller, home of the dinosaurs. We moved to Edmonton in 1968. That's when the Edmonton office for Keller Construction opened. My dad started with Ernie Keller back in 1962.
Tell us a bit about your childhood and where your passion for performing and entertaining came from?
Growing up, I was into sports. I played hockey lots and golfed; but as a kid we would always drive to Calgary to go to my Grandma's house. She had this big old piano and she would play it, my mom would also play it, and so then I would start to play it. My mom and dad saw that I liked the piano. They got me into lessons right when I was five years old and I continued doing piano lessons and organ lessons. I remember playing the piano for our choir in grade four, but I didn't seriously get into performing until 1981 when I started going to church downtown and saw the Edmonton Singing Christmas Tree. I was eighteen years old. There was an orchestra. There was a huge 150 voice choir every Sunday. The music was spectacular. I watched it and then I got involved. I sang in it for years and then I conducted it for years. So that's kind of where I got started.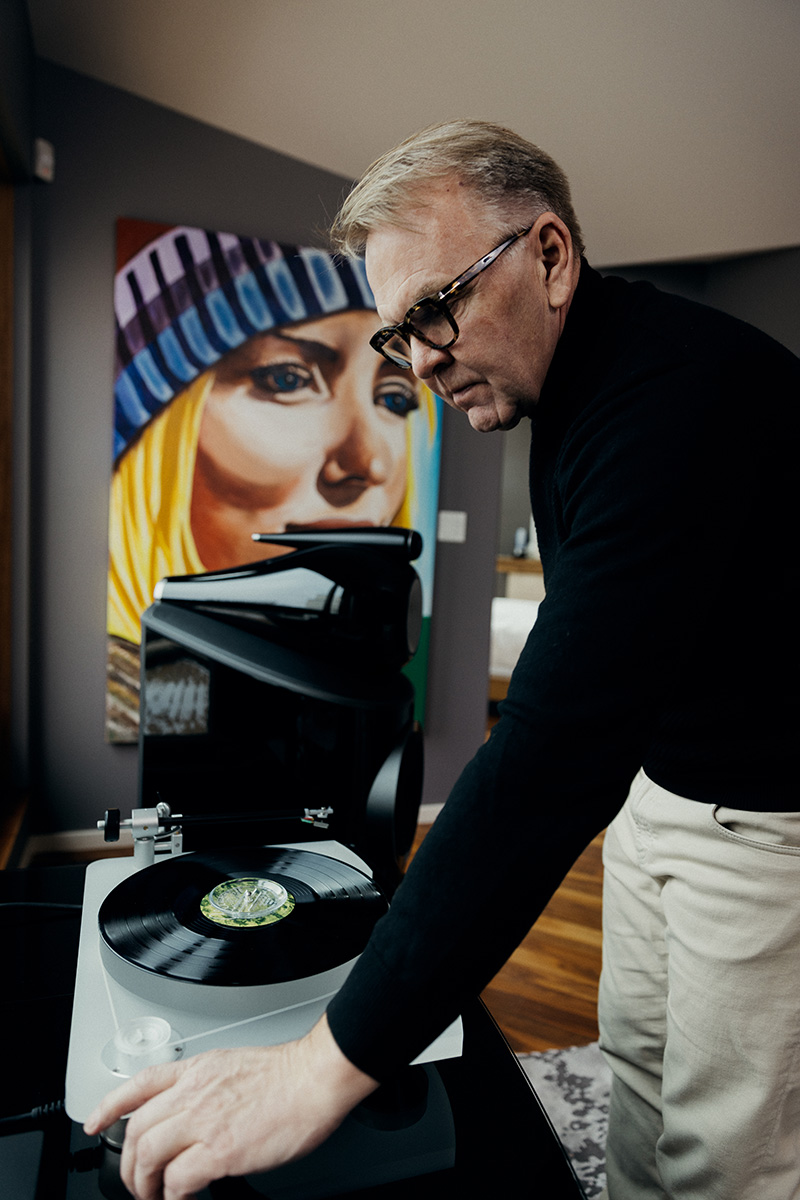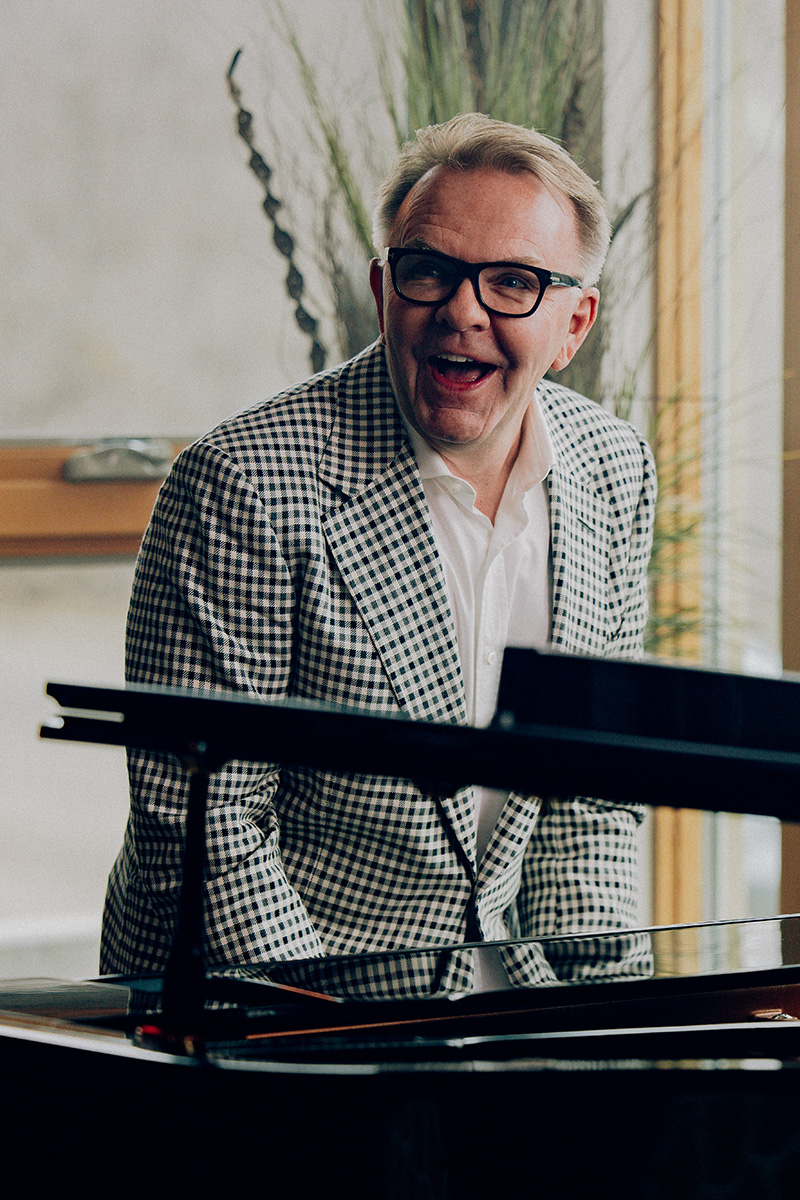 When did you realize your love of performance and entertaining could do good and make a difference for charity?
It wasn't until about 2009, when I did my first concert called Soaring with Song at the Winspear. There was a group of young kids that were doing this big concert, and they asked me to be involved. So that was the first go round of watching these young kids perform and the audience going, 'Hang on. Who are these people?' And that was good. I thought, 'Okay, I love that'.
So that was June of 2009, and in December of 2009, we decided to bring the Singing Christmas Tree back but with a twist and with the intent of trying to raise more money for local charities. The production had stopped in 2005. We started with Santas Anonymous, the Christmas Bureau and different charities like that.
When we made the decision in 2009, we didn't have the structure, we didn't have the orchestra, and we didn't have the venue. We had no music, we had no conductor. We had nothing. We had to buy the rights. We had to buy the structure. We put the show together and that was our first Singing Christmas Tree production at the Jubilee Auditorium.
What inspired you to introduce CRESCENDO?
I've always wanted to do a show of the piano greats like Elton John, Billy Joel, and John Legend with The Edmonton Symphony Orchestra at the Winspear. So, 2017 was our first CRESCENDO. We did Queen, Led Zeppelin, and all kinds of stuff and the total focus was mental health. Mental health has impacted my family, so I wanted to give time to talking about it. 
The musical term crescendo means start small and get louder and I wanted to get louder and louder, and let people talk about mental health. For many, many years, you couldn't talk about it. But it's changed. Now people need to talk about it and can get help.
The creativity behind your shows is spectacular. How do you begin to build out the program? 
I have a close team of two. Emmanuel Fonte is a co-producer and musical director and conducts the orchestra. He helps me with song selections and creativity. Donovan Robinson is a co-producer. He is the technical side, so what's going to be on the LED, what the stage construction is going to be, the whole lighting and sound, and all that stuff. My job is two fold. Raise money, because these shows cost a lot of money, and help select all the songs and put the show-flow together. 
We have quite a large stable of singers that have sung with us over the last twelve years. We are always looking for more and we are always getting people saying they would like to audition. I'd like to get more local Edmonton and local Calgary (CRESCENDO Calgary) people. Initially, we brought in Ruben Studdard, Mark Massari, and The Canadian Tenors, so people would go see them, and see the production that Edmonton was putting on. They would then listen to local singers and go, 'Okay, the Canadian Tenors are good, but the Edmonton people are good too'. We want to highlight as many local musicians as we can.
You are also the Chairman of Keller Construction. How do you balance the two worlds? 
Up until about three years ago, it was tough. I was doing Keller full time, and this full time, and I worked long, long hours; but I'm thankful now that I have a great management team. I actually sold some of the company to Tim Coghlan. He's now the president and CEO, and he and his executive team now run Keller which allows me to give 95% of my time to the John Cameron Changing Lives Foundation. As anybody would say, you are only as good as the team around you. So the team I have at Keller is absolutely amazing, and prior to Covid, the team I had at the Foundation was awesome too. It's the people you put around the table that get you through.
Also, the support of my parents and my family. If it wasn't for them, I couldn't do this. They have just been great supporters. My sister, my mom and dad, and my daughter…my daughter for sure. 
What does the future look like for The John Cameron Changing Lives Foundation?
Continuing to create amazing experiences.
What can readers do to support the John Cameron Changing Lives Foundation?
Money is always the goal. It would be great if I could get sponsorship to backstop the cost of the production. My goal would be to have ticket prices for as low as $10 so everybody could come see it and everybody could feel lifted. Everybody could feel change. But we are not there yet. We put on concerts to make an impact, to make a change, to affect people.
Places To Be
See this month's local flavours, products, and services.