Dedicated to players' lifelong success – Kavis Reed.
When Kavis Reed got the call to join the Edmonton Wildcats, he didn't hesitate for a moment. Edmonton has been a home to him and his family since the 90's, and while he worked all over Canada in the last 20-something years, Edmonton remained a home. Today, Kavis brings his expertise and years of experience as a coach, player and a member of the administrative team to the Edmonton Wildcats.
Tell us about your journey, how did you start a career in football?
It started somewhat as a dare. I started playing football in grade 10, basically on a dare by a friend who said I wasn't tough enough to play the sport, so I accepted that as a challenge. I was able to turn that interest into a scholarship, and so in 1995, straight from the university in South Carolina, I came to Edmonton and joined the Edmonton Elks. In 1999, I had the misfortune of having to lay off the field for a while, and realized that it was time to move on to something else. I had no desire to move into coaching, and coach Rich Stubler, who was a defensive coordinator with Toronto Argonauts at the time, called me after I had a year off, and offered me a position as his assistant. I was quite reluctant to do that, but after a few weeks of him giving me the pros and cons, and the fact that I had high respect and admiration for Coach Stubler, I decided to do it. It was supposed to be for a few months, and those few months have turned into an almost twenty-year coaching career.
How did you make your way back to Edmonton, and to Edmonton Wildcats?
I never got into coaching looking for accolades for myself, I got into coaching so I can contribute to people's lives. You listen to athletes today when they speak at award ceremonies and interviews; back when I was growing up there was so much praise going to your coaches because of the impact on your life…now, even on the amateur level, it seems so transactional, focused on what can you do for me on the field, not how much can I invest in your life and make you a better person, support you to be a more conscientious citizen, on and off the field. Those were my reasons for wanting to be a coach, and now this is my opportunity to give back at a level where young people are more impressionable and are looking for mentorship and guidance. They are enjoying the sport and what it can give them, and I enjoy being a part of that. At a 10,000-foot level, you see the number of things that are needed, and you don't have the ability to make those changes, but now, in my current role, I have the ability to help fill the gaps and support the players in a more wholesome way.

Edmonton's newest lifestyle magazine Uncovering 
the best in hidden gems around the city.
What is the role of an offensive coordinator, and what do you enjoy the most about it?
As an offensive coordinator, you are in charge of the strategy of scoring points. I had the luxury in my career to coach on all three sides of the ball, offense, defense, and special teams. This is one of the few things I haven't done full time so it gives me an opportunity to challenge myself but also to be able to impart knowledge, to help the players understand the 'why' as it's very important for the players to understand the reason you're doing something. That kind of insight allows them to appreciate the process more. Also, when they understand this, they can become teachers of the game later on.
What is the most rewarding part of the coaching career?
It's the relationships you build with the players, being able to talk about life, laugh and joke, share the life journey, knowing their kids and spouses' names, all those life experiences you share during the season, and during the off season – building lifelong friendships. I still talk to my high school coaches. My first high school coach is still a great part of my life, and I have the utmost respect for him. Seeing the career paths the players take, talking to them – those are indescribable rewards of coaching from the coach's perspective! Edmonton has always remained the headquarters for you and your family, but your work has taken you all over Canada, and the city changed so much since you first moved here.
What are some of the changes you noticed when you came back here full time?
Obviously, it's far more metropolitan now, more diverse, the overall feel of the city – big city with a small-town mentality. I really enjoy the neighbourly approach, with very friendly people who rally together for the community and good causes. The city expanded tremendously. When I first came here, the population was between 500-600,000, and now we're well over 1 million. The infrastructure expanded with the population too, so we definitely evolved in a major transformation as a city.
Tell us more about your involvement withYouth Unlimited?
Youth Unlimited is a not-for-profit group that works with at-risk youth, and the work that these men and women do is incredible, they are true heroes and heroines. They are committed to supporting a very vulnerable part of our population, young people that are going through various challenges and obstacles, and provide emotional and physical support. To watch them work, and be a part of the Board of Directors and a volunteer has really touched my heart. I've always had a passion for the youth population and for seniors, so another organization that I have a privilege to support is Operation Friendship – they work with a cape on their shoulders, supporting other vulnerable demographics, seniors who are facing homelessness. They work hard to make Edmonton a better place to live and that's a part of the Edmonton culture – people rally to help each other.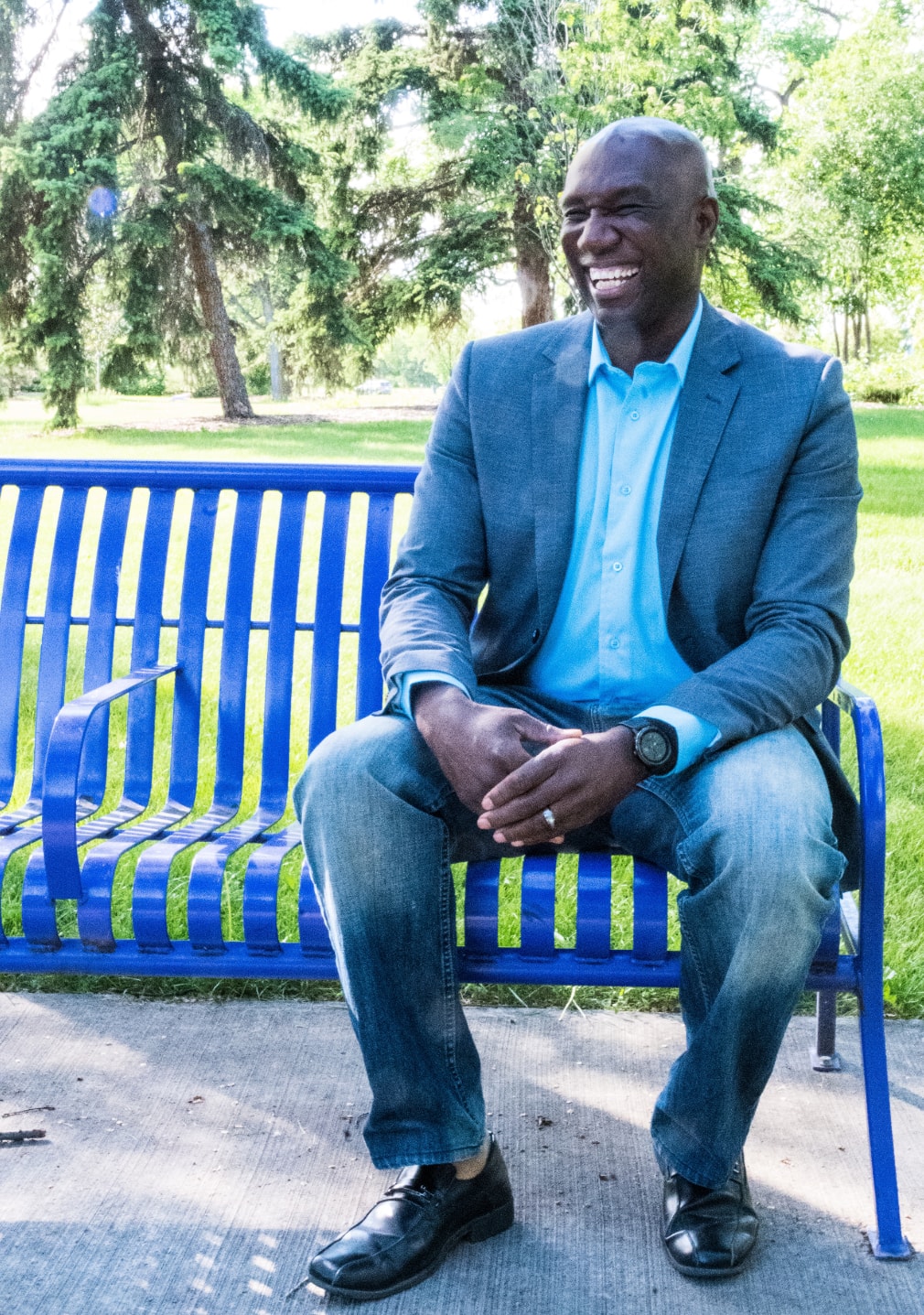 Kavis brings his expertise and years of experience as a coach, player and a member of the administrative team to the Edmonton Wildcats.

Edmonton's newest lifestyle magazine Uncovering 
the best in hidden gems around the city.
With such a rich career in football, what are some of the biggest lessons you learned along the way?
Never take anything for granted. The way my career as a player ended – one play decided the path…We become burdened with everyday challenges, that we really don't enjoy the moments. I'd taken a bike ride today through the river valley and Fort Edmonton Park, those are the moments when I wish I'd taken more time to enjoy them, to break up some long office hours.We need to take time to enjoy our lives. Another lesson would be that sports are, or should be, a great equalizer. One of the things I see, in some sports more than others, is that socio-economic status can determine the path of the player, and I believe we need to work harder to make sure sports are accessible and available to everyone. We need to do more and provide stronger infrastructure so that everyone can participate – including older men and women. There are so many benefits, mental, physical, emotional, so we should not stop participating in sports, regardless of our age. I truly believe that, although we do a good job in comparison to some of the other places I've been to, we need to do more to ensure sports are more accessible.
What makes a great football player?
Most of the game is played from the neck up. When you have a player that wants to understand the game, and the coaches teach that way, I think it's critically important that we teach the players more in the classroom than on the field. This game has become so sophisticated due to the technology, cameras, and artificial intelligence we use to pull a lot of different information. It's so finite, and we need to focus more on the mental aspect of the game and the emotional development of the players. How does a player manage success and how do they handle disappointment? That tells a lot.
Favourite thing about Edmonton?
Being a newly elected member of the Edmonton International Film Festival (EIFF) Board of Directors, I have to mention the organization; I've always had an interest in arts, classical music, architecture, old buildings, sculptures, anything creative that appeals to the senses, I'm infatuated with. This for me is an opportunity to assist a great organization get its message out and grow.Edmonton was a part of creating an Oscar-winning film, so that's an international claim, and we don't see that broadcasted enough. This opportunity really helps me be a more well-rounded person, as I believe we all have to work hard on being well rounded.
What are your top three luxuries?
I'll start from the third one. Living in many provinces in Canada, sports have afforded me with an opportunity to travel and see the richness of this fascinating country. A very diverse population, innovative people, rich culture – we should all be proud thinking about what this country represents around the world.Second, it's the platform the sport has afforded me, meeting so many different people, and having an opportunity to impact people's lives on a great scale.And first, my family, who also had an opportunity to travel with me. And my kids who experienced life through football, learned how to manage disappointment, how to communicate their feelings, and how to ignore the noise that sometimes comes from people who don't understand that the game should be left on the field.Being able to impart on them a lot of lessons that I've learned as a coach and administrator, seeing how they accepted it and grew to become very conscientious citizens, is the greatest luxury of all.
Places To Be
See this month's local flavours, products, and services.