The Porsche GT3 isn't big on compromise. It does not make for the perfect daily driver and it does not put comfort and luxury at the top of the priority list. As a matter of fact, it requires your full attention. It demands that all of your senses are in tune.
The GT3 aches for speed – it is a singularly focused Teutonic track-ready weapon, chiseled to perfection to eke every last ounce of capability from the chassis.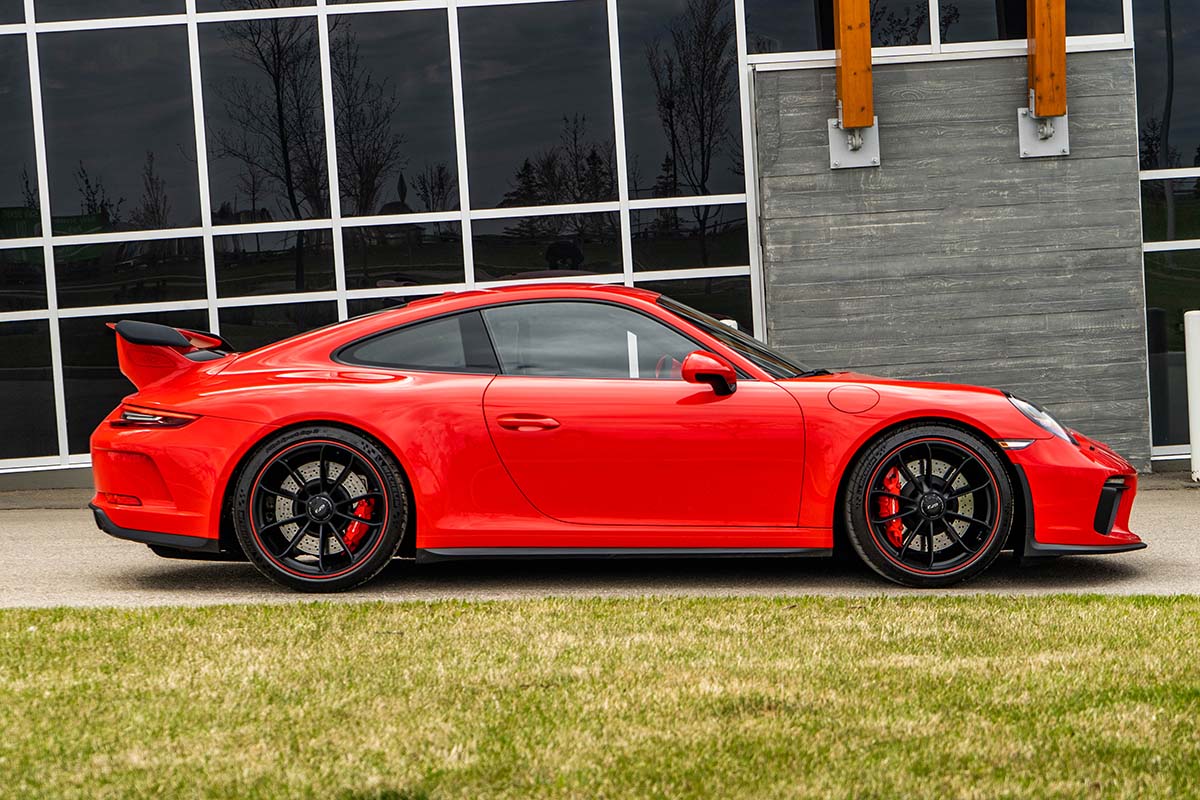 Edmonton's newest lifestyle magazine Uncovering 
the best in hidden gems around the city.
The engine, a naturally aspirated 4.0L flat-six that puts out 500 HP at a soaring 8,250 RPM, is so eager to rev through the gears, that you can barely keep up. The cable-actuated shifter is blessed with short throws and a tight, mechanical linkage making it easy to find your gear and impossible to miss a shift. Straight-line acceleration is not what this car is all about, yet 100 km/h arrives in less than 4 seconds. 
Where the GT3 really excels, is delivering that power on roads that are far from straight – the adaptive suspension combined with rear-wheel steering makes for an exquisitely balanced performer. The steering is perfectly weighted, has razor-sharp turn-in and a flawless connection to the car and the road. 
The massive front splitter and rear wing are not for show – they provide this veritable rocket with the necessary downforce for the ultimate control at unimaginable speeds. And when it comes to hauling things back down to earth, the gargantuan brakes provide breath-taking stopping power. 
Inside, there are all the creature comforts that the GT3 needs to be a commuter or a road-tripper. All amenities you need are there of course, but you'll never forget that this is a race-car at heart. Fire it up and the engine barks to life – accelerating sends the exhaust note to a feverish hair-raising crescendo. The carbon fibre bucket seats offer enough bolstering to keep the driver and passenger in place during the highest speed manoeuvres and there's a fire extinguisher in front of the passenger seat. This car is not a pretender.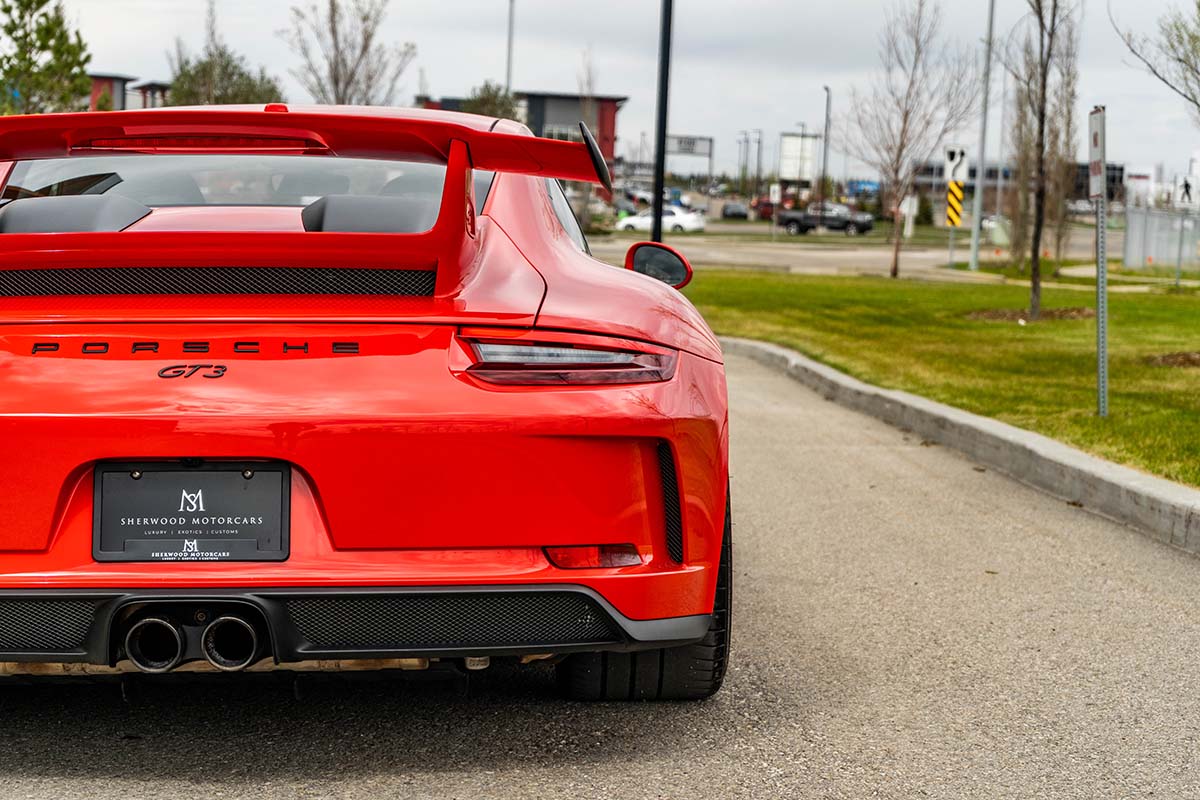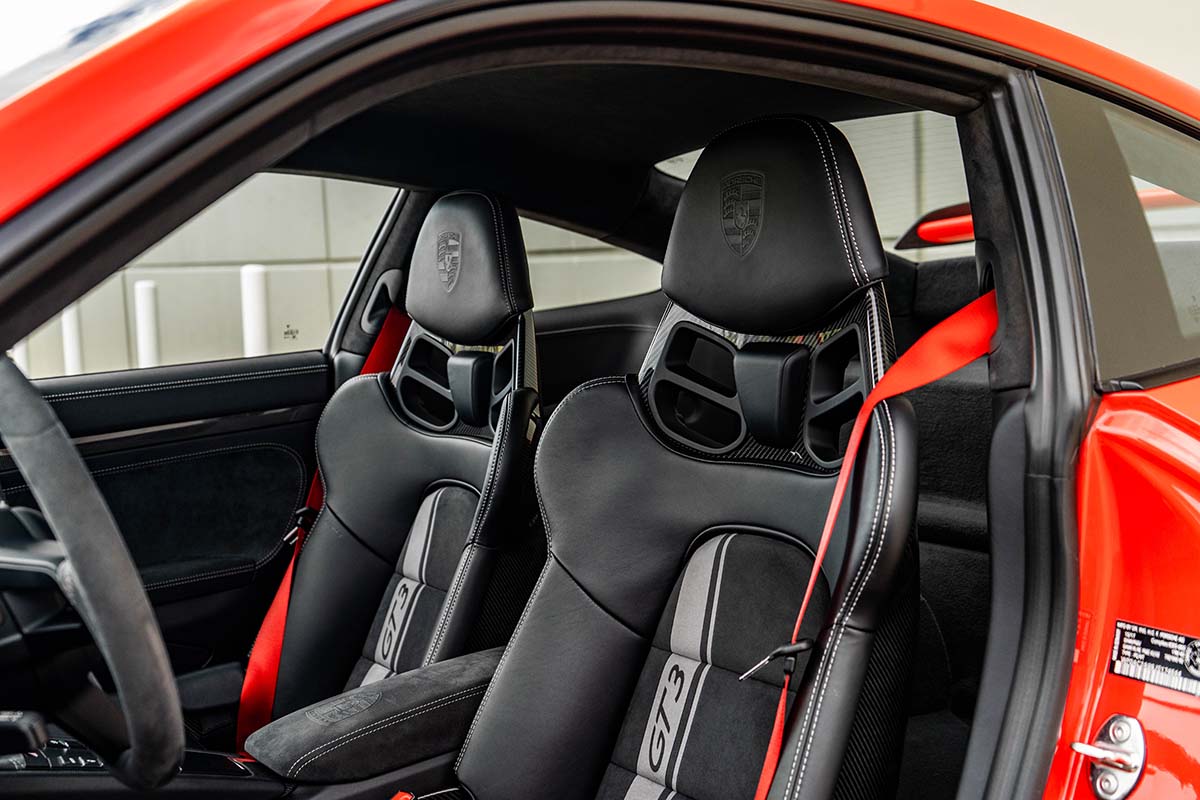 Although the GT3 is detuned enough from its track-bred racing roots to work as an everyday car, it reminds you constantly of its potential. It wants nothing more than to stretch its legs, to be taken to its limits and to bring you along for the ride. 
This rare gem is available now from Sherwood Motorcars. To say Sherwood Motorcars is something different is an understatement. Their jaw-dropping inventory would be any car aficianado's dream world, ranging from Ferraris, Lamborghinis, Porsches and Bentleys to G-Wagens and even classic muscle cars – there is something for every enthusiast. 
They are currently building their long-term vision – a stunning space that quadruples the current square footage – combining a showroom big enough for 38 vehicles, a customer lounge and bakery, detailing bay and even a turntable to show off vehicles. It's a feast for the eyes, combining sleek urban materials like steel beams and brick, ultra-cool offices in stacked sea-cans and even street art. The enormous service bay next door is licensed to work on all exotic vehicle brands. Of course you can visit them right now in their current space at the same address, but the future of Sherwood Motorcars will be opening its doors at the end of August.
But the real substance comes from Sherwood Motorcars' people. Staffed by driving fanatics, the vibe is welcoming and unpretentious the second you walk through the doors. Aside from the warm, open feel at the business itself, Sherwood Motorcars goes to great lengths to connect to the car culture and the community around it, frequently organizing and attending local events like their famous "Cars & Coffee" that sees hundreds of attendees. 
Whether this Porsche GT3 is your jam, or you're after a $1.3 million Lamborghini Aventador SVJ, or you just want to dream for the future, Sherwood Motorcars will be happy to oblige. It is much more than a car sale though – to the staff here, it's the beginning of a friendship, a long-term relationship and a connection through the joy of driving. 
Places To Be
See this month's local flavours, products, and services.