A stunning new space combining heritage, passion and the future
After four-and-a-half years of planning and construction, held up by the global pandemic, Porsche Centre Edmonton has opened their incredible, state-of-the-art facility at 18125 Stony Plain Road.
Every facet of the Centre's operations has been given considerable thought to ensure it reflects Porsche's commitment to perfection, as well as allowing the dealership and its staff to accommodate visitors at every turn in the customer experience. 
At 49,579 sq.ft. (an increase of over 30,000 sq.ft.!), Porsche Centre Edmonton can now comfortably display 22 vehicles in the expansive showroom versus the previous boutique-like space that allowed for perhaps 7 at most. 
But this is not just a bigger space. It is augmented by massive exposed pillars from the floor to the soaring ceiling high above. A Light Dome in the showroom brilliantly illuminates one particular vehicle and stays on at night so you can see into the showroom as you drive by, and giant screens project Porsche-produced lifestyle content.  
You'll find a Tequipment display, which allows for the introduction of Porsche's bespoke car accessories – such as roof racks, bike mounts, 
roof-top boxes jointly developed by Porsche and Thule, and detail and car care products. Parked atop a raised platform with glass tiles is a current Porsche model, outfitted to show off some of the available equipment and surrounded by further displays.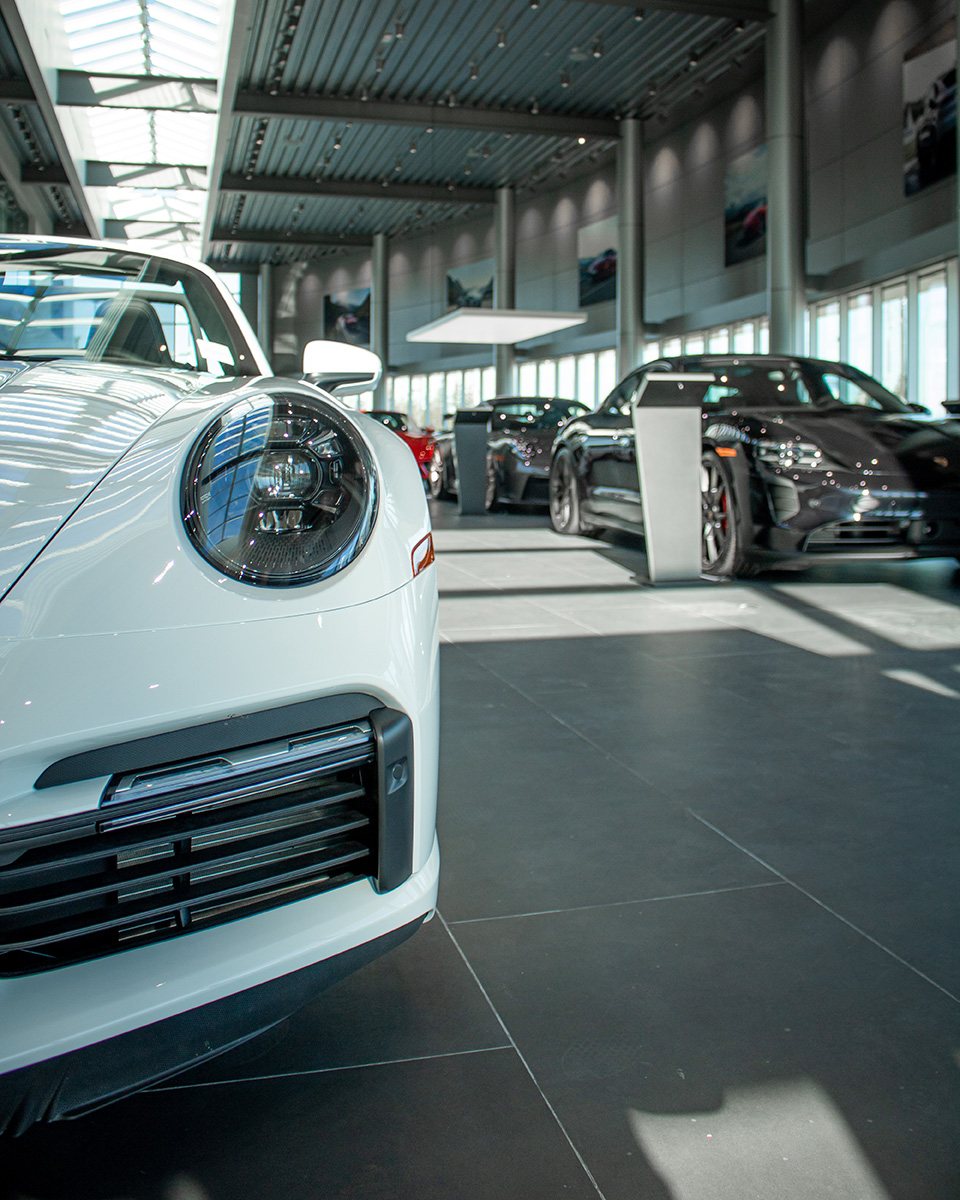 One side of the showroom has a separate Fitting Lounge. Here is where you can customize literally almost any part, inside and out, of your new Porsche. Want to pick a unique colour for your leather seats? Want your door sills to be in a different material, or even be personalized for you? Want certain panels of your vehicle to be painted a different colour? All of that can be done – and more. The bespoke experience of ordering your very own Porsche starts here and it knows no limits. If you can dream it, Porsche will build it.
You'll also happen upon the Porsche Lifestyle store where you can shop for mugs, kids' toys, keychains, clothes (there's even a fitting room!) and everything in between when it comes to genuine Porsche accessories. You'll even find high-end Rimowa luggage, available in Porsche paint colours like the stunning Guards Red.
When your Porsche is ready, the VIP treatment continues in the Delivery Bay – a special private lounge where customers are introduced to their new ride, which has been detailed inside and out. It is presented with a huge red bow and is spectacularly lit by light boxes above. Here you can sit and stare at your beautiful vehicle, you can get a tour of all that it is capable of by your sales representative, and then get in and drive it out of the dealership to its new home.
The unparalleled customer experience does not end when you drive away with your new Porsche. When you bring your vehicle back for service appointments, you can relax in two side-by-side customer lounges.

Edmonton's newest lifestyle magazine Uncovering 
the best in hidden gems around the city.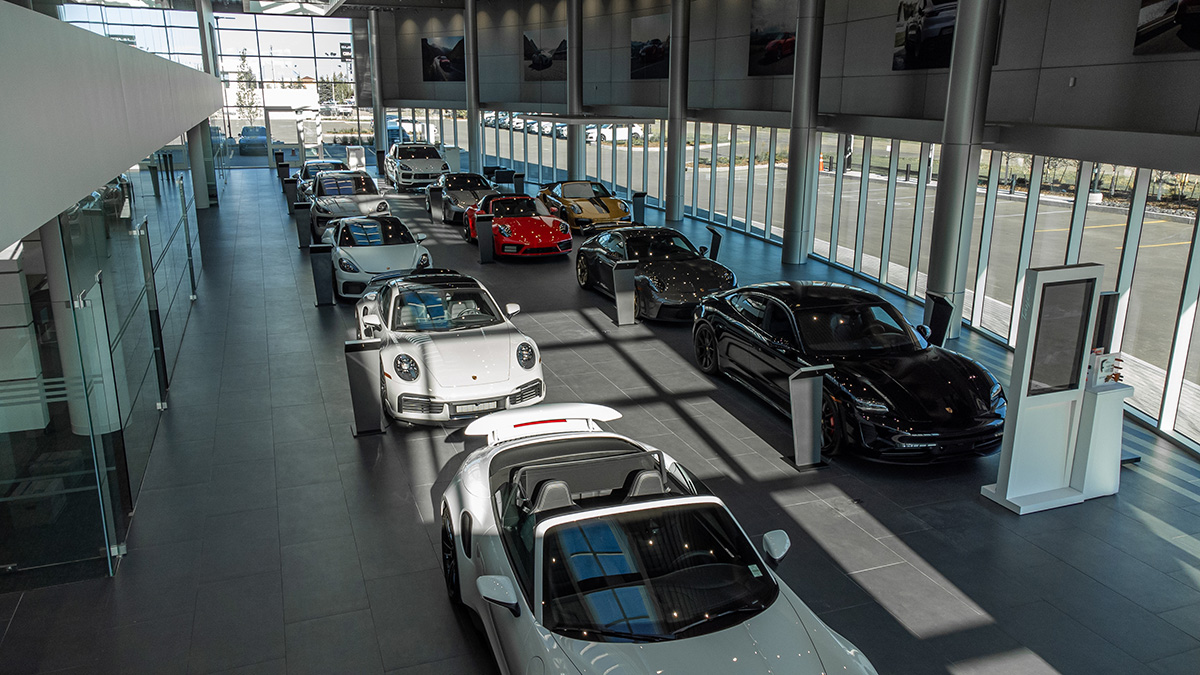 One features a spacious, comfortable area with a full view of the service bays through unobstructed windows. The leather couches offer a place to sit, watch something on the big-screen TV and drop your device on one of the wireless chargers – you can choose to work or just take a load off. 
Right beside that is the customer lounge with a stunning walk-up bar, complete with a true espresso machine, beverage fridge and more. 
When it comes to servicing your Porsche, the massively expanded capacity of the new Centre is immediately visible through those windows. They now have a 9-car drive-through section that allows customers to comfortably drive up into a holding pattern as their vehicle is checked in, passing through a highly-advanced scanning system that diagnoses numerous things about your car before it even stops rolling. Once it's your vehicle's turn, Porsche Centre Edmonton's new service area boasts 15 bays, up from 7. Specialized diagnostics and mechanical tools are organized in their own spaces – each ready to be accessed by the 
highly-trained service staff to look after the needs of each vehicle to the same standards that the car was built to in the first place. The service bay itself is kept stunningly clean and tidy.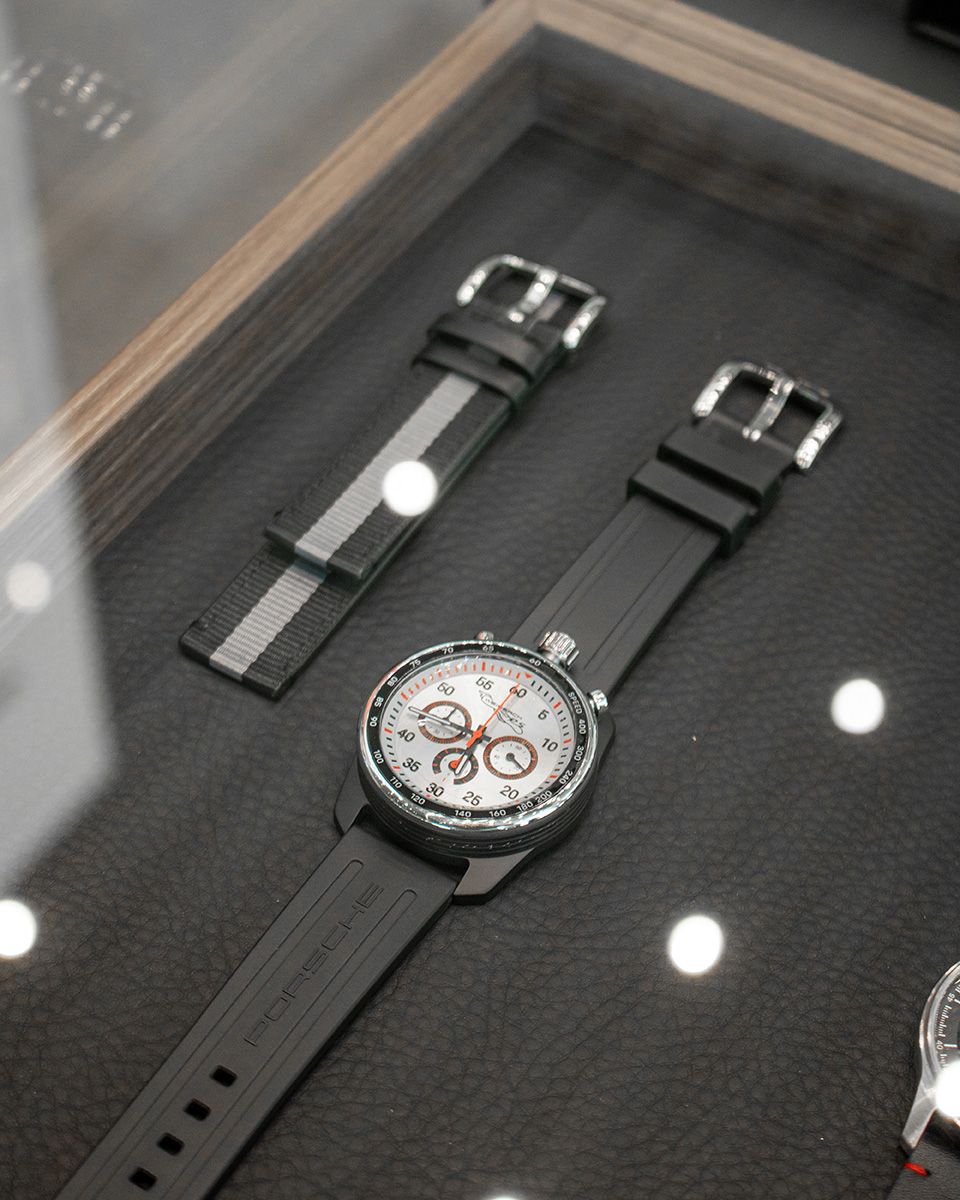 If you're dropping off your vehicle before or after hours, there's a delightful 15-car breezeway to keep your ride protected from the elements until someone can get it inside. 
And when all is said and done in terms of your vehicle service, your Porsche will travel through a separate cleaning and detail bay to ensure it's as clean and enjoyable to drive away as the day you bought it. 
Asked what sets Porsche Centre Edmonton apart from other dealerships, Connect Creator Tom Daneluik says, "It's the passion the staff has with the brand." Staff each go through extensive training, called the Porsche Academy, in a quest to know each and every thing about the company, the brand and its products. 
Tom muses about Porsche Centre Edmonton's people-focused atmosphere – their driving motivation is to see everyone passing through the doors get special treatment, and this extends outside of the dealership and work hours. Their involvement in the community, their sponsorship of events and their connection to people and things happening outside of the building are incredibly important in how they bring the dealership and the human experience together. 
Porsche as a company and brand has a storied history, rich with racing heritage and desirable vehicles that reach to new and more stratospheric performance heights with each generation. But Porsche Centre Edmonton itself has its own heritage, going back many decades. As a matter of fact, Randy M. has been with them for over 36 years, faithfully introducing new and old customers to Porsche products over that time. Reminiscing about the original store in an old Safeway and his cubicle with burgundy padded walls, he has seen many transitions and changes over these years. And yet, his passion for what Porsche does remains undiminished.
In the end, it is that passion that is reflected through the words and actions of each and every staff at Porsche Centre Edmonton that makes them what they have been, what they are today and what they will be in the future. A genuine desire to make each customer feel special, to make the shopping and buying experience unique, and to ensure that each of those customers is treated as part of the Porsche family throughout their entire ownership experience. They've come a long way to get to where they are – and it appears a limitless future lies ahead.
Places To Be
See this month's local flavours, products, and services.