Don't just grill your food, grill your drinks, too
There are so many things to love about our warm weather months—dining out on restaurant patios, taking in events at city parks, or enjoying backyard grilling with friends and family. These things are made for summer days. 
Cooking outdoors? Add some fruits and veggies to the grill and use them in cocktails to bring some extra wow factor to the table. 
Read on for four fabulous recipes that will kick your summer (and your barbecue) into high gear!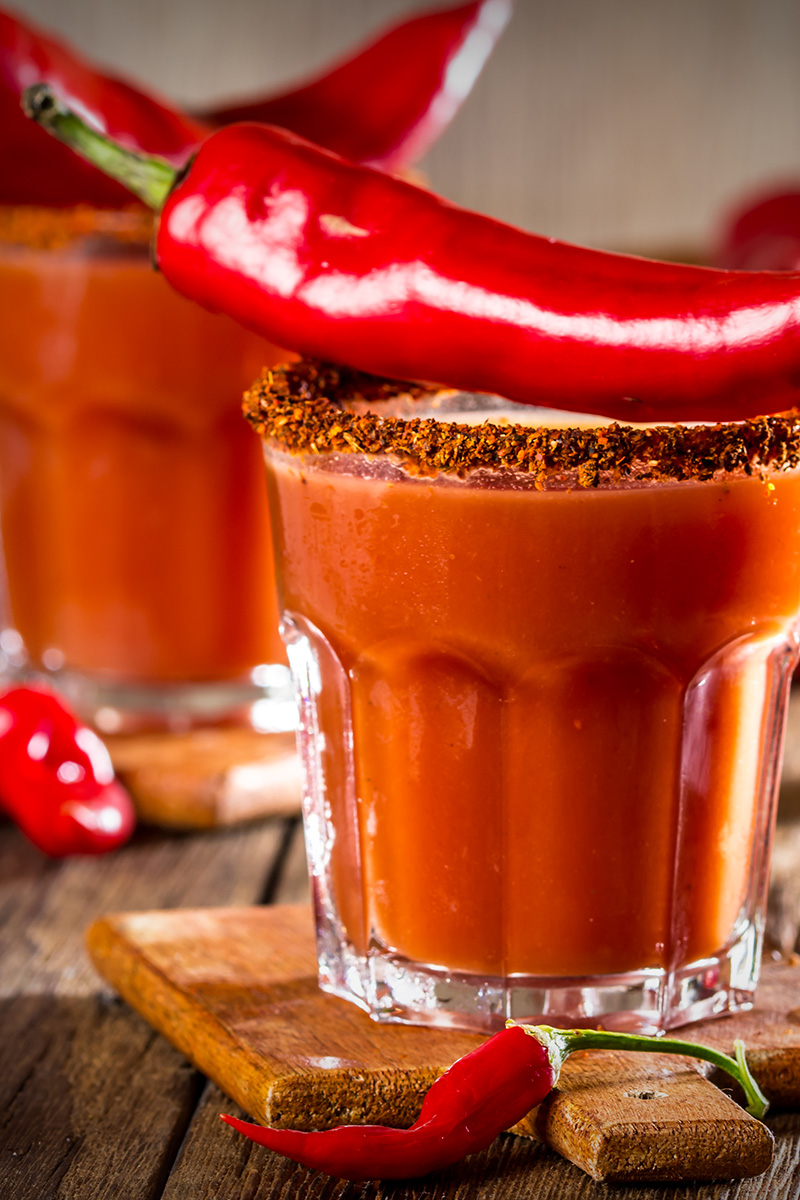 Grilled Bloody Mary 
Yields 1
This version of the popular American brunch cocktail is for those who prefer to drink their daily dose of vegetables rather than eat them. Fresh and savoury, the beauty of this cocktail is that a variety of vegetables can be used in the recipe itself, or for the garnish.
2 oz vodka
4 oz Bloody Mary mix (below)
Dash of Worcestershire sauce
1 TBSP smoked sea salt
1 lemon wedge
Bloody Mary Mix:
Makes 4 cups
1 medium onion, halved
1 jalapeno, halved
24 medium tomatoes, halved
1 lemon, halved
3 TBSP olive oil
1 tsp salt
½ tsp fresh ground pepper
1 lemon 
For the garnish: any combination of grilled asparagus spears, green beans, or a skewer of mini portabella mushrooms and pearl onions.
Preheat grill to medium. 
Add onion, jalapeno and tomatoes to a large bowl and toss with olive oil, salt, and pepper. Place on the grill, flesh side down and grill until softened and charred, about 4 minutes, turning once at the 2-minute mark.. Add the halved lemons, flesh side down, and cook alongside the vegetables for 3 to 5 minutes, or until charred. Set aside. 
Add the vegetables being used for garnish to the grill and cook until charred. Remove from heat and set aside. 
De-stem and peel the pepper, and add it to a blender, along with the onions and tomatoes. Squeeze in the charred lemon juice and blend ingredients until smooth. 
Pour the mixture into a pitcher and refrigerate until ready to use. 
Add the smoked salt to a shallow dish, run a fresh lemon wedge along the rim of a tall glass and dip it into the salt. 
Add ice to the glass, followed by vodka, Bloody Mary mix and Worcestershire. Stir to mix. Garnish with grilled vegetables and serve.
Grilled Watermelon & Jalapeno Margarita
Yields 2
 A bit of sweet from the fruit and some spiciness from the jalapeno simple syrup, and you've got a refreshing, pretty-in-pink cocktail. The simple syrup is made from grilled jalapenos and requires a cooling period, so make sure to plan ahead. 
2 cups diced, seedless watermelon
1 oz lemon juice (roughly from 1 large lemon)
3 oz blanco tequila
2 oz grilled jalapeno simple syrup (see below)
Garnish:
1 lemon wheel, grilled
Simple syrup:
Makes ½ cup
2 jalapenos, whole
½ cup sugar
½ cup water
Add the jalapenos to the grill and char until bubbly. Add the lemon wheel to the grill, char on both sides and set aside. De-stem and dice the jalapenos, and add to a small pot with ½ cup of water and ½ cup of sugar. Bring the mixture to a boil and stir until sugar is dissolved. Pour mixture through a strainer into a glass jar, and set aside to cool.
In a blender, add watermelon and blend until smooth. Add lemon juice, tequila, and simple syrup. Pulse to combine. Pour into glasses filled with ice and serve with grilled lemon wheel. Any remaining simple syrup can be kept in a sealed container in the fridge for up to a month.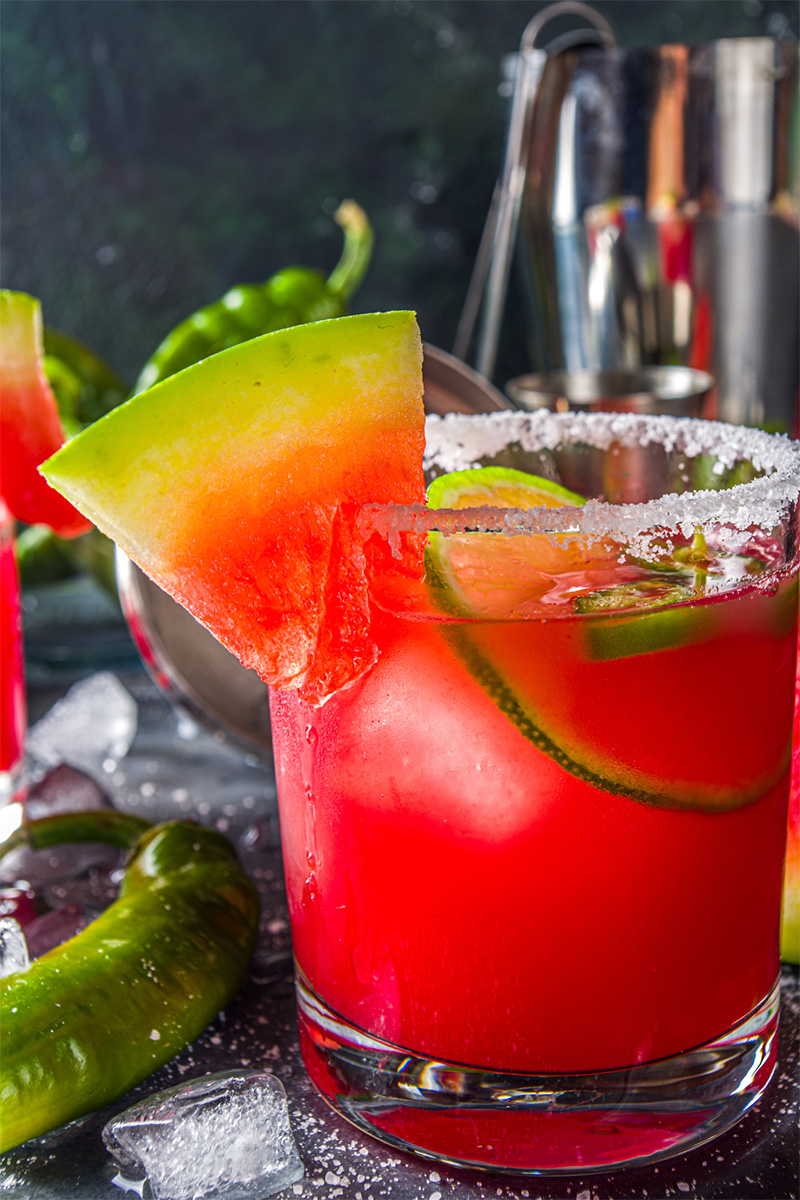 Edmonton's newest lifestyle magazine Uncovering 
the best in hidden gems around the city.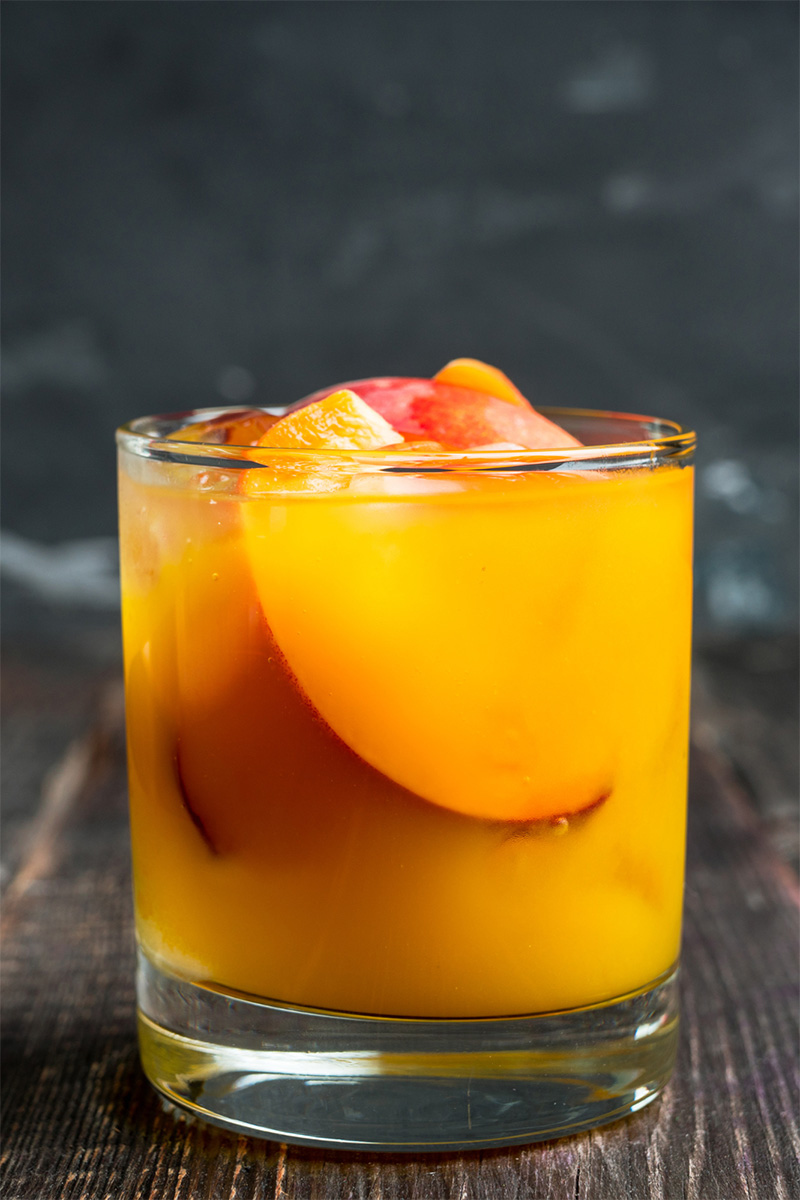 Grilled Peach Old Fashioned
Yields 1
Instead of the traditional sugar cube used in a classic Old Fashioned, we're using a smoky simple syrup made with liquid smoke, a product found at most grocery stores. Again, you'll need to plan ahead as simple syrup requires time to cool off. 
2 oz bourbon
½ oz smoky simple syrup (see below)
1 ripe peach
Simple syrup:
Makes ½ cup
½ cup sugar
½ cup water
¼ tsp liquid smoke
Add sugar, water, and liquid smoke to a small pot on the stove. Bring to a boil until sugar has dissolved,  remove from heat and let cool.
Preheat grill to medium.
Cut the peach in half, remove the pit and cut each half into 3 wedges. Grill each wedge until charred on both sides.
Add a handful of ice to a bartender's mixing glass, then add bourbon and simple syrup. Stir until chilled. Strain over a large ice cube in an Old Fashioned glass and place the grilled peach wedges directly on top.
Grilled Pina Colada
Yields 1
Pineapple is delicious on its own but even better when grilled and combined with coconut. Nothing says summer like the Pina Colada. 
¼ pineapple, peeled, cored, and speared
3 ¾ oz coconut milk
1 ¾ oz dark rum
1 oz white rum
1 ¾ cup ice
Garnish:
1 pineapple wedge, peeled and grilled
Preheat grill to medium.
 Place pineapple wedge and spears over the heat and grill for 1 to 2 minutes, until lightly browned. Remove the wedge and set aside for garnish. Remove the spears and place in a blender along with remaining ingredients. Blend until smooth, pour into Mason jar glasses and garnish with the grilled wedge.