On the patience and determination to bend steel.
From the tension and heft of steel, Isla Burns has forged a sculptural legacy in Alberta over the last half century. Being born in India, raised in Scotland, and ultimately enrolling in fine arts in Calgary in the early 70's, Burns' life was already the stuff of biopics the day she saw the newly built welding school neighboring her arts campus. From that first scent of steel yielding to the leaping lightning of a MIG welder, Burns became one of the first women to enroll in the welding program. In these early heydays of the Albertan oil industry, she entered welding confident she could work in the trade while transferring her new skills to her first love: sculpture.
From her first oxy acetylene welder in her Mother's garage, Burns gradually developed into a renowned sculptor and welder on both counts. In the beginning, Burns' Mother would drive her to scrap yards where she would salvage the shrapnel of Alberta's oil revolution. Working in that same industry by day and sculpting by night, Burns soon gained enough expertise and notoriety to be hired into Sir Anthony Alfred Caro's studio in Britain, "the guru, the genius of sculpture at that time," himself a former student of icons Henry Moore and David Smith.
Burns recounts how lucky she was to see his eye at work, "how he arranged steel, how he had the guts to excise the parts that need to be removed if you really want it to sing." On return to Canada, Burns' own profile began to rise. Soon she was teaching at the University of Alberta alongside her husband, abstract painter Phil Darrah.
Over these decades of sculpting, Burns has never ceased to sharpen her own eye. Her newest works facsimilate the most ephemeral organic forms in one of the most durable and unyielding mediums. In new works like Remembering Leonard and Loss & Remembrance, Burns has turned her virtuosity as a metalworker to painstakingly replicating peonies. She deconstructs each blossom petal by petal, traces them on steel, cuts out each petal, then hammers them into shape one by one before tacking them back together into an indestructible blossom.

Edmonton's newest lifestyle magazine Uncovering 
the best in hidden gems around the city.
Burns then juxtaposes these flowers against twisting organic planes formed from steel scraps — scraps discarded by the same industries implicated in our environment's newfound preciousness. The way these abstracted features crook and warp seems to echo the ever-growing anxiety around the preservation and meaning of Nature. Their unfurling contortions attest to the fragility of organic matter, the inexhaustible possibilities of benevolent or malignant mutation.
Burns sees rust as anathema to her vision. She desires smooth polished planes that accentuate the movement and form of the sculpture. She found huge gains in achieving this finished sheen, a charred pencil-like patina, after a visit to the shooting range when she saw someone polishing their rifle's barrel with gun glue. Adapting this gun glue to incorporate shoe polish and graphite as well, Burns found a way to tune her sculptures' surfaces to evoke a hadal depth. One can't help but see a ripe syntax of possible meanings in her use of gun glue over steel-preserved themes taken from nature. Am I wrong to recall the proverbial "beat your swords into ploughshares" as she refashions the accoutrements of industry and armaments into floral works of art? Or perhaps it's a weaponizing of art that draws attention to art's power to transform worlds? Or does it tie back to a theme of violence initially inherent in industrialization, before industry gives way to its promised luxuries (epitomized by the leisure to create art)?
From the tension and heft of steel, Isla Burns has forged a sculptural legacy in Alberta over the last half century.

Edmonton's newest lifestyle magazine Uncovering 
the best in hidden gems around the city.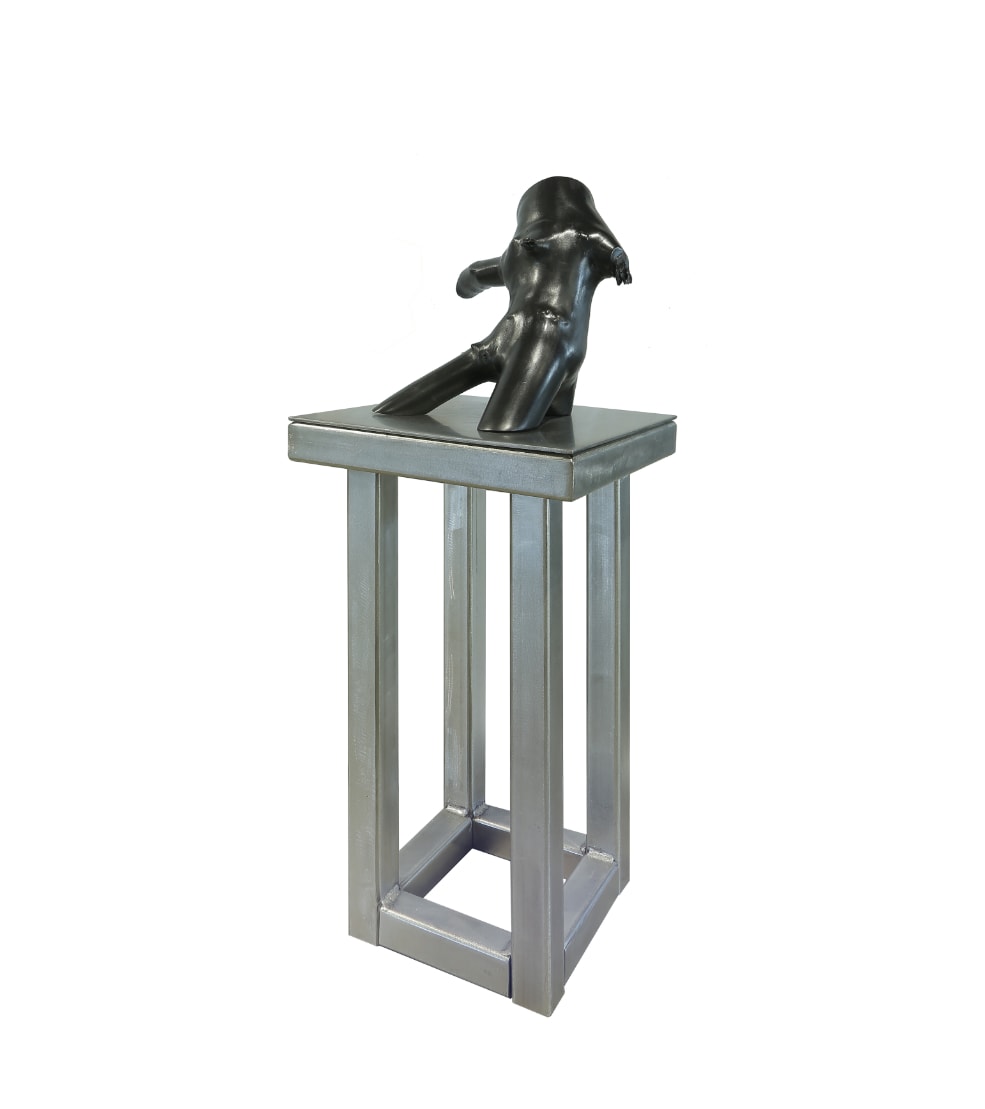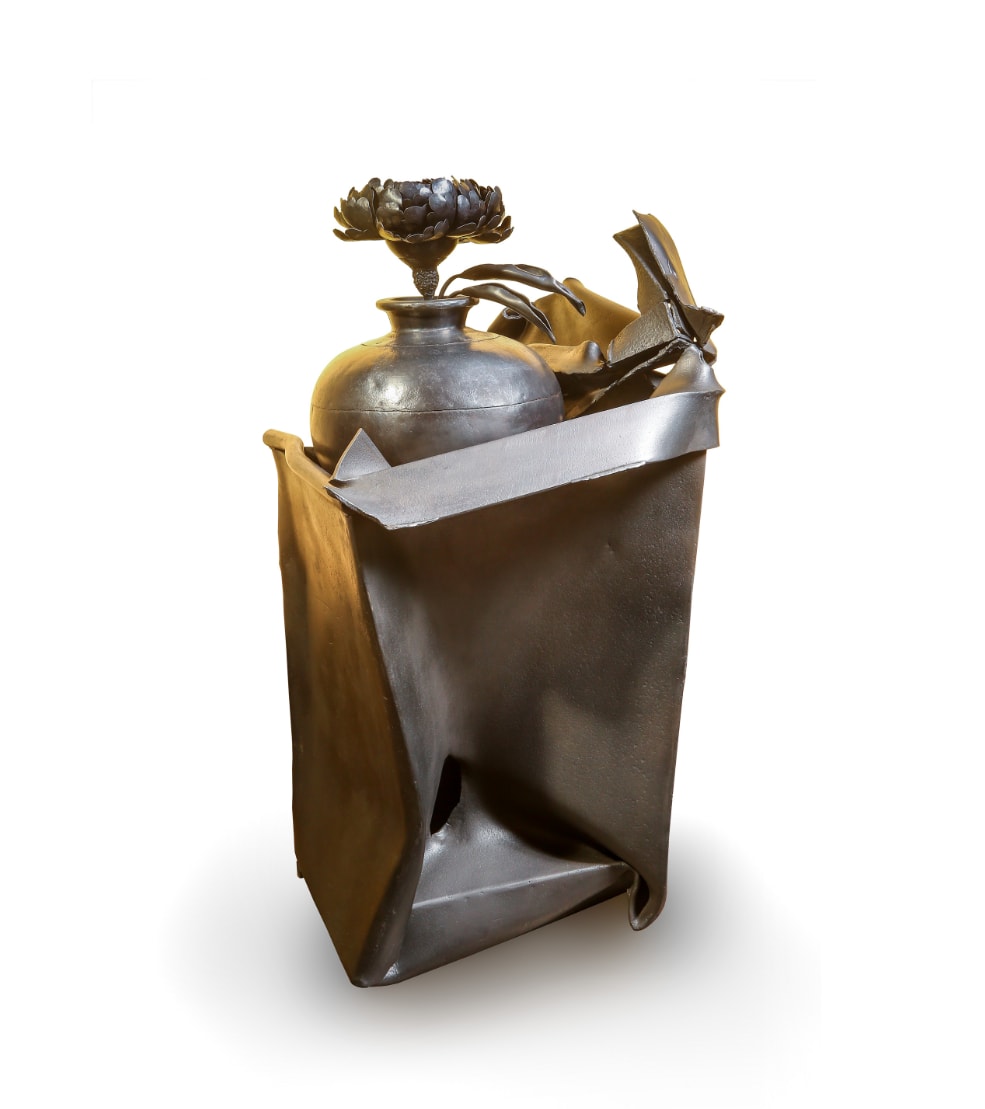 Burns has given no indication that any of these meanings are implicit in her work, they simply leap out to me as a viewer arriving before her sculptures with my own predispositions. Her titles would sooner indicate that these newest sculptures are intimate reflections on memory. Loss & Remembrance is a metallurgic apology born from regret at being in her studio rather than at her Mother's bedside when she passed. Remembering Leonard commemorates Leonard Cohen, a multi-faceted artist who both enamoured Burns to Canada on her arrival and continues to inspire her throughout her life.
Encrypting these remembrances in steel shaped as peonies, these most beautiful, delicate, and fast expiring explosions of life, testifies to the power of memory to suspend the worst ravages of death. But those twisting, abstractly organic features can speak just as readily to the contortions of memory, for better or worse. David M. Eaglemen wrote that there are three deaths. "The first is when the body ceases to function. The second is when the body is consigned to the grave. The third is that moment, sometime in the future, when your name is spoken for the last time." Perhaps the permanence of art, especially steel sculpture, offers an extra lease on life.
September Arrangement and Black Wood Nymph exemplify formal challenges. September Arrangement shows an attempt to sculpt an enigmatic form, one that would appear "as plant-like as it is not plant-like." Meanwhile, Black Wood Nymph is a direct marriage of an actual artifact of nature with Burns' power to preserve. Speaking on Black Wood Nymph, Burns reflects on her efforts to carve and sculpt with wood in the past but not finding herself at home with the material. Burns lives surrounded by the woods, out beside Pigeon Lake in a former hardware shop that she and her husband converted into a home and studio. Here nature provides a constant inspiration for Burns.
As her husband brought in the firewood one night, this anthropomorphic joint of a tree's limbs came in with him, wild yet graceful. Fascinated with this finished sculpture that had waltzed in the door, Burns wished only to preserve it, coating it in layer after layer of gun glue, shoe polish, and graphite, then building her a plinth to strike her mystifying pose for the ages. At times, an artist's greatest talent is not their ability to render but simply to see, to recognize, and to set apart.
Burns' newest works reveal an artist that has never ceased to explore and redefine her own creative horizons. She continues to hammer and bend and melt the concentrated core of this earth into human expressions, vessels for memory, and sights to behold.
Places To Be
See this month's local flavours, products, and services.