A five year old Dwayne Olatonade accompanied his mother on a 'Take Your Kid to Work' day. She's a photographer, who at the time created slides for the Dentistry/Pharmacy Centre at the University of Alberta. Seeing hundreds of dentists practicing in the same place left a lasting impression on the young Olatonade. It was his unwavering determination that saw him graduate from that exact department with a Doctorate in Dental Surgery in 2007. After years of providing dental services abroad, Dr. Dwayne Olatonade always had an inkling he'd return home to Edmonton and open up a practice of his own. He has been proudly providing dental care to the Edmonton community for over 10 years.
It's incredible that one moment in time can put your life on such a trajectory. Was it always that straightforward?
I've always been really geared towards healthcare, and dentistry was something that I'd always been keen about. It was always the primary goal. There's also an entrepreneurial aspect that motivated me to dentistry versus something like medicine. You have the flexibility to set up a business, to help motivate people to realize their vision and their growth as well.
Oliver Park Dental has been open since 2017. How has the process been of opening up your own practice?
Dental school is a piece of cake in comparison. I graduated quite young, at 24 and took the time to work in a lot of different dental offices, seeing what works and what doesn't work. I was able to implement that into Oliver Park Dental. It comes with challenges but I have a lot of support and I've learned a lot. I have a great team in place.
Speaking of team, tell us about the one you have at Oliver Park Dental.
We have a really good vibe and everyone is really focused. The dentist office isn't always everyone's favourite place to go so we try to keep it as light as possible while striving to provide the best care that we can. Our patients are the most important. It's humbling and awe inspiring how we learn from each other. It takes time to get the right team in place. We have a diverse group that has the same ethos and mentality. It works really well.

Edmonton's newest lifestyle magazine Uncovering 
the best in hidden gems around the city.
There are a lot of amazing areas in Edmonton. You chose the community of Oliver. What makes it so special?
With the new Ice District, there have been a lot of positive strides. Oliver is such a great community; there's a little bit of a renaissance happening and I love being part of the growth in that area. It's only going to get better and diversify.
You are situated in the heart of the city which is significant and reflective of your philanthropic efforts. Can you speak to these projects?
Our team is really passionate about giving back. 'Homeless Connect' is one such organization that provides mentorship to dental students who provide dental services for homeless Edmontonians. We are able to treat a lot of patients. Some are emergency based but we also have an education component that focuses on the importance of dental hygiene. I also sit on the board of 'Cause to Smile', an Alberta-wide initiative to help those in need of dental health services. We have a fundraising drive in the summer so hopefully we can get out there and grow that aspect of interest.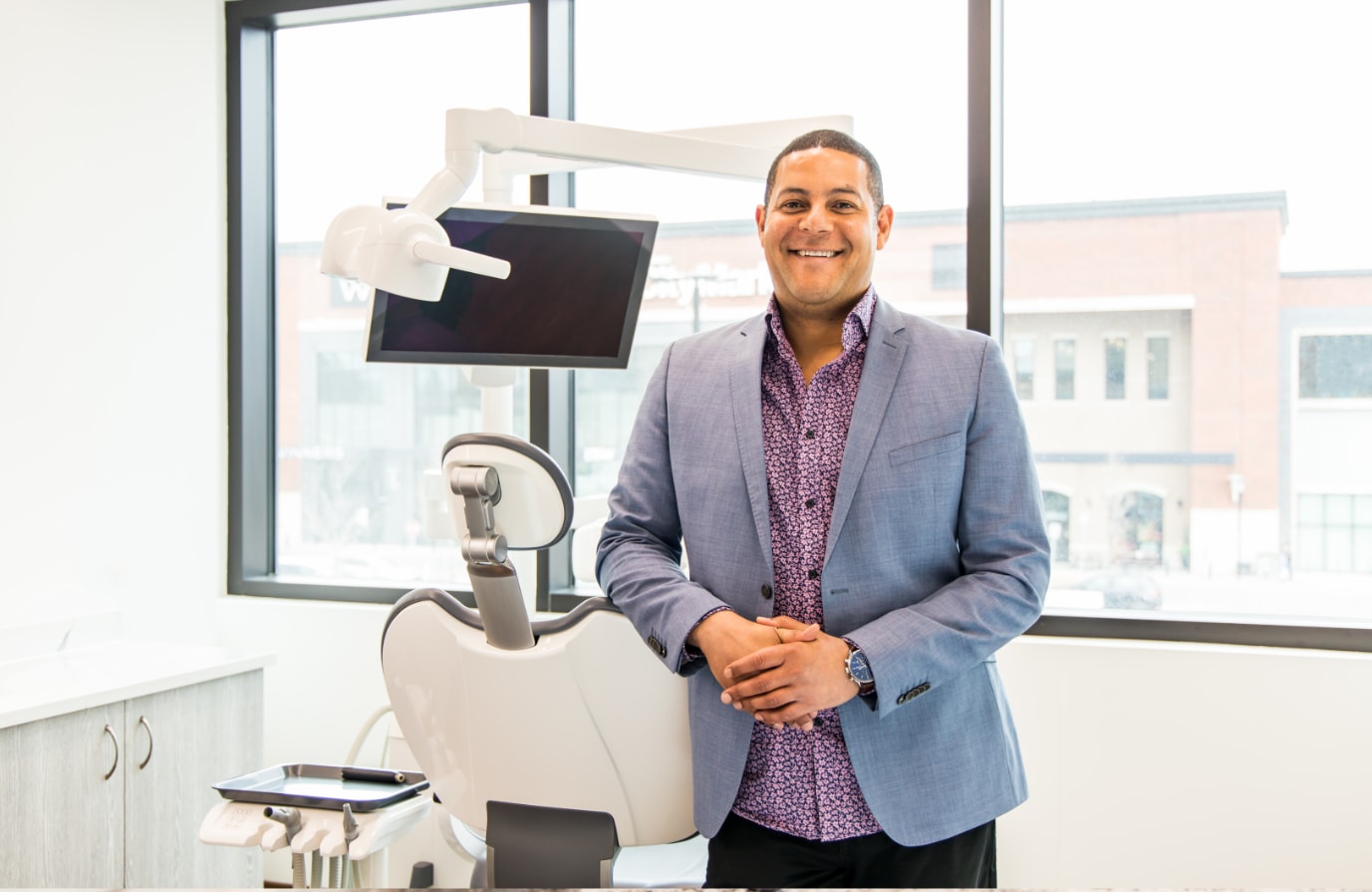 Entering the house, the modern design and details will overtake the sense and bring a sense of calm.

Edmonton's newest lifestyle magazine Uncovering 
the best in hidden gems around the city.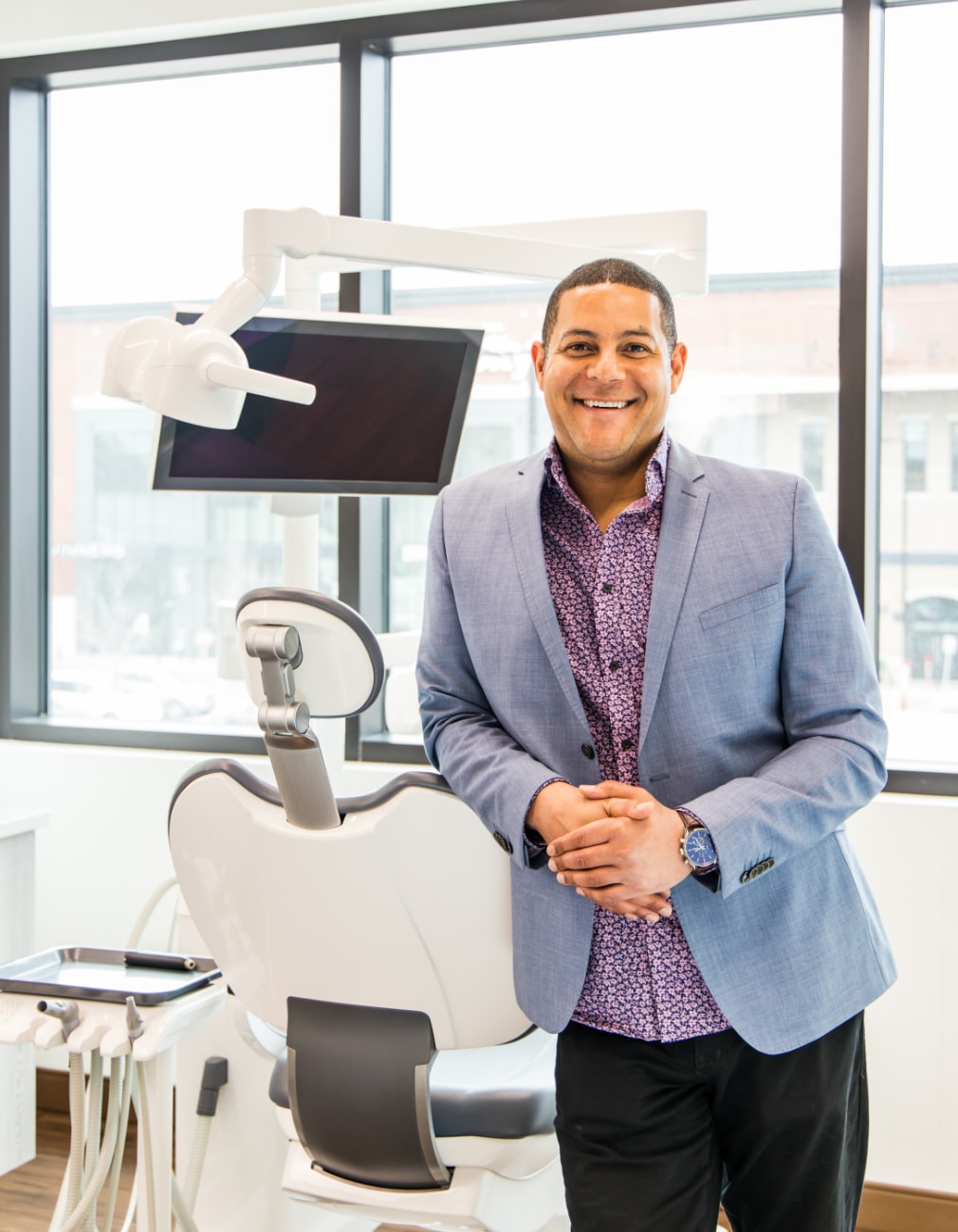 You demonstrate a community and environmental conscience. How is your dental practice minimizing its carbon footprint?
We are always looking for a homeostasis with the environment. There's a lot of waste in the medical and dental process. We try to limit as much waste as possible by moving towards an eco-conscious digital dentistry. For example, with digital impressions and x-rays, our team is always looking to implement new ways to keep things as green as we can. We are always optimizing the technologies that take us forward to reduce a lot of that waste.
Let's talk about the cosmetic and artistic side of dentistry. What are some of the trends that your patients are requesting?
The great thing about general dentistry is that it's quite wide open. If you have the skills and education, you are free to practice what's in your scope. We get requests from veneers to Botox for aesthetics and therapeutic purposes. But a lot of what we're seeing now is naturally correcting teeth with orthodontics such as Invisalign, as well as demands for whitening smile design. We customize and work through every little detail. It's definitely a collaborative effort. And it's exciting to see your patients smiling bigger.
What does "Out of the Office" mean for you?
Definitely travelling to areas closer to the equator and finding activities to decompress. I've recently picked up golf with friends. I love swimming and yoga, tennis and all kinds of water sports.
For the record, I hear you have a sound vinyl collection?
I grew up in a house filled with music. My Mom listened to Steely Dan and Fleetwood Mac – my Dad, everything from Bob Marley to West African music. My mom gave me her record player when I moved out after dental school. My collection started with a few records and now I have more than I need. It's a bit of an addiction. Some of my most treasured records would include a limited edition Miles Davis, Kind of Blue, classic original press, and DJ Nightmare, which was the first record I bought.
We have to ask. How often do you brush and floss your teeth each day?
I brush three times and floss once sometimes twice a day. (He really does floss like a boss!)
What does Modern Luxuria mean to you?
I love to travel, I love swimming and I love boats. I could eventually see myself enjoying some sort of yacht life. A goal would be practicing dentistry from a boat, purely philanthropic. Doing charity missions on different islands, training other dentists and their teams, in the Caribbean or in Africa. I want to give back to my Nigerian roots as well. I think I'd do ok on a yacht for a little while.
Places To Be
See this month's local flavours, products, and services.