On a mission to educate, reconcile and bring equality – a conversation with Chevi Rabbit.
Growing up in the most loving family and community, never facing discrimination and unfairness in their early years, Chevi learned that their childhood was unconventional and not something that every child experiences. Surrounded by an affectionate family and friends, and never bullied for being different, Chevi lived her life in a 'bubble' as she calls it until a malicious burst happened when she went to university. Suffering aggression by several males who attacked her for being different, Chevi went through a painful period of her life. Not only did she have to process and deal with the violence, but she experienced a shocking realization that people like her can face serious aggression and inequality in the world.
Tell us about your childhood, and growing up in rural Alberta.
I grew up in Ponoka and Montana First Nation. My dad's family is from Rocky Mountain House, and my late grandpa is a German immigrant. He was a forest ranger in the Rocky Mountains, an excellent hunter, and would act as Santa Claus at the local Zellers as he had the looks! I grew up attending sundances with my family helping my mom and kokum (grandma in Cree) pick sweetgrass. My grandma Mariah Rabbit provided us with Cree values, stories, and authentic Cree language. At that time, Maskwacis still had a large number of oil royalties, so there was no poverty. We hosted large community events, and the band members lived a comfortable lifestyle. Nowadays, this has all changed as oil royalties are no longer able to sustain the population. But the community is resilient and adaptable, and Montana First Nation has Canada's largest on-reserve solar farm that will sell energy back to the grid.
What empowered you to become an advocate for the Indigenous community?
I always had a voice and have used it since I was a teenager, thanks to my empowering upbringing. My mother instilled great family values in us, so I uphold those values by treating others with respect, supporting the community and volunteering. I come from a family that gives more than they receive. But in many ways, my advocacy was born after I was assaulted in 2012 while being a fourth-year student in Indigenous studies at the U of A. That assault opened my eyes to hate and discrimination, to the world I never knew, or wish existed. My mother was able to break the intergenerational trauma that existed in the family. The impact of the notorious residential schools on my late grandpa Joe Rabbit was significant, and all of these experiences influence my behavior as an Indigenous rights advocate. However, I'd say my tone is a bit different than most because I'm often advocating for business participation for Indigenous communities and equity in those communities. I grew up seeing the benefits of the oil and gas industry, so I continue to support it as I believe there are benefits related to employment and prosperity for these communities.

Edmonton's newest lifestyle magazine Uncovering 
the best in hidden gems around the city.
What is the most rewarding part of this journey for you?
Helping marginalized communities and assisting people who are without a voice. At the core of everything I do, I recognize that the groups I represent don't have a seat at the table, and are often ignored by society. I think about the future of Indigenous youth such as my niece Ceejay Courtright. She's been coming to the rally since she was 7, meeting and speaking to politicians and various women's rights' activists. As she's now at the age where she'll be attending post-secondary education in Edmonton, it gives me a bit of anxiety because of my own experiences, but I know I did my part so that the next generations of Albertans can live a better life.
Tell us more about the 'Hate to Hope' rally? What are its missions and vision, and how do you hope it will address today's concerns and challenges for marginalized groups?
Hate to Hope is more than a rally; it's a public awareness campaign with the strong support of all levels of government. For the past decade, we've been able to bring together marginalized groups and focus on cultural bullying, systemic discrimination, and raise awareness of hate and discrimination in our province. Issues such as homelessness, unemployment, and lack of support for Indigenous or LGBT businesses are discussed, and we've been fortunate to have City Council, Provincial MLAs and Members of Parliament attend year after year. Over the last 12 months, the pandemic has exasperated all social conditions across the board, so marginalized and underrepresented groups are feeling the pressure.
Now, tell us about your interest in make-up and fashion, what draws you to that and what do you enjoy the most?
Makeup has always been a fun way to express who I am as an individual. After graduating from Marvel College, I worked with a number of prestigious makeup brands, and had a great freelancing career. I got involved with the Western Canada Fashion Week which introduced me to the world of fashion, bringing back memories of growing up with my mom and aunt who managed an Arts and Crafts store in Montana First Nation. Today, I consider many designers and makeup artists my close friends, and when I was assaulted, my fashion community offered incredible support. However, in recent years, makeup has taken a back seat, as my interests in advocacy are strong; I've been involved in the last four elections as a Campaign Manager and Chief Financial Officer.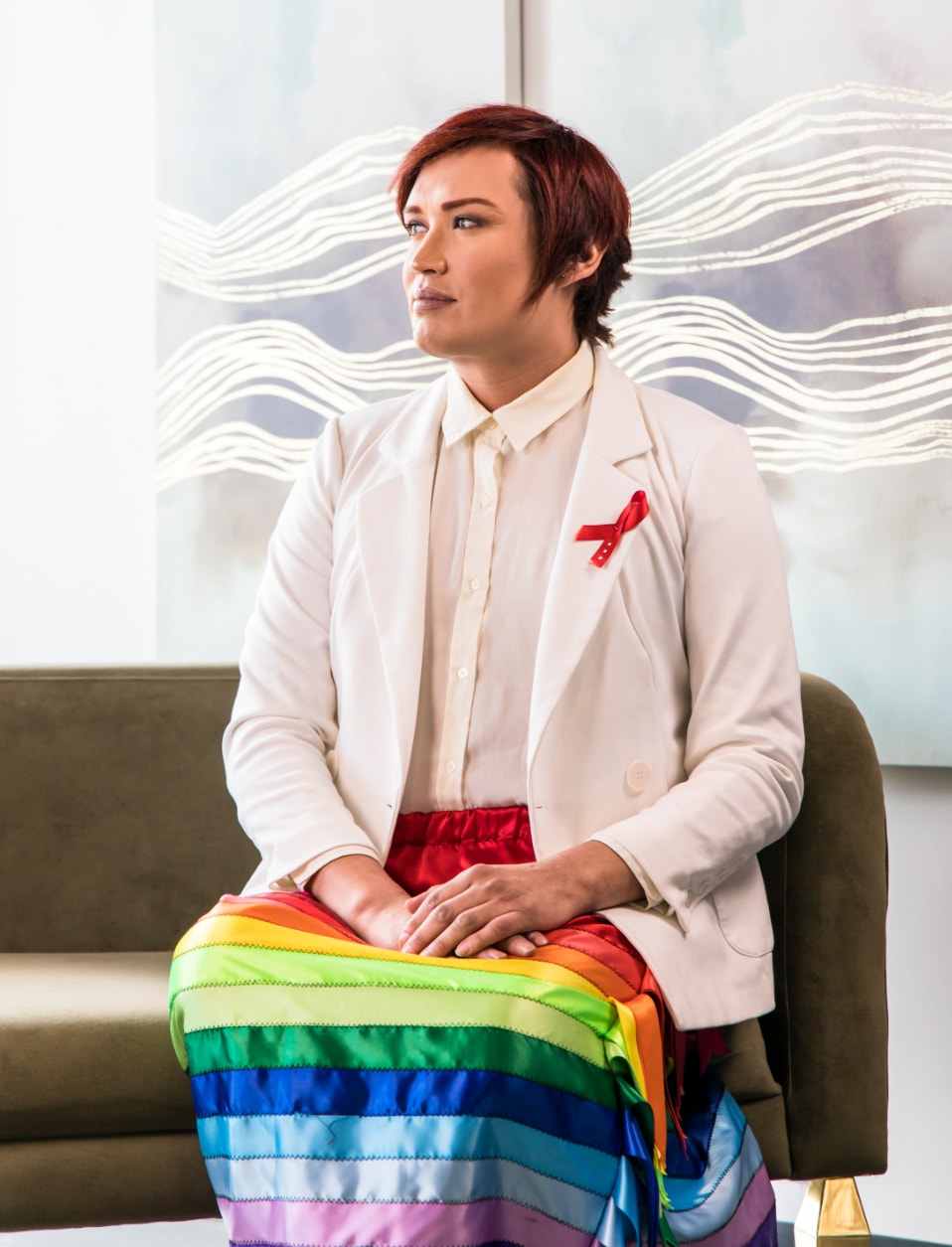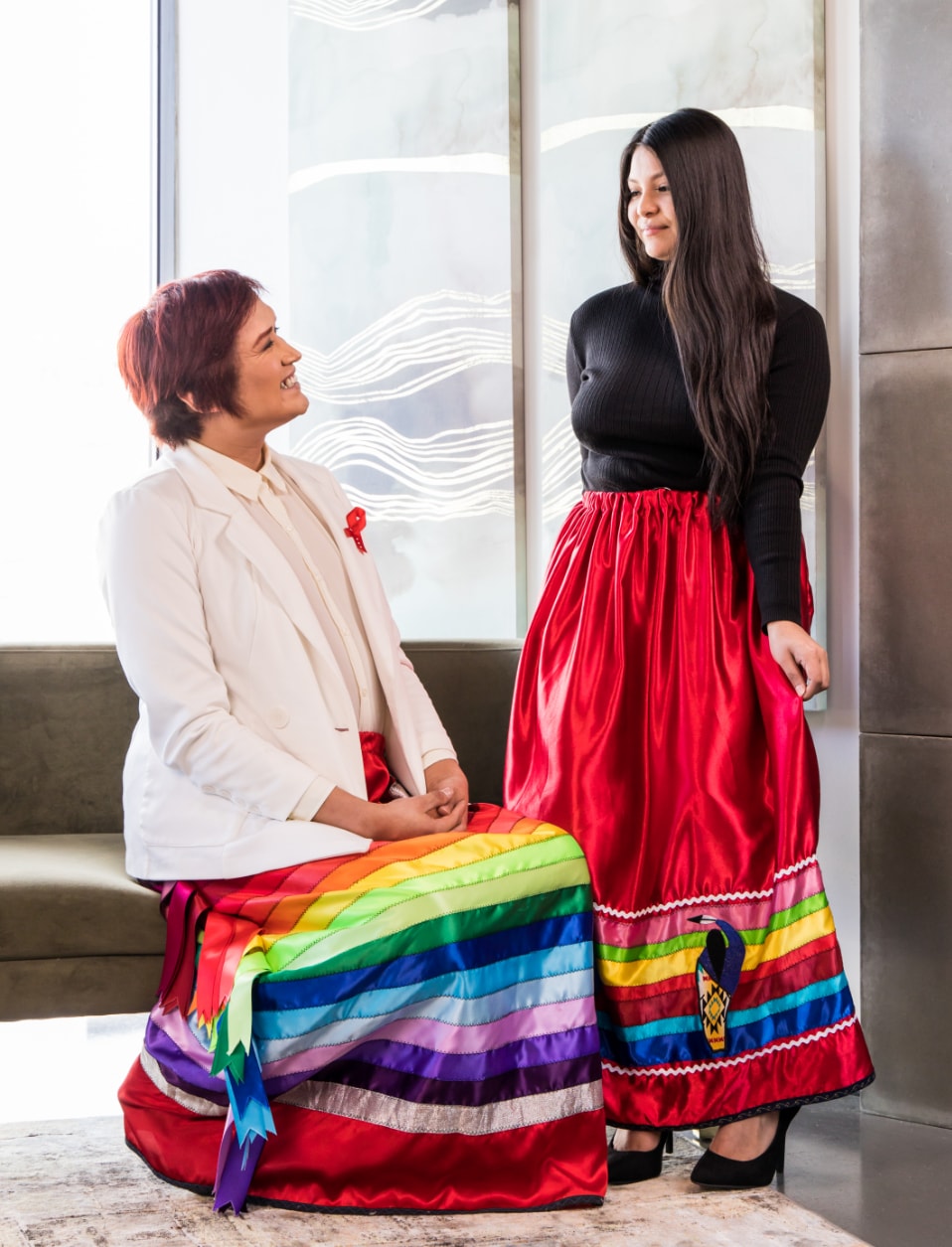 Not only did she have to process and deal with the violence, but she experienced a shocking realization that people like her can face serious aggression and inequality in the world.

Edmonton's newest lifestyle magazine Uncovering 
the best in hidden gems around the city.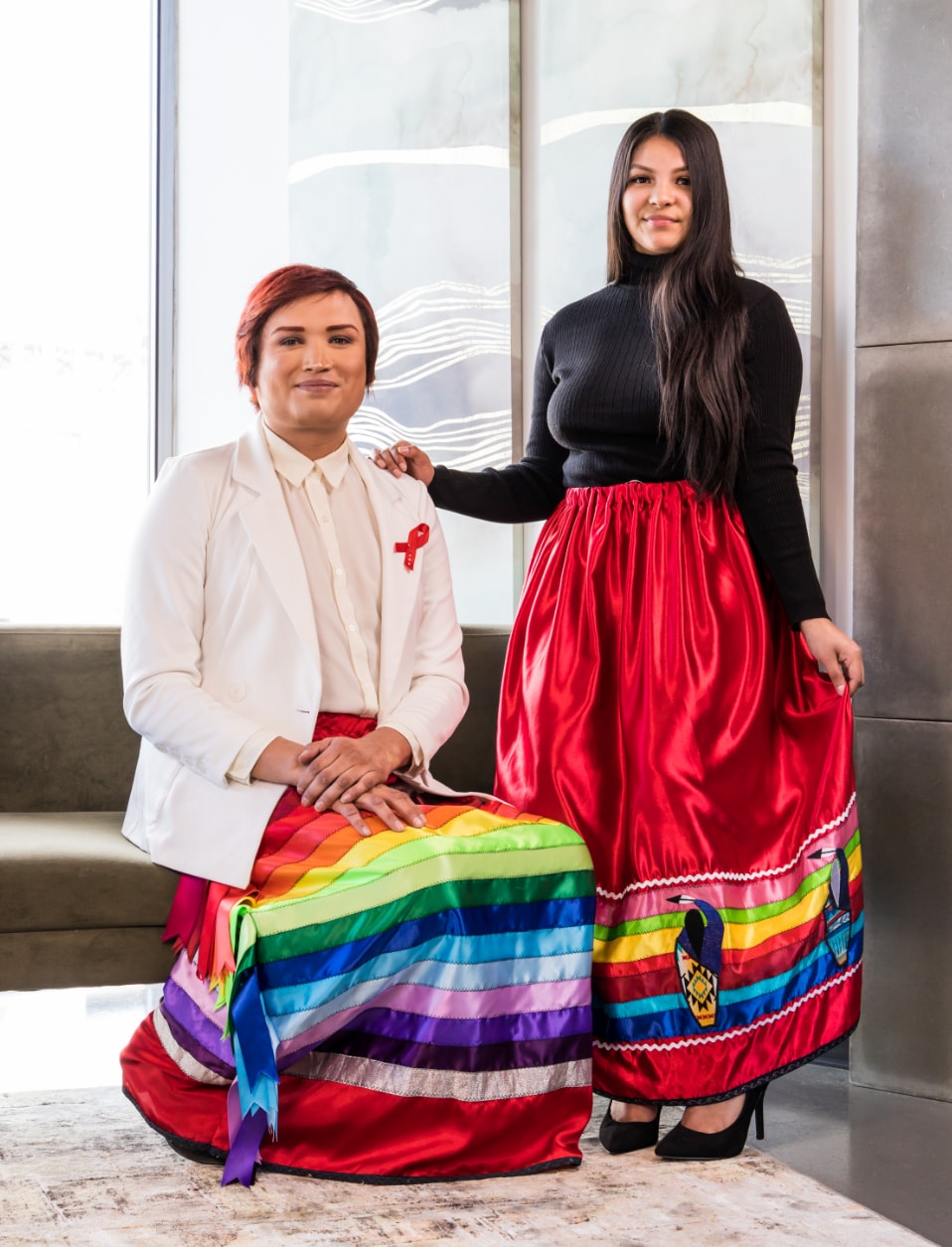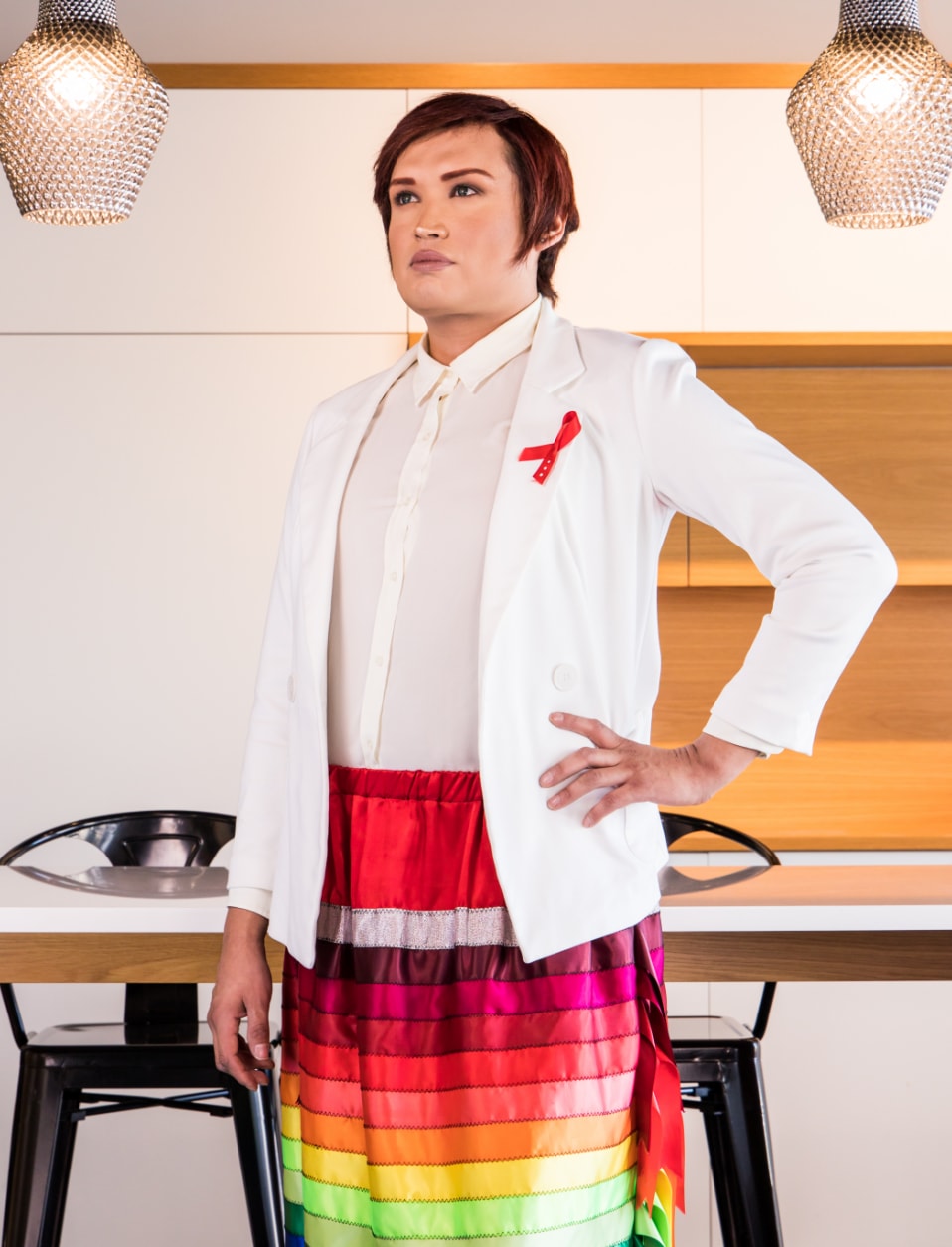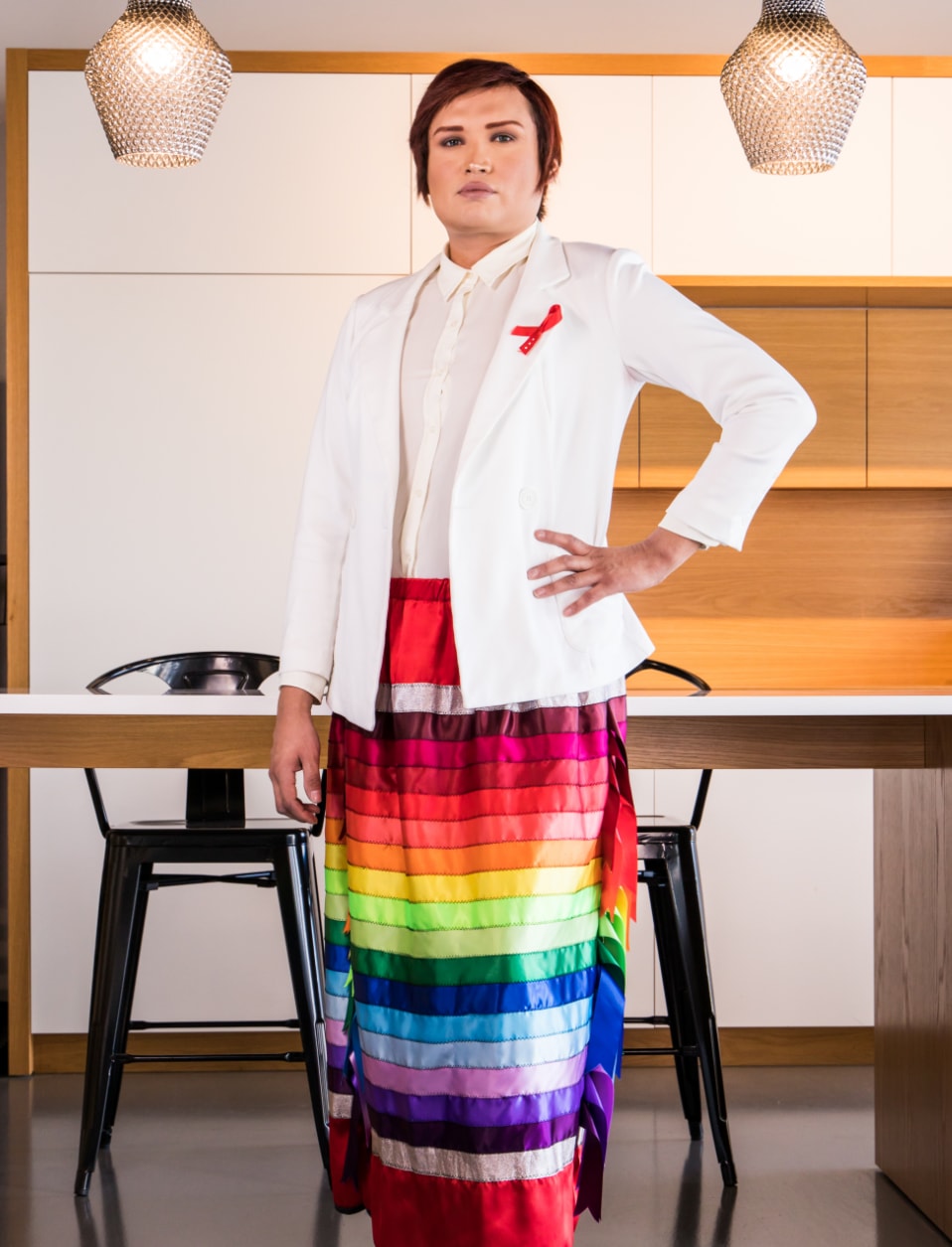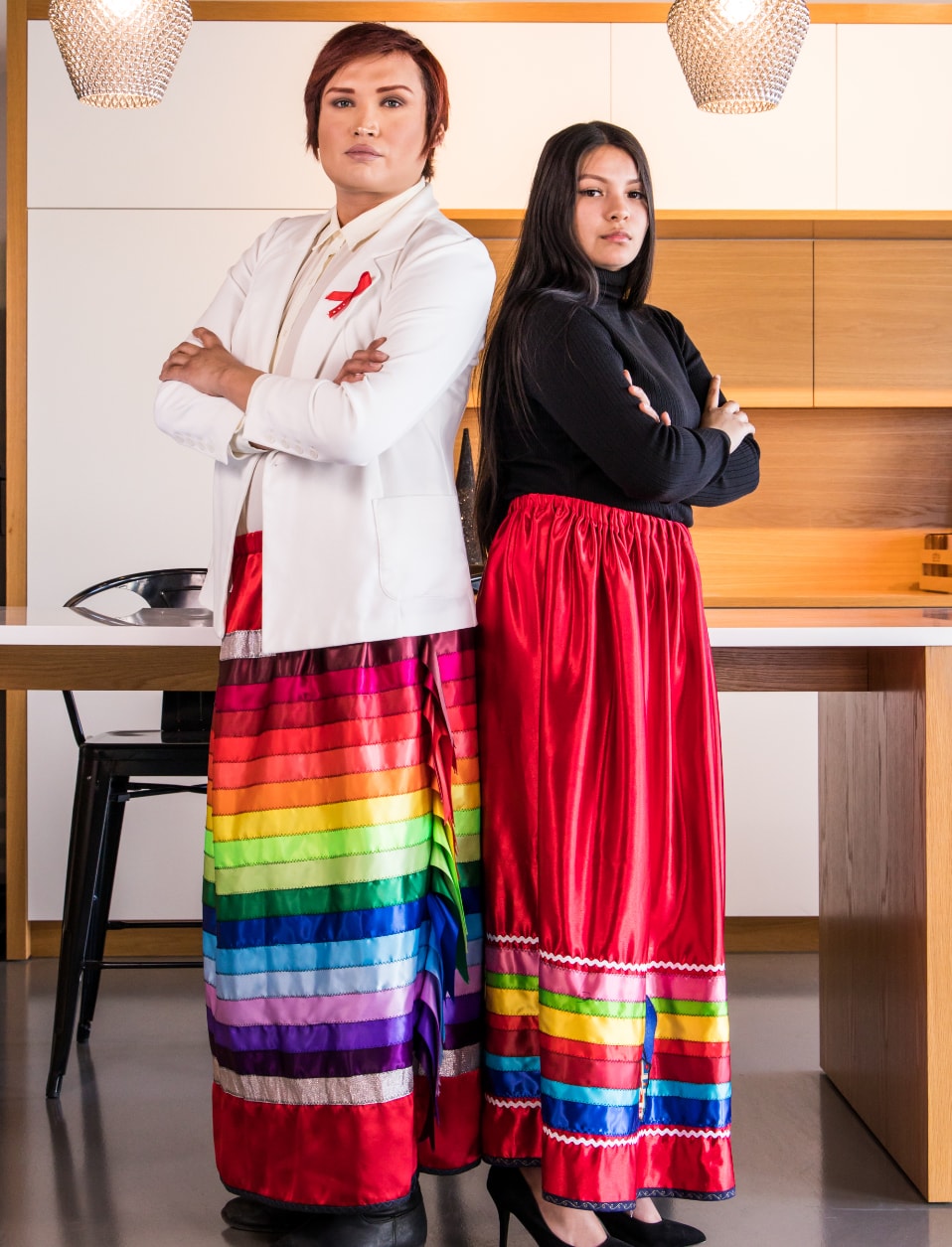 How do you bring forward components of Indigenous culture into your style?
Watching fabulous women in my family, such as my late aunt Rema Rabbit has had a great impact on me. She was one of the first elected females in Maskwacis during a time that was very male-dominant. Another late aunt, Vema Cattleman, whose husband was the longest-serving Chief, had the title of the First Lady of Montana. These amazing women, along with my mom and my kokum, made a real impression on me and how I viewed Indigenous style and culture as I was surrounded by strong and wonderful women.
Your signature clothing piece is?
My ribbon skirt. It's a sign of cultural resiliency and female empowerment, deeply rooted in our history. My ribbon skirt represents the rights of transgender Cree women, gender diverse communities, and Indigenous culture. Residential schools had a severely negative impact on Indigenous people; multi-generational physical, sexual, psychological, and spiritual abuse has resulted in self-hate and homophobia. The intention behind my rainbow skirt is to symbolize that we're repatriating ourselves in a healthy narrative, based on love and respect.
You've been surrounded by family members involved in politics your whole life. How has that helped shape your views and can we expect to see you diving into a political career in the future?
From a young age, I'd play Chief and Council with my cousins, inspired by my aunts and uncles in tribal politics, admiring their dedication to the wellbeing of future generations of Montana. With a long line of distinguished and hardworking Indigenous leaders, our family has been involved in regional politics for nearly 100 years. This helped me realize that everything we do involves some type of politics. Whether it's jockeying for a position within kinship for a seat at the table, being a top makeup artist or a vocal social justice advocate, politics is a required skill that helps us maneuver the social landscape and inspires us to be the best at anything we invest our time in.
Model: Chevi Rabbit
Places To Be
See this month's local flavours, products, and services.