News anchor, author, history buff and motorcyclist with a passion for community work – Gord Steinke
Thirty years of reviewing and dissecting local and world events, while delivering them to audiences who really, truly love him; that's a legacy. Helping shape public opinions, Steinke and his co-hosts continue to attract large audiences despite this highly digital era where news stories are available 24-hours a day from so many sources. After announcing his retirement from TV recently, I was grateful to have some of his time, and I am delighted with Steinke's ability to focus on our conversation as if it was the highest priority on his to-do list; he is a genuine storyteller.
How did you start and what has kept you going for over three decades? 
I started as a singer-songwriter, a full-time musician, always writing songs and stories about people. When I was 24, I decided to get a ''real job" and one that attracted me the most was journalism, as it allowed me to continue writing stories about people. I fell in love with journalism, studied at the University of Regina and worked for the Regina Leader Post. Then I got into CBC radio as an associate producer, where I was coming up with story ideas. When that position ended, the executive director asked me to apply for the host position. I wasn't interested in being behind the microphone, but eventually I decided to do it. After about a year, they offered me a position on television…"If you cut your hair and put a suit on, maybe you can become a reporter," the station manager said. I had to learn how to tie a tie, and shortly afterwards, I was a reporter. In 1992, I moved to Edmonton and joined ITV, and I've been here ever since. 
You've done so much and covered thousands of stories. What goes through your mind when you think about it all today? 
You remember the big stories…the breaking news. A young girl was murdered back when I started, 6-year old Punky Gustavson, and it became an unsolved murder and mystery all over the world. What happened is we teamed up with CTV, which is unheard of in television, teaming up all our resources and doing a one-hour special to try and generate clues and help solve this case. That will always stick out in my mind; we are very competitive, but when things get tough, we get together, put aside our ratings and we help. 
The other one was a live broadcast using the newest 
satellite technology for the first time ever, covering the Pine Lake tornado, as that technology was new and innovative back then. Also, I was up in Fort McMurray a lot, covering the fire devastation news, and again, using a new technology called Dejero, that was making it much easier to do our job. 
We've also done some incredibly fun events – I've done bungee jumps and motorcycle rides for Kids with Cancer, all the Grey Cups that Linda Steele and I covered, Oilers' playoffs right outside of Rexall Place, all our road shows, going to different communities to cover events every month, fundraisers, elections, and debates – so many events meeting the power players who are shaping our policies. 
Other highlights are chatting with Jimmy Carter and Garth Brooks about Gregg Allman and the Allman Brothers Band…and then you wonder how did the kid from North Battleford get to be standing on stage with these folks? It's easy to get overwhelmed by this stuff, but it is thrilling. 

Edmonton's newest lifestyle magazine Uncovering 
the best in hidden gems around the city.
The whole TV world has changed significantly; can you tell us how live news coverage has changed from 30 years ago till now?  
Back in the day, you'd go shoot the intro and extro, then physically come back to the station and edit the tapes. Satellite changed that significantly, now we can do live coverage wherever we are. Also, the passion and interest for news has changed. For a while, people were getting their news on the web, but we are noticing a desire for old-school research, from the credibility aspect, due to so much misinformation online. Going to a valid journalism outlet, knowing how careful we all are with information, journalism ethics and policies, seems to make more sense again. 
Your career highlights? 
I've been blessed with a wonderful organization behind me, who supported me as a musician, rock'n'roller motorcyclist; and I often stop myself and think that not many TV stations would be so accommodating. 
A Lifetime Achievement Award from my peers across Canada was really great, the Governor General's Medal for Volunteers, and I've been an Honorary Lieutenant Colonel since 2012 with the Canadian Armed Forces. I've hosted the Invictus Games, and Global TV has always supported these activities and covered them all. Corus Entertainment started a scholarship fund in my name at the University of Regina's School of Journalism, my alma mater. That's certainly a highlight, to be able to give back.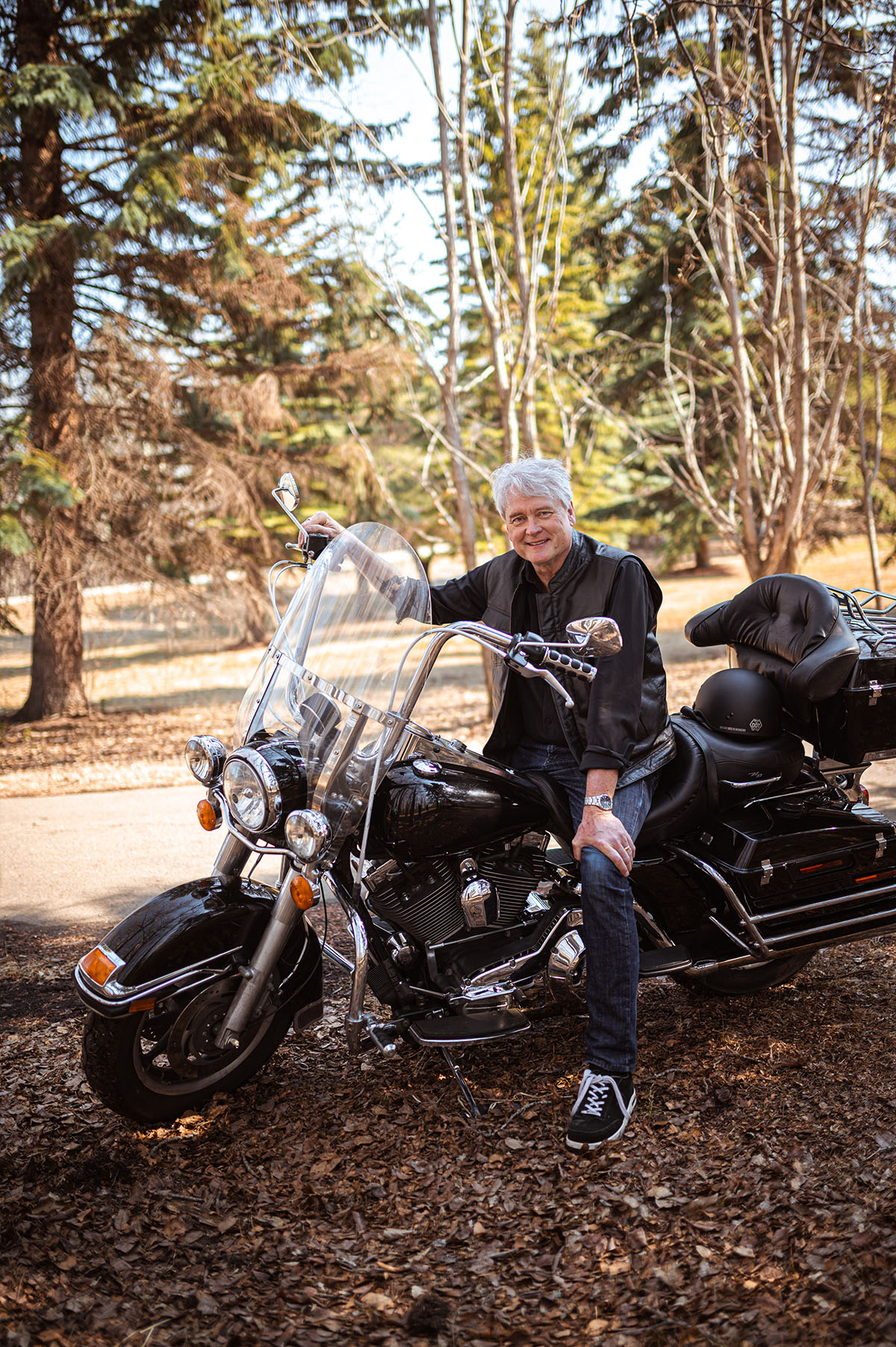 Have you ever been nervous before a show? 
Absolutely. Every time the red light comes on, you never know what's going to happen. There's a little bit of stress, and I knew that from my performing days. There's no time delay in what we do, so I try to keep calm and get the information out. There's always a bit of stress but that's what makes you sharp.  
In the news-world, you're always after that next thing, the next day, the next story. How will that feeling of going after the next thing transform into something new now that you're retiring? 
Great question! I'm a huge history buff and I've written a book called 'Mobsters and Rumrunners of Canada: Crossing the Line'. Who says Canadian history is boring? As a history nut, I love research and delivering talks like the one I did in Las Vegas at The Mob Museum; so instead of the daily grind of news, I will be fascinated with stories and parts from our past. If you don't understand the past, you can't tell where you're going. Whether I'm going to do this just for fun, or there's going to be another book or a documentary, or another project down the road, who knows? That's why this is so thrilling, changing horses midstream like this… a new chapter, a new adventure, it's what's needed.
You mentioned your bike in the announcement of your retirement, and now we see you on it, and it's a perfect picture! Is this your favorite way to spend your free time? 
I've been riding bikes since I was 14. It's a part of my character, a great stress reliever, and a favourite thing to do for my wife Deb and me. I can always tell when she's having a great time and is relaxed because suddenly, I hear our helmets click together as she's falling asleep – fully relaxed and enjoying the ride. We've been all over the place – Radium Hot Springs, Seattle, Phoenix, Las Vegas area – lots of miles on the bike.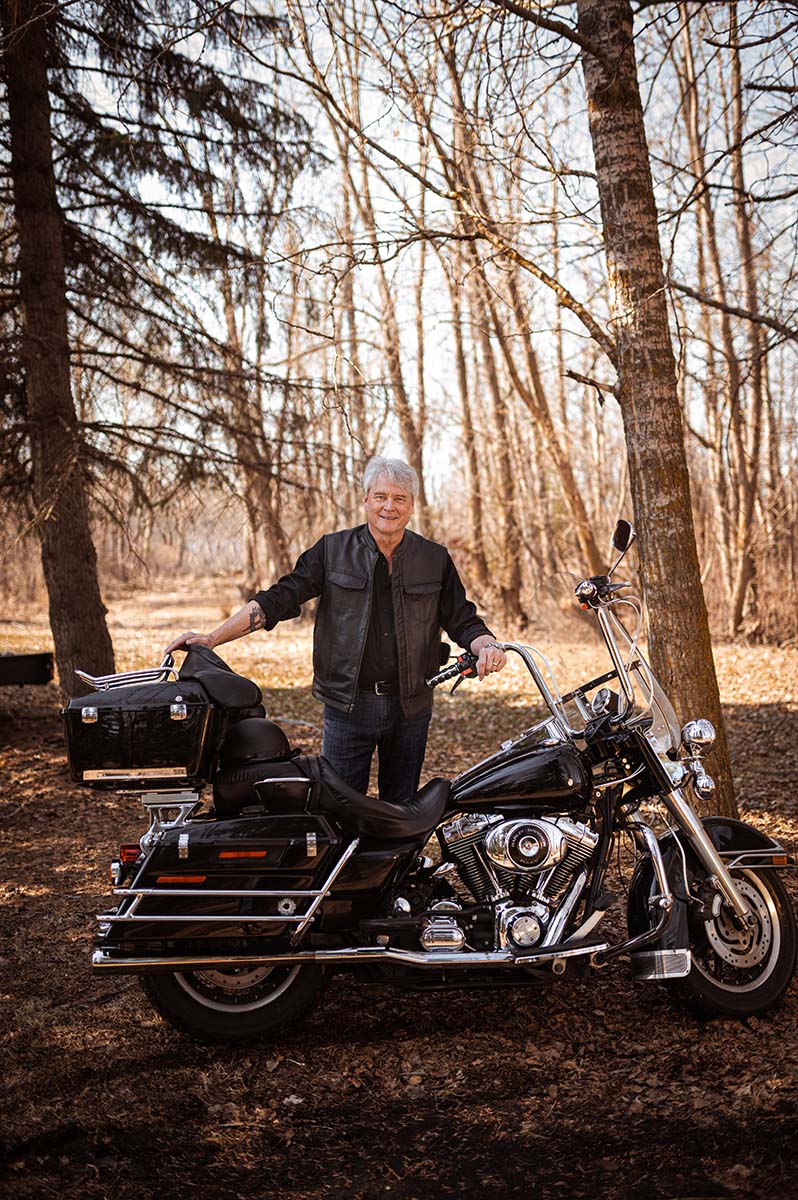 What else is on that bucket list? 
Travel. I have lots of relatives in England, and we are planning to stay a bit longer next time we visit. It's so neat visiting those places that my grandmother lived, it'll be great to walk in her footsteps. A motorcycle trip through Portugal, Spain, the Rock of Gibraltar, then Morocco. A trip to Vietnam is in the plans as well. I don't think I'll be bored. 
A message to the next news anchor who will get to sit in your chair. 
It's going to be a wonderful opportunity for someone. I was 32 when I came here and it's been so welcoming – this city, this station. Edmonton is a wonderful place to call home and to raise a family, and you're going to work with a wonderful team here, that's how I've lasted here so long. You're coming into a real legacy of a station, as close as a family. Be sure to get out into the community, specifically those parts that are close to your heart. I was involved in Fashion with Compassion, I've talked to University kids about impaired driving, Ride for Dad fundraisers, all personally important to me – so pick something that you care about, and your passion will come through. Carole Anne Devaney, Jesse Beyer and the great team will be there to support you – they are an incredible group of people. 
And number one message – this is a hot news town! Be prepared for breaking news to happen often. 
Your top three luxuries? 
Having good friends and family. I'm lucky enough to have both of my parents around, and great family and friends.
A comfortable pair of shoes. 
Traveling and experiencing culture and history all over the world.
Places To Be
See this month's local flavours, products, and services.