Dr. Brown, owner of True Balance Medical Spa, treats not only the outward appearance of his patients, but also their health and longevity thanks to Bioidentical Hormone Replacement Therapy
When considering where to go for hormone-related concerns, a medi-spa may not typically be on the top of the list. But for those who may suffer from hormone fluctuations, a visit to Dr. Brown at True Balance Medical Spa can be the solution to feeling run down and inexplicably depressed. Though the treatment has suffered from a bad rap in the eyes of most conventional health care professionals, Dr. Brown shed a new, more positive light on this life-changing treatment he says is only the tip of the iceberg when it comes to life-improving, and life-extending therapies.
Dr. Brown began his medical career in the small town of Mundare, AB as a general practitioner, but later transitioned to specializing in OBGYN. In 2000, he attended a conference in Toronto where his wife was pitched by a laser hair removal machine sales rep. While Dr. Brown was skeptical of the concept, his wife did her own research and presented the evidence that a service such as this would be in demand. 
"We had the third laser hair removal machine in Edmonton way back in the year 2000. My wife, along with a family member, ran the clinic and I was the medical director. As these things go, laser hair removal moved into esthetic injections and fillers, and expanded to laser resurfacing and all the machines and treatments an esthetics clinic would usually provide," Dr. Brown said.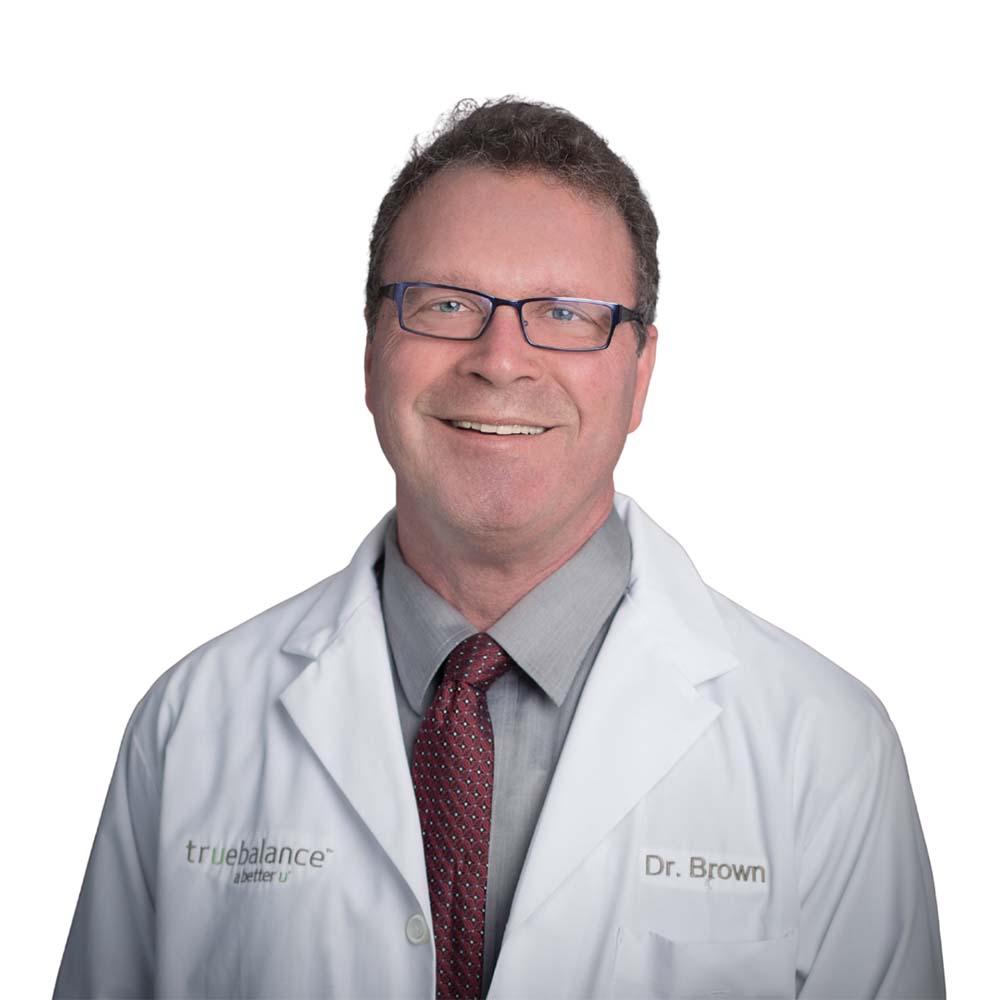 Edmonton's newest lifestyle magazine Uncovering 
the best in hidden gems around the city.
About 14 years ago, Bioidentical Hormones piqued his interest and he went for training at the Academy of Anti-Aging Medicine and became Board Certified. Dr. Brown believes that he has the largest bioidentical hormone and testosterone replacement program in Canada and has even written a book on the topic.
"The problem with the training is that they used Suzanne Somers as a medical reference and as nice and clever as she is, she doesn't come from a medical background. I found it disconcerting to be telling people to read her stuff to support my point of view and my practice, so I decided to write a book."
Dr. Brown searched medical literature to find the evidence needed to properly educate the public on BHRT and has since rewritten it in order to include updated research on testosterone replacement therapy. The evidence compiled in his book has served as an education for potential patients who may have felt dismissed by their own doctors who are unfamiliar with the treatment. Bioidentical Hormone Replacement Therapy is not taught in medical school and on top of this, hormone replacement therapies suffer from an unfortunate reputation which has clung on through the years, even though the controversies have since been debunked.
There are three primary groups who see Dr. Brown for BHRT. The perimenopausal woman who suffers from anxiety, poor sleep, low energy and even sometimes, depression and weight gain. The menopausal woman who is suffering from hot flashes and vaginal dryness who has lost energy and libido, and her overall quality of life has seriously plummeted.  And finally, he sees men who've felt much better 5 – 10 years ago and think it's a result of the reduction of testosterone over time, and want to go back to feeling the way they once did. Typically in all of these groups, it only takes about 4 – 6 weeks to see significant improvement.
For Dr. Brown, hormone replacement therapy is an underrated treatment that is only the tip of the iceberg when it comes to treatments that can improve longevity and quality of life. "We are like where the computer industry was when the personal computer was first out!"
The latest technology he finds most exciting, is the ability to tell your true age, or methylation status. And with that, see how much longer you may live currently and calculate how much longer you will live based on the lifestyle changes you plan on making. Considering quitting smoking or a change in diet? You'll be able to see the exact impact it will have on you.
"It will allow interventions to happen on a relatively fast basis, and people will be able to track their methylation age in relatively real-time. There are so many things coming, it is truly staggering."
Places To Be
See this month's local flavours, products, and services.