LUXMRKT Owner Simon Budziszyn on the "New Normal" for Men's Fashion in Edmonton
Fashionable people are never alone. Whether you're well-dressed in Milan or in Edmonton, the fashion community will find you and embrace you. In the case of Simon Budziszyn's LUXMRKT, a desire to look good and feel confident in his appearance led to a booming e-commerce business. And now, he has a brick and mortar store chock-full of quality menswear sourced from the style-driven men of Edmonton and beyond. Surprising as it may be, fashionable men are not alone in this city. They are of all ages, races, and backgrounds, and perhaps LUXMRKT is a regular destination for many.
It's an unusual story: an I.T. specialist leaving the comfort and stability of his tech job to brave the unpredictable waters of men's luxury consignment. LUXMRKT began as an accidental e-commerce side hustle. Budziszyn explains, "It started with me just trying to dress better on a budget." Relatable. So many of us want to look good but don't have the budget for luxury pieces. In a society continually reminding us that how we look is of the utmost importance, it can be difficult for people with modest budgets to feel like they measure up in an office full of Armani suits. 
Budziszyn's desire to look better in the tech world made him stand out among his colleagues in their polo shirts and khakis, but he had a desire to elevate himself. Remembering his experiences with thrifting as a child, he decided to visit some local thrift shops. "I ended up finding a shirt that ultimately didn't fit me that well, so I posted it on eBay, and it sold." Selling that shirt was what "triggered the whole thing." Thrifting has always been one of the fashion industry's best-kept secrets, especially among interns and those new to the industry trying to fit in with their peers and blend into the scene. Whether you purchased your Marc Jacobs coat or Dior blazer from Nordstrom or a thrift shop is irrelevant; what matters is that you look the part. Luxury on a budget is still luxury.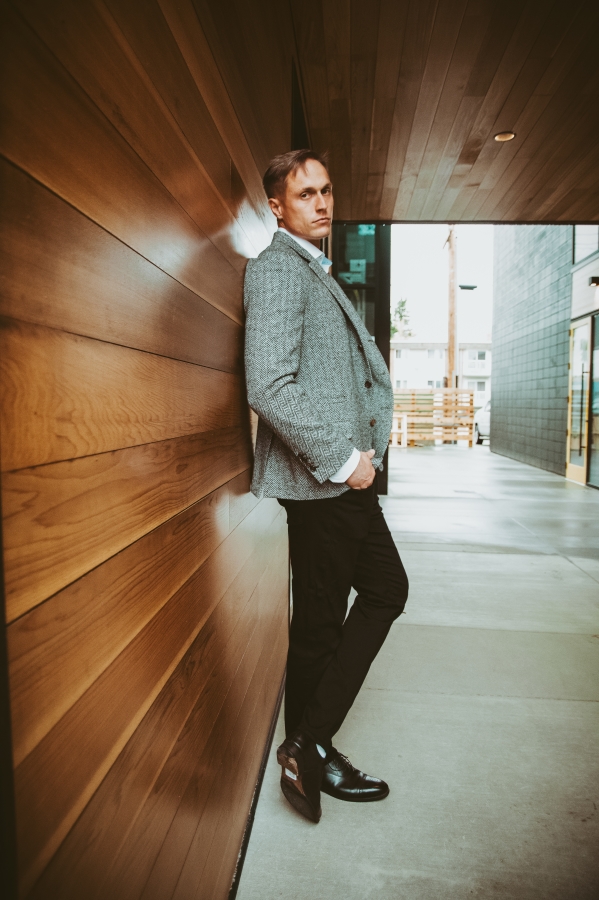 Budziszyn is trying to perpetuate the feeling that comes with looking good here in Edmonton. "I want my clients to have the same feeling I got when I was able to obtain a good quality product at a good price. There's a confidence that comes when you're wearing something that's made well and looks good, and I want them to experience that." This confidence carries over into other aspects of life, whether fitting in with coworkers or having more confidence during an interview or presentation. Budziszyn has suited up everyone from hockey players to wedding guests to retirees and job seekers, and it's clear that he thrives off of the feeling his wares instill in his clients. 
When it comes to what looks good, Budziszyn isn't necessarily looking for brand names. "I'm very drawn to a certain kind of tailoring, and brands that design their clothes more for the fit. Boglioli and L.B.M. blazers are very tailored to the body. There's not much structure in them, they're partially lined, there's no shoulder padding, et cetera. So when you put on one of those, and it fits well, it's like a glove." The second-skin, unstructured nature of Italian coastal-inspired tailoring is centric to brands like Boglioli and Lubiam (and their diffusion line L.B.M. 1911). This style lends itself to an understated, worn-in elegance not often found in American menswear, where structure equals power. A Boglioli suit will enhance you, not overpower you.

At the heart of LUXMRKT is Budziszyn's passion for fashion and his mission to bring affordable luxury pieces to men who want to step outside of the accepted narrative. "There's a stereotypical idea of what men should dress like, or what a man looks like in Alberta, and I want to break that down," he says. "People will come in and say, 'this isn't what a typical Edmontonian dresses like,' but that's an unfortunate stereotype because all my stock is sourced locally. These fashionable individuals are scattered all over the city, and they may think they're the oddball. I want them to know there is an underlying fashion community here where men want to look good and dress well." Men looking for a place to explore their personal style or develop it further will find a second home in LUXMRKT and learn that they are not alone. 
Simon's Top Three Wardrobe Must-Haves:
A good white shirt — "A well-fitting white shirt is important. There isn't really much it doesn't go with."

A nice pair of shoes — "No matter what your personal aesthetic is, be it formal or casual, shoes and other small details really do get noticed." 

A staple suit —  "A good staple suit is something you should always have. You never know when something will pop up; a wedding, a funeral, an interview, whatever. You want to have a good suit that can work across those different events. Don't try to find something last minute – having a good suit is essential."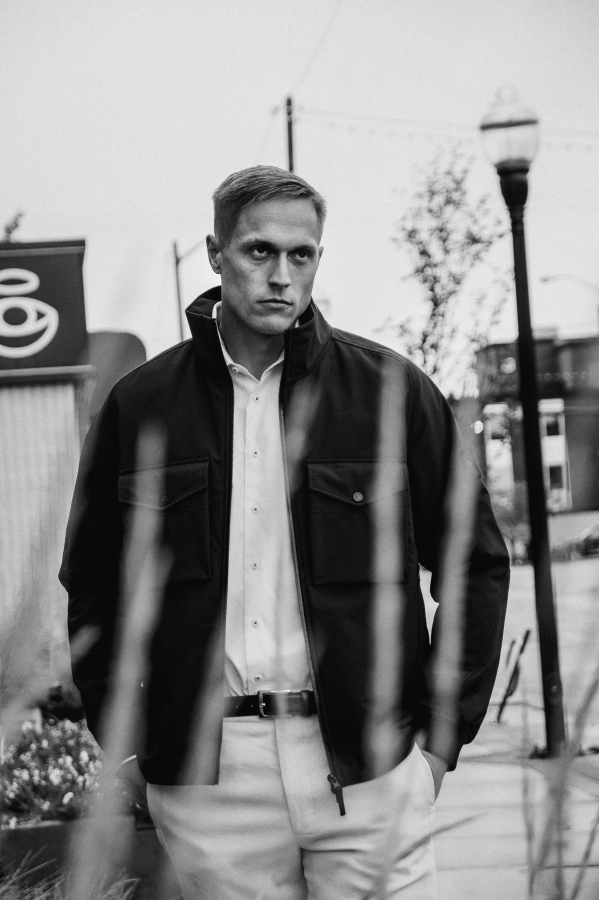 Model: Zack Haggerty
Agency: Patti Falconer Agency
Places To Be
See this month's local flavours, products, and services.