Something Old - Impressionism. Something New - Immersive.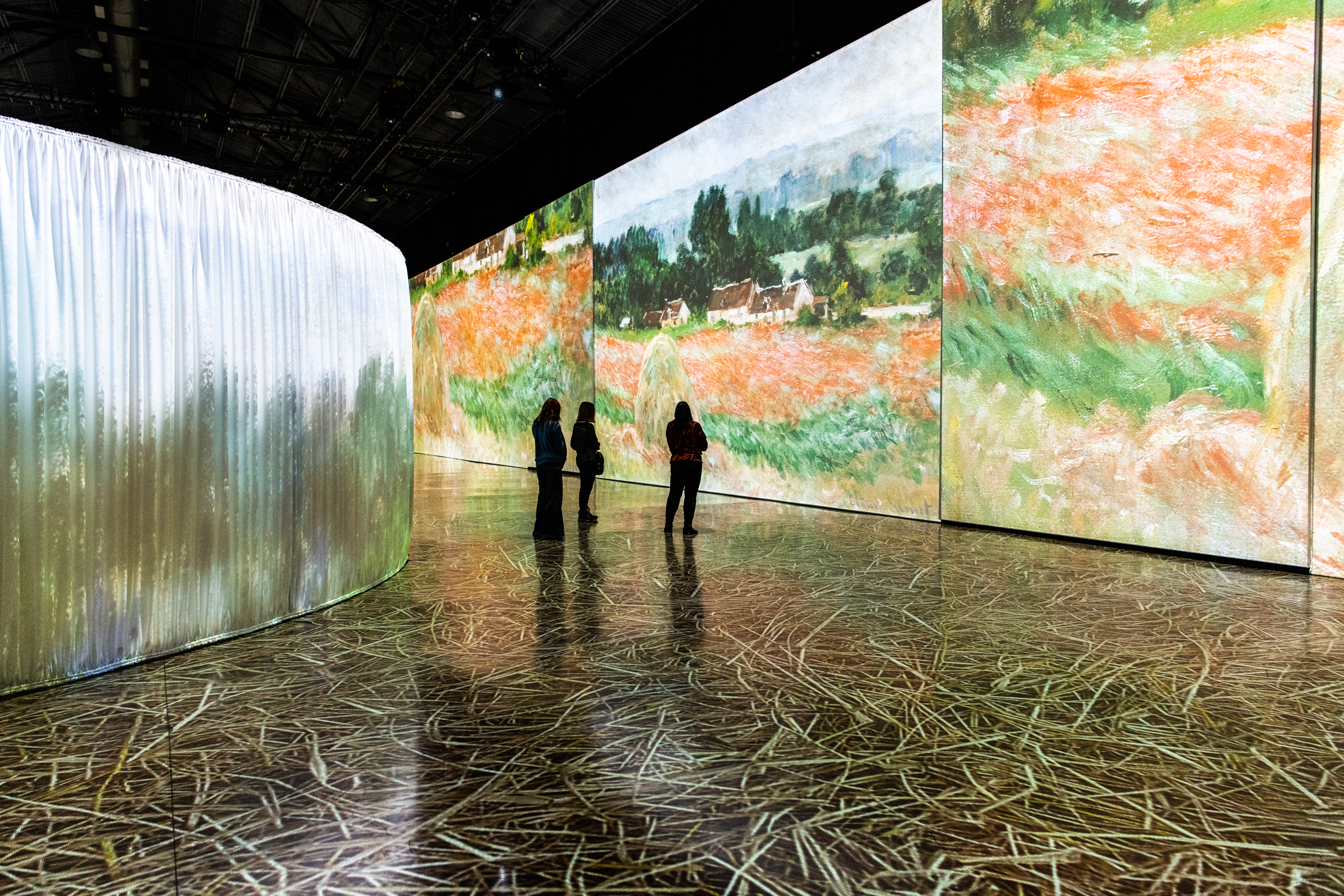 No photo or video could ever quite capture the intensity and grandness of the magical immersive exhibition genre. A portfolio journey of endless environments in moving light and colour set to soundtrack, is an experience one will never forget. 
The first immersive exhibition was created in 1977 by the French photographer and filmmaker, Albert Plécy. Plécy transformed the abandoned underground quarries of Baux-de-Provence into Cathédrale d'Images. 
Plécy copyrighted this innovative audiovisual technique as Image Totale©. His aim was to transform the passive viewer, seated in an armchair staring at images on a screen, to that of an active spectator, immersed in a reality of enlarged images where viewers can engage and walk inside the scene.
Annabelle Mauger and Julien Baron, in collaboration with Art Historian Androula Michaël are the creative masterminds behind Imagine Monet. Mauger is one of the pioneers of immersive exhibitions and has been developing the original concept of Image Totale© for 20 years. In 2008, she created the first immersive exhibition on Vincent Van Gogh at Cathédrale d'Images.
Mauger explains that she wanted to create an exhibition on the Father of Impressionism, Claude Monet, who is also considered the precursor of the immersive image, because the Impressionist movement had the will to step out of the "frame" in order to create an infinite image.

Edmonton's newest lifestyle magazine Uncovering 
the best in hidden gems around the city.
Over a century and a half ago, Claude Monet was born. Historians consider the Impressionist movement as a key transition to Modernism. Monet brought vibrancy to his artworks by not following traditional painting methods, adding a range of tones to his shadows, and preparing canvases with light coloured primers instead of the traditional dark ones that were being used in landscape paintings. And of course, there is his revolutionary technique, using brighter colours without placing them directly on the canvas, but instead, by making small touches of paint, which gives an illusion effect.
Mauger goes on to explain that the finest example of her desire to create Imagine Monet was Claude Monet's Water Lilies at the Musée de l'Orangerie in Paris. The paintings were installed in 1927 shortly after his death and are 17 meters long, placed directly on the wall, thus creating an unlimited space. 
Mauger wanted to create a complete retrospective of Monet's work with three essential chapters for this exhibition, starting with Impression, soleil levant (1872) and ending with his infamous Water Lilies. She explains, "On the one hand, the paintings of Monet in his first environment (his garden, his family, his friends). Secondly, his work on light, characterized by what is called in art history the "series" (the Stations, the Millstones, the Poplars and the famous Cathedrals). Finally, a third part is devoted to Giverny (the famous water lilies) and which represents a large part of his work." The exhibition features more than 200 paintings created by Claude Monet.
Mauger is looking forward to 2023 which will be the 50th anniversary of Picasso's death as she is working on the Imagine Picasso exhibition which will travel worldwide.
Imagine Monet runs until September 2 at the Edmonton Expo Center.
www.imagine-monet.com
Places To Be
See this month's local flavours, products, and services.